Summertime and the livin' is far from easy. Now that we're past Memorial Day, let's speculate on the summer that will be. It's a long time til Labor Day for the news industry. We've seen Rupert Murdoch, ironically drawing stark attention to his own advanced age -- and the question of what will become of his emerging digital empire -- in recently noting that print will out-live him. ("Print will be there for at least 20 years, and outlive me.") The London bookies might be having a field day with that one.
But for most publishers, the times just turn edgier and edgier. I asked a keen observer about the major strategies news publishers are considering as they face the changed business landscape. "Strategies?," he laughed. "They're too busy burning the furniture."
Burning the furniture? In June? Well, the industry has had a hard time separating out cyclical change from structural change, but those still working might hope some wood's left for winter.
Here are nine of my questions about the summer ahead. What's yours?
---1. At the New York Times (NYSE:NYT), it's going to be a tense summer. Buyouts and layoffs have now taken out about 100 jobs, as the Times increases its dividend to try to retain shareholders. The new Harbinger/Firebrand board members are now inside the tent, poking at its corners. How soon will the Times management heed their calls to bite the bullet, sell ailing newspaper properties (Globe, regional group), buy a little time, save a little staff and invest more in the great digital future, which is the Times' salvation?
---2. Love the photo with David Hiller (left) and Randy Michaels (center), in Crain Chicago Business story.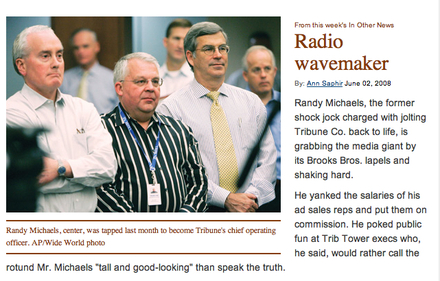 Hiller, tried-and-true Tribuneite, is the ultimate survivor, but the expression says even his tenure as L.A. Times publisher is limited. The Times' publisher and editor change dramas have been quite public, but consider they've been churning through ad VPs about yearly for most of this century. Think what that does to the numbers (and you see why Tribune's own numbers are disproportionately down). Will David Hiller last out the summer or the year?
---3. We hear the grrrrrrrrrrrrrrrrrrrr grinding of teeth from large-player Gannett (NYSE:GCI) to small-player Gatehouse, down to a new low of $3.90 a share on Monday. As the Goldman Sachs report put it circumspectly: ""Our thesis that a focus on smaller, 'hyper-local' markets would serve as a counter weight to the cyclical and secular pressures negatively impacting newspaper industry revenue performance has proven only partially correct, as evidenced by the declining trend in same-story revenues over the last several quarters." In other words, is there no refuge out there?
---4. Why did US news publishers fail to follow other big US corporations in diversifying to international markets? Look at the now-double digit decreases in US ad revenues -- 10% in ads overall in April; 20% in classifieds -- and you see that the US is the epicenter of the newspaper meltdown. UK, Europe and Japan are muddling along -- down a tad -- but much of the developing world from Eastern Europe to Latin America to South Africa to China and India is going gangbusters. Chains like the Irish-centered Indedepent News and Media and the Norwegian-based Schibsted saw this change coming and have invested way beyond their initial comfort zones. Now they are diversified, and growing, while US chains see the double whammy of fewer ads and higher newsprint (expected to price up 20% year over year for the second half of 2008) costs.
---5. Will salvation be found in motherhood? "Soccer moms" might have been so last election, but momomania is sweeping news websites. Boston.com's ""Bomoms"," and the Orange Country Register's "OCMoms" are part of the profound move to niche. If general news still pulls in puny CPMs, sites are looking at profiliferating niche sites around them -- in this case, the fast-expanding, now dozen-strong Mama web chain (San Diego Mama, Houston Mama, DC Mama. The hard part - producing enough compelling content, engaging real community and getting the ad people sufficiently connected.
---6. How fast can we replace expensive staff-written stuff with user-gen? The economics are clear. Better to pay nothing for something that will get you 1,000 page views than part of a professional salary. User-gen's not just about community engagement -- it's about cold, hard cash. As user-gen initiatives rage, look for more of them to get connected to newspapers' main publishing systems -- witness the recent Saxotech/Pluck announcement -- joining the two worlds of newsroom and user gen. One publishing system, monetized singly.
---7. How big a bandage will we need to blot the paper cuts? Much has been made of the news industry covering its own demise (that's what we do). But you have to admire the Google mapping/color-coding of the rampaging layoffs and buyouts by Erica Smith, here.
---8. How much workouts will the whiteboards get? Structural change is an order of the day. Sometimes highly strategic, perhaps, and sometimes Titanic deck-chair-like. Belo (NYSE:BLC) and Scripps (NYSE:SSP) have split themselves in halves, the Washington Post (WPO) is re-doing print/online orgs and the San Diego Tribune is trying a grand experiment of putting it all together.
---9. How loud will the Yahoo! be by summer's end? With AMP being touted by Yahoo (NASDAQ:YHOO) as a salvation to newspaper consortium members' audience/ad targeting woes, its arrival by end of summer at MediaNews properties, among others, may be a cause for whooping it up. Of course, it is bound to be a summer of High Anxiety (shout out to Harvey Korman)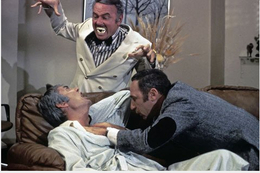 at Yahoo and for those partnered with it at the hip and wallet. With Google gaining search ad market share, Yahoo and Microsoft (NASDAQ:MSFT), abetted by matchmakers like Carl Icahn, are being forced to do something. Yes, Microsoft's making a bunch of moves, but expect it to circle back around to Sunnyvale., especially given today's revelations that Jerry Yang may have rejected an earlier $40 a share Microsoft bid. Nothing's stopping Yahoo from moving on AMP and its implementation for now, but a Yahoo uncertain of its own future just adds to the newspaper summer worry pile.
Disclosure: None