Another day, another REIT preferred in the market. This issuance comes from SL Green Realty Corporation (NYSE:SLG). This is a high-yield REIT (ratings, that is), with operations focused in the big apple.
Issue Details:
| | |
| --- | --- |
| Issuer | SL Green Realty Corporation |
| Issue | Series I Cumulative Redeemable Preferred Stock |
| Coupon | 6.50% |
| Size | 8,000,000 shares ($200,000,000) (1.2mm share overallotment) |
| Rating | Ba2 / B+ / BB- |
| Optional Redemption Date | August 10, 2017 |
| Dividends | January 15, April 15, July 15 and October 15 |
| Use of Proceeds | Redemption of all or a portion of our outstanding shares of our Series C Preferred Stock |
Issuer Description:
SL Green Realty Corp. is New York City's largest office landlord and is the only fully integrated REIT that is focused primarily on acquiring, managing and maximizing value of Manhattan commercial properties. As of June 30, 2012, SL Green owned interests in 71 Manhattan properties totaling more than 39.2 million square feet. This included ownership interests in 27.4 million square feet of commercial properties and debt and preferred equity investments secured by 11.8 million square feet of properties. SL Green also owns 385 residential units in Manhattan encompassing approximately 0.5 million square feet. In addition to its Manhattan investments, SL Green holds ownership interests in 32 suburban assets totaling 6.9 million square feet in Brooklyn, Queens, Long Island, Westchester County, Connecticut and New Jersey, along with four development properties in the suburbs encompassing approximately 0.5 million square feet.
The following table lists its property location, size and occupancy:
Click to enlarge:

Note: Investments in the New York Metropolitan area also include investments in Brooklyn, Queens, Long Island, Westchester County, Connecticut and New Jersey, which are collectively known as the Suburban assets.
Many investors have stayed away from this REIT due to its exposure to the financial services industry. A look at its top 10 tenants helps to assuage this fear.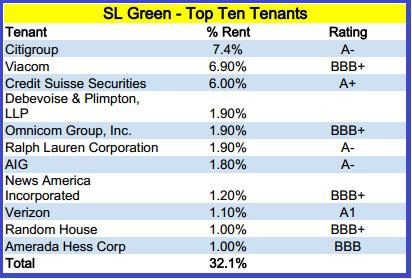 As is evident from the above table, SL Green has no outsized exposure to any financial services company.
Office REITs have also been underperforming due to slow pace of employment growth. SL Green's focus area, New York City, is second only to Houston in the recovery of employment from the 2009 trough.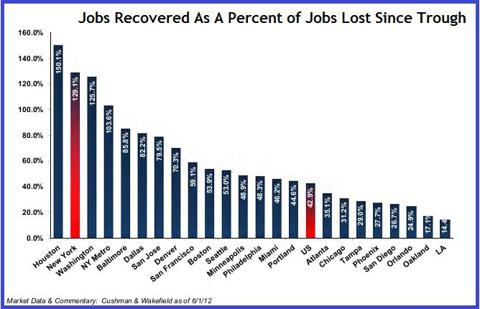 As the following tables from SNL Financial show, results have been somewhat mixed: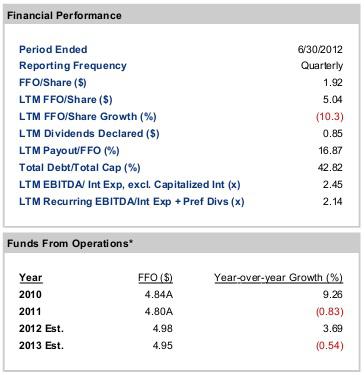 As welll, the REIT, like most office REITs, have underperformed the overall REIT sector: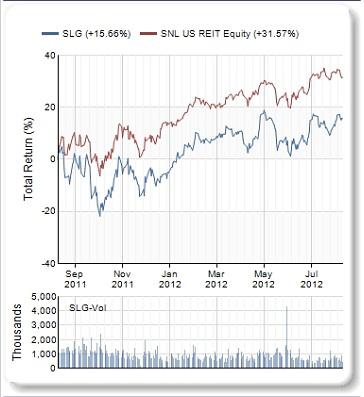 Source: SNL Financial
While SL Green is well positioned within its markets and growth potential is improving, returns have not been all that compelling and the 1.20% common dividend yield is not enticing to income investors (the primary investors in REITs).
The new preferred stock, however, is a good way to position this REIT within an income portfolio. A look at the details versus office peers Duke Realty (NYSE:DRE), Vornado (NYSE:VNO) and Kilroy Realty (NYSE:KRC) makes a compelling relative value case:

Bottom Line: The office sector, even New York's, has not bounced back due to the slow growth of employment. SL Green is well positioned within a market that has shown employment growth which should lead to higher rents and, therefore, better performance. The dividend is well covered by FFO (payout ratio in the last quarter was 13%), but is a paltry 1.20%. The new preferred stock, however, has a decent yield relative to many new issues—which have issued below 6%—and its office sector peers.
Disclosure: I have no positions in any stocks mentioned, and no plans to initiate any positions within the next 72 hours.
Additional disclosure: This article is for informational purposes only, it is not a recommendation to buy or sell any security and is strictly the opinion of Rubicon Associates LLC. Every investor is strongly encouraged to do their own research prior to investing.