Toll Brothers Inc. (NYSE:TOL) reported second quarter of fiscal 2008 (4/30/08) earnings Tuesday. The conference call was interesting. An analyst suggested that Toll might consider writing the value of its lots to zero, a notion that management scoffed at. Another raised the issue in a roundabout way, by correctly pointing out that the cost of improving raw land may exceed the price of buying finished lots.

The homebuilding group has been weak the last month, and may test the lows reached in March 2008, as seen in the chart for the SPDR for the SP Homebuilders index below. If it breaks through the $18 level, then the all time low of $16 is the next stop.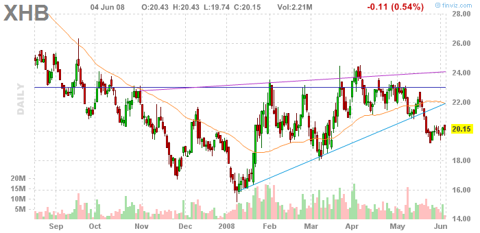 I keep wondering at what point Homebuilders will stop writing the value of its inventory down. There should be some flattening out of the inventory levels. It's hard to to make a case for buying this group on a price to book value while that book value is still in free fall.

Financial Highlights

Revenues - $818.8 million.
Net loss - $93.7 million.
EPS - ($0.59).

The numbers above include pre-tax write-downs of $288.1 million (after-tax - $174.6 million). Excluding the writedowns, earnings were $81.3 million, or $0.49 per share diluted.

FY 2008's second quarter included $40.2 million (pre-tax) of other income, related to a lawsuit that TOL won.

Backlog - $2.08 billion.

Gross contracts of $730.5 million and 1,237 homes.
Cancellations totaling $234.1 million, and 308 homes.
Net contracts totaled $496.5 million, and 929 homes.

Net debt to capital ratio - 22.7%.

Management Comments

"Demand continues to be weak in most markets as our clients worry about selling their existing homes or entering the market before prices stabilize."

"The creation of projections is difficult at any time. In the current climate, it is particularly difficult to provide guidance given the numerous uncertainties related to items such as sales paces, sales prices, mortgage markets, cancellations, consumer confidence, and the potential for and the size of future improvements. As a result, we will continue not to provide earnings guidance."

"We believe Congress should try and jump-start demand for new homes with an initiative that will bring buyers off the sidelines and into the market, and thereby stop the downward spiral of home prices."

Questions
One of the issues today is that improvement costs in some markets are actually higher than the cost of finished lots....what builders will do as a big conundrum of having undeveloped land that in order to develop it, it would actually exceed the cost of finished lots?
"You put your pencil to paper and obviously if you can buy lots for less than you can improve the lot, you would probably buy the lots. But right now, we are not in that position. We have plenty of improved lots, so we haven't reached a problem yet. But you are absolutely right -- if it cost you more to improve than it does to buy improved, why the hell would you improve a lot?"
If you are seeing more distress (at high end) and if you are seeing the bank start to act to possibly reclaim those assets, or do forced sales or something like?
"We're seeing a little bit of bank activity, not much...We have seen in certain cases some negative impact from foreclosure bus tours, realtors offering a bus ride for those would-be investors or new home buyers."
Have you seen any changes from governments or municipalities and your ability to get land approvals or entitlements when you want them, or any movement in terms of things like impact fees?
"No we haven't -- give me an opportunity for an advertisement here, but the local municipalities that govern zoning and planning [in the Northeast] are just as stringent as they always were. They didn't want you then, they don't want you now in my backyard still prevails. On a county wide and state-wide basis, we've seen a change."
(Stimulus plan cause) excess supply and this would in turn cause more builders to start throwing more supply at an already over-supplied market?"
"No, I don't....What I'm trying to suggest is that by giving a tax break, you create demand that more than offsets the supply that you currently have."