With the second largest population of any country in the world and the fastest growing mobile device market over the last year; India provides a vast amount of opportunities for Nokia (NYSE:NOK). While The Microsoft (NASDAQ:MSFT) partnership and its subsequent offspring, the Lumina smart-phone, keep garnering all the headlines, the "feature-phone," will lead this stock out of the abyss! I can almost feel the collective chills going down the spines of Apple (NASDAQ:AAPL) stockholders as they realize their precious 4G/LTE I-phones are going to be restricted from the fastest growing mobile market in the world, who in a twist a fate prefers the seemingly esoteric "feature-phone" straight up.
This is the first installment in a series of research articles on the potential long-term profitability of Nokia. In this initial introduction, I provide an in-depth analysis of the Indian mobile broadband market. Due to its astronomical untapped user base and insatiable desire for prepaid feature-phones, India provides a unique and monumental opportunity that Nokia must capitalize on if large quarterly profits are going to be part of the future.
Don't Believe the Hype; Feature-phone still Undisputed King of Mobile
The lack of global perspective typically used to evaluate a company always baffles me and the case of Nokia is no different. All relevant statistics show us that mobile phone usage in other nations and areas of the world differs greatly from that in North America and Europe. While in these "developed" nations the smartphone has come to dominate the market; in less-developed countries the somewhat old-fashioned, "feature-phone," still remains king. A study of mobile market penetration through Q4 2011, by the Research firm Vision-Mobile, reiterated this fact in the following conclusion, "In the North American and European markets, smartphone penetration is the highest, with 63% and 51% market share, respectively; (In the emerging markets, smartphone penetration is much lower) in the Asia-Pacific region (19%), Africa/Middle East region (18%) and Latin America (17%)." While I can't argue with the assertion of many that smartphone penetration rates within these developing areas will rise to levels of NA/Europe at some point in the future, I feel that the adoption of smartphones will come after the feature-phone product cycle has reached maturity in these areas. By this I mean that of the 3.2 billion people that do not have a cell-phone worldwide, the majority will purchase a feature-phone as a first device.
(The 5 Products From the Most Exciting Year of my Life)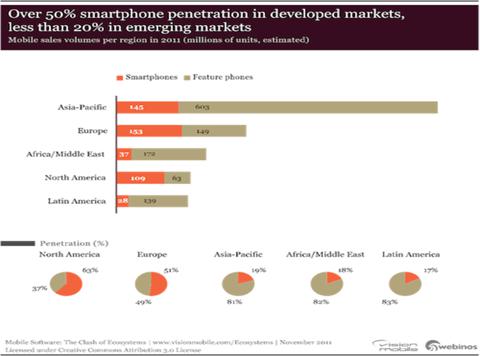 Click to enlarge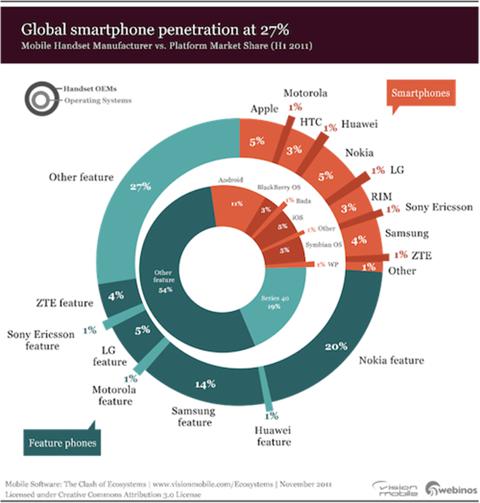 Click to enlarge
(It s Still A Feature Phone World: Global Smartphone Penetration At 27%)
India is the Place to be for Feature-Phone Manufactures
Indian telecom regulators state that 911 million mobile connections were originated as of February 2012, meaning the nation of 1.2 billion had reached a mobile tele-density (mobile connections per 100 people) of 75.62. However, the market penetration is actually much lower than reported due to high instances of connection inactivity and the growing prevalence of dual-sim technology which causes one user to be counted multiple times as their one device contains two provider subscriptions. Thus, to gain an accurate view of the country's installed unique active base we must first eliminate inactivity variation, this is achieved by using the alternative data provided by TRAI (Telecoms Regulatory Authority of India) contained within their Visitor Location Register (VLR), which provides a temporary record of the areas that subscribers have roamed into. According to February 2012 VLR data, active mobile subscriptions were 670 million, or just over 73.6 percent of the total connections (Reuters). Accounting for dual-sim user redundancy is more ambiguous because information on the exact current size of the dual market is unavailable, however various outlets have estimated that it accounts for somewhere between 50-57% of the Indian mobile market. Using the most conservative range of estimates, 50%; I surmise that the active unique mobile customer base in India was approximately 502.5 million as of February 2012; giving the country a minuscule tele-density of 41.875. For reasons I will discuss in future sections, the seemingly archaic feature phone technology that Nokia has continued to develop and manufacture is perfectly suited to satisfy the needs of this vast emerging market.
Feature Phone Still King

Click to enlarge
In Q1 2012 Smartphone Shipments dropped over 20% (Q-o-Q) while Featurephone Shipments
July Report published by leading South Asia Research Firm CyberMedia Shows that this
Total handset sales: 50.2 million
Feature-phones: 47.5 Million units
Smartphones: 2.7 Million > down from 3.4M in Q4 2011, a decrease of 20.5% Q-o-Q
© 2012 CBS Interactive. All rights reserved
While it may be very hard for North American and European consumers to comprehend, the feature-phone accounts for over 90% of the mobile market in India. This will not change significantly in the next 5 years because of the many complexities of the Indian mobile market which will keep adoption of the smartphone quite low and demand for the feature extremely high. The most important interconnected factors are; low per capita income leaves little disposable income for data plans, lack of 3G infrastructure as well as no Pan-India service Plan.
High Cost of Spectrum Has Left Operators with Little money for 3G Infrastructure
First a little historical background; facing international pressure to liberalize the country's telecom industry, the Indian government passed the National Telecom Policy of 1994. This resulted in the country being divided into 20 (There are currently 23) telecommunication circles for basic telephony and 18 circles for mobile services; each circle represented a geographic region in which a particular telecom operator would provide service. An auction was held to determine which telecom operator would receive a spectrum license for each circle; the license gave them the exclusive right to provide service for that spectrum within the specified area. A similar spectrum auction has been held each time a new wireless spectrum (2G/3G/4G) was introduced over the past two decades. To this end, on May 2010, an auction was held for 3G spectrum licenses and resulted in exorbitant prices being paid by a majority of the country's largest operators, "The Indian 3G spectrum auctions ended after 34 days, 183 rounds and prices close to $15 billion. The resulting $ / MHz / Pop (the standard benchmark) for Mumbai, for example, makes the prices paid in the UK and German 3G auctions look like a relatively good value (chart below demonstrates) (A Fundamental Flaw in The Indian 3G spectrum Auction Design)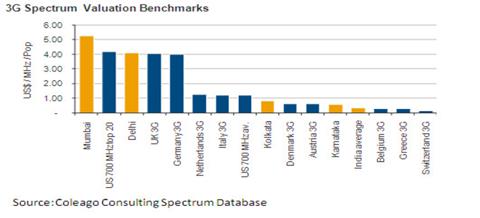 Click to enlarge
Having spent such a significant amount for the licenses, these 7 operators were left with little additional capital to invest in 3G infrastructures; instead the majority focused their efforts on extracting revenue from the established 3G circles. As a result, many of the largest towns and significant pockets of the largest cities are still void of 3G coverage and this spotty service is greatly hindering the willingness of people to adopt 3G technology. Union telecom minister Kapil Sibal reiterated this fact in a speech on April 13, "3G has not delivered because they paid such huge prices for the spectrum and there is no liquidity in the market for them to invest in the infrastructure and the devices to deliver 3G, for which 2G was successful and 3G was not successful," (IndiaTimes)
No "Pan-India" plan hurts 3g adoption
Due to the high prices of the 3G licenses no operator was able to acquire the "Pan-India," license. Instead, the operators focused on acquiring licenses for the circles in which they had the largest 2G base already established. Thus, a mobile experience vastly different from that of US wireless users developed, wherein 3G coverage on any operator is limited to the specific telecom circles in which that operator is permitted to provided service. The following set of maps outlines the specific areas covered by each major telecom operator. Note the lack of consistency in the 3G circles held by Airtel and Vodaphone, for any user that travels a marginal distance on a regular basis these plans would be a true nightmare.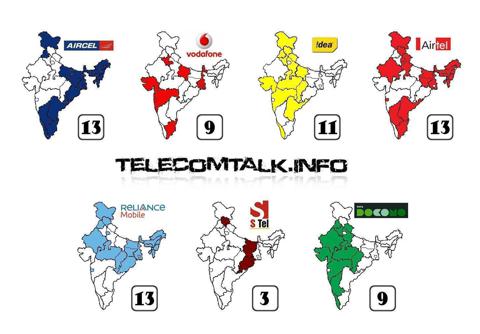 Click to enlarge
(Is Your Favourite Operator Offering 3G/BWA in Your Circle? Check It Out)
Low income levels leave little for extras
In a country with a very low per capita income and arguably the most cost-conscious consumers in the world, most are unwilling to pay significantly more for 3G services.
As of July 2012 the prepaid data packages for each of the major Indian carriers were as follows;
Operator 1GB 2GB 10GB Speed
Airtel Rs.250($4.47) Rs.450($8.06) Rs.1500($26.85)21Mbps
Vodafone Rs.249 Rs.449 Rs.1500 21Mbps
MTNL Rs.250 Rs.450 Rs.1099 3.6Mbps
Reliance 3G Rs.247 Rs.448 Rs.1099 28Mbps
Idea 3G Rs.249 Rs.450 Rs.1499 21Mbps
Tata PhotonRs.255 Rs.450 Rs.1200 3.1Mbps
MTS Mblaze Rs.248 Rs.498 Rs.999 3.1Mbps
For my fellow Americans this monthly price of approximately $4.47 per GB of data may seem drastically cheap. However, when the extremely dismal per capita income of India is considered, even this seemingly small amount would be a large monthly expense for many within the Indian population. According to government data, the 2011 per capita income of India was Rs54000 or $963, this equates to an average monthly income of $80.25, thus just 1GB at $4.47 would account for approximately 5.5% of monthly income for the a typical citizen of this country.
Due to the fact that similar prepaid data packages are a rarity in the primarily post-paid American wireless market, the only comparable plan that I could find on a US carrier were the T-Mobile, "No annual contract Wireless Broadband Service Passes" which just debuted on May 20th. These offer 30-day data packages at three separate GB intervals; 1.5GB costs $25, 3.5GB costs $35, and 5GB costs $50. According to data supplied by the US census bureau, US per capita income in 2011 was $41663, this equates to an average monthly income of about $3471, thus 1GB of data at $16.66($25/1.5GB) would account for approximately 0.47% of monthly income for a typical American. For comparisons sake 5.5% of the American monthly per capita income figure of $3471 would equate to $190.9.
It would appear that data prices cannot travel any further down as these figures come on the heels of recent major rate reductions by every Indian telecom operator. With this in mind, there is a very plausible argument to be made that any price for data is going to be too high for such a poverty stricken country. This point was reiterated in a recent, Hindu article, which sought to bring some clarification to the ever-changing telecom policies in the country. According to a leading analyst at Deloitte India the time to compete for data on price alone has come and gone, "Over the past month, all leading telcos slashed 3G price plans to crank up market penetration and shore up revenue streams "The prices of 3G services have dropped by 70%. They are more or less in line with 2G services," As a result, "It has to be a volume game," he says. Another senior official claimed that language and population disparities amongst such a diverse population make device customization an equally daunting task as well, "handset customization and content development in the local language is the main challenge," when it comes to getting people to use mobile data services. He points out that there are 22 official languages in India.
Government Unwilling to Give Operators A Break
Despite these seemingly apparent constrictions already plaguing these operators, the government, led by the Telecom Regulatory Authority of India or TRAI, seems prepared to squeeze every penny they can out of these companies. The government's lack of care for the financial viability of the operators was unequivocally reiterated once again last month as the prestigious accounting firm PwC released an assessment of the TRAI projections for wireless telecom expansion and profitability in a report ominously titled, Impact of TRAI s spectrum recommendation on Consumers and Industry. Pwc noted that significantly large errors were made in regards to the estimation of virtually all relevant telecom projections as each was grossly inflated. These inflated valuations allow the government to continue charging exorbitant sums for spectrum and regulatory compliance far into the future and in turn continuing to stifle the already stagnant 3G ecosystem in the country. Most alarming however is not that a government body has overestimated future growth with their own interests in mind, it is the magnitude to which they are pushing these proposed figures according to the PwC report that I find most troubling. This fact is succinctly outlined in the opening paragraph,
TRAI's analysis when corrected for given considerations leads to a projected per minute tariff impact to the tune of 44 paisa compared to 8.6 paisa as estimated by TRAI in its Track I calculations which presume that all existing spectrum allocations would be re-priced at reserve/auction price for a 10-year tenure at the time of license extension. We estimate a tariff impact to the tune of 60 paisa as compared to 9.4 paisa calculated by TRAI under Track II.
This claim is broken down even further on pages 23-27 of the report as PwC does a fantastic job calculating and explaining the Profit before interest and taxes (PBIT) and Profit Before Taxes (NYSE:PBT) assumptions made by the TRAI (I urge anyone interested in balance sheet calculations to give it a look!)
The paper suggests a revenue increase of 3.1 times over the next 20 years, coupled with cost increases of only 1.8 times over the same period. We find that this mismatch between revenue and cost growth results in the paper forecasting industry EBITDA margins rising steeply to 40% in the next eight years. We cannot comment on TRAI's PBIT calculations as the investment plan required to support PBIT calculation has not been disclosed in the paper. However, the PBIT growth trend as depicted in the TRAI model looks unachievable going by past industry trends where operator margins have been shrinking year on year. The PBIT growth trend as depicted in the TRAI model looks unachievable going by past industry trends where operator margins have been shrinking year on year.

The decline in operator's financial performance has been significant since 2007 (shown in figure 11); PAT margins have declined to single figures for most operators bar one of the reporting operators and to negative in some cases from 2007 to 2012. There is only one operator in India in FY 2012 reporting a double-digit PAT margin, and none at above 15%.
Table 11: PAT Margins of selected Operators, FY 2007-FY 2012
FY2008

FY2009

FY2010

FY2011

FY2012

Vodafone

17%

11%

0%

-3%

0.01%

NA

Idea Cellular

11%

15%

9%

8%

4%

4%

Aircel

35%

9%

-8%

-66%

-42%

NA

Reliance

22%

29%

27%

22%

7%

5%

Bharti

23%

25%

24%

26%

20%

14%

TTSL

-46%

-35%

-33%

-21%

-41%

NA

TTML

-22%

-7%

-8%

-14%

4%

-21%

Shyam Sistema

-53%

-158%

-620%

-616%

-310%

NA

HFCL Infotel

-42%

-57%

-96%

-11%

-93%

NA

MTNL

14%

12%

4%

-68%

-71%

-101%

BSNL

20%

8%

2%

-6%

-22%

NA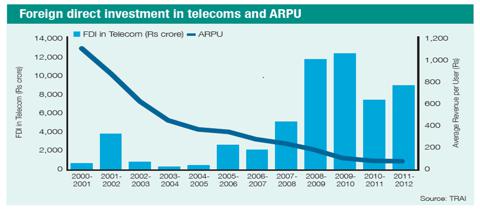 Click to enlarge
© Terrapinn Holdings Limited: Focus on Asia: Difficult decisions
Those two successive images are truly sobering statistics regarding the current profit generation capabilities of the companies being depended upon to proliferate the "3G" revolution within the largest mobile device market in the world.
Stay tuned for part 2 of the Nokia long-term profit story as I will be focusing on a part of the company often alluded to but rarely investigated, the enormous patent portfolio.
Disclosure: I have no positions in any stocks mentioned, and no plans to initiate any positions within the next 72 hours.