Election season is here and all we hear is how the incumbent or the challenger is off base and leading the U.S. to disaster. The two biggest campaign talking points are unemployment and the U.S. budget deficit. Unfortunately, there is no candidate out there who has any espoused solutions which appear to solve the root cause of unemployment or government spending.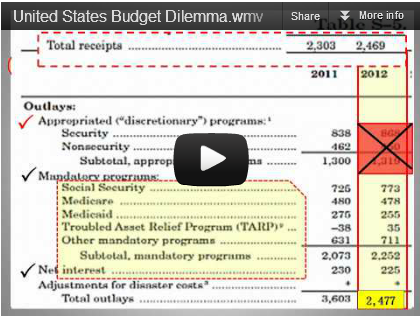 Watch the above video if you believe it is possible to balance the budget. Do you agree with the video maker's view of the problem?
Whether you agree with the video or not, let me ask you to consider further:
Do you believe that there is a way to balance the budget with any of the following assumptions?
The U.S. government budget works the same as business or Joe Sixpack;
There is a method to tax your way to balancing a budget without killing the economy;
The current entitlements can be altered enough without significant reduction in benefits.
It is my belief that if you sign up for any one of the above premises you are not living in the world of reality.
There is a saying in construction that "when there is no solution possible, then one of the impossible solutions will result". How the USA got to this point can be blamed on every voter and politician in the last 50 years for not monitoring the economic situation and not making changes to avoid the growing deficit cliff.
A this point, decisions must be made based on where the U.S. is, not where we think the U.S. should have been or where the U.S. should be now.
Many politicians and economists spout about jobs creation - and use infrastructure as the solution. Yes, USA infrastructure needs upgrading - and yes, there are a lot of unemployed. But in this case, killing two birds with one stone is very inefficient.
| | | |
| --- | --- | --- |
| Non-Farm Sectors | Cost per Job | Infrastructure cost per job |
| Domestic industries | $102,000 | |
| Private industries | $107,000 | |
| Yearly income at minimum wage working 40 hours per week with an employment cost multiplier of 45% | $22,000 | |
| Mining | $251,000 | |
| Utilities | $381,000 | |
| Construction | $106,000 | $163,000 |
| Manufacturing | $127,000 | |
| Durable goods | $115,000 | |
| Nondurable goods | $147,000 | |
| Wholesale trade | $147,000 | |
| Retail trade | $64,000 | |
| Transportation and warehousing | $95,000 | |
| Information | $184,000 | |
| Finance, insurance, real estate, rental, and leasing | $297,000 | |
| Professional and business services | $109,000 | |
| Educational services, health care, and social assistance | $68,000 | |
| Arts, entertainment, recreation, accommodation, and food services | $40,000 | |
| Other services, except government | $75,000 | |
| Government | $75,000 | |
Source: BLS, BEA NIPA table 6.1D (all numbers rounded to nearest thousand)
The bottom line here is that if one wants to create work (but also do the things that need to be done), you get over 2.5 times more bang for your buck by employing health or education assistants. There are very negative social effects from endemic unemployment. Yet, could a government program (stimulus or direct programs) be a solution?
how do you fund it?
would the program remove potential jobs growth from the private sector?
as there are no significant job growth dynamics in play, how is this not a permanent program?
All I am hearing are economic short term band-aids, laced with false solutions. I will leave the gauntlet on the field. What are the real solutions?
My normal weekly economic roundup is in my instablog. No, I did not talk about Paul Ryan's selection as the apparent Republican VP candidate - as this is the potentially is a major economic event. I did discuss the wholesale sales data released this week which stood out from other data like a sore thumb.
Disclosure: I have no positions in any stocks mentioned, and no plans to initiate any positions within the next 72 hours.