First Solar (NASDAQ:FSLR) could just be the most volatile stock in the market these days. In less than two months, it has gone from one of the market's biggest losers to a hot growth stock.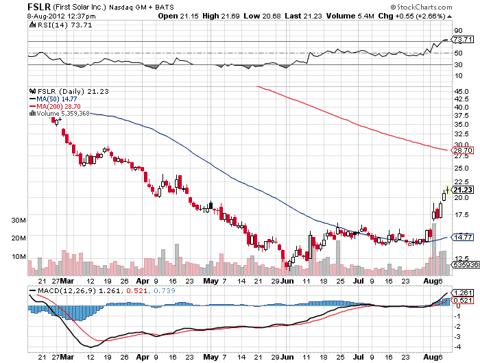 As you can see from the chart above, First Solar fell from a high of around $35 in early March to a low of $11.43 in early June. Yet, in the last two months, it has increased in value by almost $10 per share. That translated into negative earnings per share of -$6.41 for the past year.
The reason for this unusual performance is clear. First Solar announced that its earnings in the second quarter rose by an astonishing 81%. The increase in earnings comes partly from a new corporate strategy of selling to utilities that are building giant solar farms or generating stations, rather than to individuals.
The second-quarter earnings increase was driven by new sales to utilities such as Exelon (NYSE:EXC) and Enbridge (NYSE:ENB). These companies give First Solar something unusual in the alternative energy sector- a large cash flow. The new sales are estimated to be $987.3 million.
First Solar is pioneering a new market that could lead to even more cash flows. It plans to build and operate solar power projects that will sell electricity to utilities. The first of these is Campo Verde, a 139 megawatt facility that will sell power to San Diego Gas & Electric (part of Exelon) under a 20-year agreement. That gives First Solar a regular cash flow from a stable customer.
If it is successful, this strategy will help First Solar reverse its negative earnings per share, which was $6.41 for the past year. It will also stabilize what has been a very volatile stock.
First Solar seems to be every value investor's dream, a stock that has been totally misread by the market. This company has been able to generate new sales and implement a successful new strategy, even as it has lost most of its share value.
To keep this distinction and set itself apart from competitors such as Canadian Solar (NASDAQ:CSIQ), First Solar will have to demonstrate that it can actually make money selling electricity to San Diego Gas & Electric. Another potential source of cash here is the proceeds from selling the plant itself to investors. First Solar's CEO, Jim Hughes, told Forbes that he has ten potential buyers for the Campo Verde project lined up.
The company will also have to prove that it can duplicate the Campo Verde project elsewhere. Elsewhere as in cash-rich developing countries such as Saudi Arabia. The wealthy desert kingdom has ambitious plans to generate one third of its electricity from the sun by 2032. First Solar and Saudi Arabia seem like a natural fit. Saudi Arabia has lots of sunlight, but no natural gas or coal to burn to generate electricity. To generate power, the Saudis have to burn oil, which is the same as burning cash.
The business model that First Solar is pioneering with San Diego Gas & Electric can easily be transplanted outside the U.S. There are countries like Saudi Arabia and Chile that have lots of valuable resources, but shortages of electricity.
Utilities in these nations are potential customers for First Solar. So are large mining companies like Rio Tinto (NYSE:RIO) and Freeport-McMoRan (NYSE:FCX), which operate giant mining operations in remote areas far from power lines.
First Solar is moving aggressively to take advantage of this market. Forbes reported that Hughes was in Chile last week to meet with government officials and mining executives. This is an important step because Chile is in the middle of a serious electricity shortage that is threatening its mining industry. Hughes told Forbes that his company's solar panels are one of the cheapest energy sources for the mining industry.
Hughes thinks his company can also do well in other foreign markets. He specifically mentioned Australia, where government support for alternative energy is strong, and India. Hughes speculated that his company can capture 20% of the Indian market and 40% of the Australian market for photovoltaic cells.
First Solar seems like a company with a lot of growth potential that has suddenly shown the ability to generate a lot of cash. Hughes' strategy of concentrating on sales to the utility industry has not only paid off, but also opened the door to a potentially lucrative international market.
The speculative nature of its business does not make First Solar a traditional value stock right now, yet it may evolve into one in the near future if it can stabilize. The company has demonstrated the capability to transform leveraged profit into real cash, but it has not shown it can do that on a long-term basis.
Investors should certainly take a look at the charts before buying First Solar. It is generating a lot of cash and has demonstrated growth potential, yet it is also one of the most volatile stocks in the market today. The negative earnings per share of $6.41 that First Solar demonstrated in the last 52 weeks should give every value investor food for thought.
Disclosure: I have no positions in any stocks mentioned, and no plans to initiate any positions within the next 72 hours.