Home Depot (NYSE:HD) announced on Tuesday that it will acquire U.S. Home Systems (NASDAQ:USHS) in a deal valuing the firm at $93 million.
The Deal
Home Depot announced that it will acquire U.S. Home Systems in an all cash transaction valuing the firm at $12.50 per share. In a reaction to the offer, shares of U.S. Home Systems ended Tuesday's trading session 38% higher at $12.53. Shares continued to trade around the offer level for the remainder of the week. Currently, U.S. Home Systems is already an exclusive provider of kitchen and bath refacing products to Home Depot.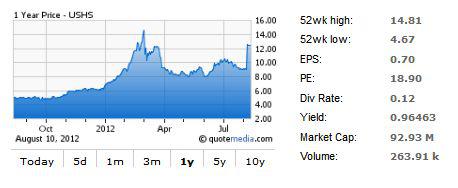 U.S. Home Systems reported annual revenues of $165 million in 2011 with 830 employees. The company reported a net income of $4.7 million that year. It its latest quarterly filing, the company reported a net cash position of $14 million. The deal values U.S. Home Systems at roughly 0.5 times annual revenues and 17 times annual earnings, excluding the cash position.
The deal is subject to the normal closing conditions, including regulatory approval and customary closing conditions. The deal is unanimously approved by USHS's board and is expected to close in the fourth quarter of this year.
Senior vice president Kevin Hofmann commented on the deal:
The Home Depot has had a long-standing relationship with USHS. By formally bringing USHS into The Home Depot family, we expect to further enhance our customer's home experience service.
Valuation
Home Depot is expected to report its second quarter results on August the 14th. For the full year of 2011, the company ended with $3.2 billion in cash and equivalents. It operates with $10.8 billion in short and long-term debt, for a net debt position of $7.6 billion.
For the full year of 2011 the company generated $70.4 billion in revenues. The company reported a net income of $3.9 billion, or $2.47 per diluted share. Based on the current $81 billion valuation, the firm is valued at 1.2 times annual revenues and 21 times annual earnings.
This valuation compares to a revenue multiple of 0.6 times for competitor Lowe's (LOW). Lowe's trades at 18 times annual trailing earnings.
Currently, Home Depot pays a quarterly dividend of $0.29 per share, for an annual dividend yield of 2.2%.
Investment Thesis
Home Depot shares have returned 26% so far this year. Optimistic signs about a recovery in the housing market pushed up the share prices of homebuilders. As construction activity increases, investors are betting on better times for Home Depot, which operates over 2,200 home refurbishing stores. Shares steadily marched upwards from $42 in January to $53 in May of this year. Shares continued to trade around the $50 mark in recent months, trading close to the highs of the past decade.
Home Depot's share price has now surpassed its peak around $43 per share in 2006. Shares are setting new records as the company is reporting record profits. Also, Home Depot repurchased approximately 10% of its outstanding shares in recent years. Revenues have not reached their peak levels yet, a sign of the prolonged recession in the U.S. housing market.
The acquisition of U.S. Home Systems is a very small one for a company the size of Home Depot. The acquisition price seems fair as the offer, which includes the acquisition premium, values the company at lower multiples than Home Depot. This excludes any synergies to be achieved.
Shares in Home Depot have roughly doubled from the $28 mark in the beginning of 2010 to $53 at the moment. At the same time, revenue and profit growth have not been that strong. While expanding its profits, the market has attributed a higher valuation multiple to shares of Home Depot. I usually find expanding operating profits and valuation multiples a worrying sign.
I would be quite hesitant to go long shares at these "premium" levels.
Disclosure: I have no positions in any stocks mentioned, and no plans to initiate any positions within the next 72 hours.