Research in Motion (RIMM) is hiring? This activity contradicts the announcement that the company is cutting thousands of people from its workforce in an effort to save costs as revenues will be marginal until the long-awaited BB10 operating system is ready in Q1 2013. But this is what it shows if you take a look at their careers section on their website. Since the start of July through August 10th, 181 jobs have been posted right after the company said they were downsizing.
In a company of thousands of employees across the world that might not be too unusual, even for one that is heavily cutting its workforce. But you have to dig deeper into the material to find a troubling trend. Doing a search on their website with the keyword "Software" brings up nearly 200 results. They are trying to hire individuals who are Software Developers, Software Test Specialists and Software Designers, basically the people who will be working on BB10 until it is ready. RIM has particularly stepped up hiring in the Canadian offices. Looking at just this past week here is a sample of the software-related jobs that are up for hire at the company: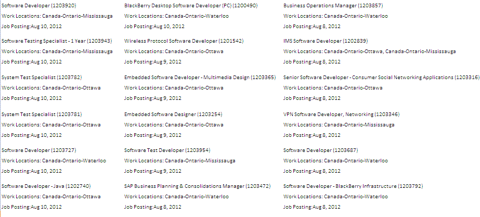 There were so many job postings listed that I couldn't fit them all onto one page. 26 in total. That would be the equivalent of one full division worth of techies that are being hired, but that still needs some context. Checking out IBM's career section shows that 29 Software Developer jobs in the US got posted this past week, with an additional 5 in Canada. So RIM, a company with about 5% of the global workforce size of IBM (NYSE:IBM) is trying to hire almost as many Software Developers and Testers as they are during the robust hiring season of mid-summer. All this while they publicly stated they will be cutting over 10% of their workforce.
The question you have to ask yourself is why are they trying to hire all these people at the same time they are downsizing everywhere else? The answer is likely quite simple and straightforward and the potential fallout for the company is vast. They need these people to work on BB10. What I say from now on is controversial and at the moment it is just my speculation but I believe it to be correct.
The BB10 project has already been a disaster as they had to delay it beyond the Christmas season for 2012. But I believe the revised target of Q1 2013 is also at risk. RIM's corporate culture has been poisoned and employee morale is at an all-time low. While they are trying to downsize other divisions, they are losing people that they can't afford to lose - their techies working on BB10. The outstanding amount of Software Development and Testing jobs posted throughout the summer is likely a desperate attempt by the company to try and hit their deadlines rather than face the music on yet another delay announcement.
Can they succeed in hiring all these vacant positions and bring BB10 to the market in Q1 2013? First off, the demand for Software and Engineering skills in Canada at the moment is extremely high as the country is currently fast-tracking foreigners who have those skills who wish to live in Canada through their immigration process. Second, RIM's corporate perception has been tarnished on the capital and job markets. If you were offered a job at RIM would you take it? Or would you prefer to stay with your current company that is in a much less tumultuous situation? RIM is trying to hire a lot of highly-skilled employees centralized in the Waterloo region of Ontario who have a lot of more stable options in that region or in Toronto so many of these jobs might remain unfilled for months.
Even if these positions at RIM were to be filled quickly, the learning curve for such a large group of new employees will take up even more time. Then there's always the possibility that more of RIM's experienced technical people leave as they see the turmoil and the heavy stress burden the BB10 deadlines is putting on them. Upon RIM's announcement of the layoffs, other Waterloo region tech companies are salivating over the idea of poaching RIM's talent with one company offering its employees $3,000 for every qualified software engineer they recruit to the company. If this company is willing to pay $3,000 just for a successful recruit, they certainly will be offering a very competitive salary as well so even if RIM can keep their software developers, they will do so at a much higher cost.
My conclusion? I think is only a matter of time before Thorsten Heins has to announce more delays to BB10. They are desperately trying to avoid this as their stock price will take another hit, but the excessive hiring is tipping their hand.
My investigation of RIM started this week when I decided to buy the stock in the low $7 range. The Samsung and IBM partnership rumors lifted the stock but that was quickly accompanied by heavy selling as it couldn't get beyond $8.50. Even Nokia (NYSE:NOK) managed a larger dead cat bounce so I knew there is something not quite right with RIM and sold. After doing this research I am glad that I did. This company is in even greater trouble than what a 95% or so decline in their stock price from their 2008 high implies.
It's about time that the operational issues at RIM get exposed for what they are so the CEO has to finally admit the true extent of the disaster BB10 is turning into rather than feeding the market little bits of bad news every once in a while so that buyers of the stock at each new low end up losing money. They are trying to delay the inevitable sinking of the stock price towards $5 so that if a white knight does eventually come in and save them, it will be at the highest stock price possible. But if the stock sinks below $5 which is what an admission of further BB10 delays could do, the company could be aiming for an $8.30 buyout instead of having an $8.30 stock price and aiming for a $10+ buyout.
Disclosure: I have no positions in any stocks mentioned, and no plans to initiate any positions within the next 72 hours.
Additional disclosure: I hold put options on RIMM and may continue to buy or sell them over the next 72 hours.