Choice Hotels International (NYSE:CHH) stock will soon pay a special dividend. Rather than jump into the stock, I've decided to employ a layered strategy; I've looked for profit in other positions and diversified into Choice Hotels equity and Choice Hotels bonds. I've also focused on small positions in three additional financial areas:
Build America Bonds: These taxable muni bonds have greater yield than the treasuries; as prices dropped last week, I added a new BAB ETF.
Agriculture: A Seeking Alpha article introduced me to a new commodity ETF. Since corn has risen dramatically, I went for an ETF that holds corn, soy beans, wheat and sugar, though it is a speculative position.
Foreign Bonds / Currency: I prefer to invest in American companies for international exposure. However, I believe some exposure to quality foreign equity, debt and currency can balance a portfolio. I compared Australian bonds, Indian rupees, Swiss francs and British pounds.
Instead of placing a bet on one stock for a special dividend, I have tried to increase the overall credit quality of my holdings. I know from previous special dividend plays such as OptionsXpress (NASDAQ:OXPS) (the stock moved dramatically due to confusion over special dividend record dates) and current special dividend announcements such as Warner Chilcott (NASDAQ:WCRX) that there is risk involved. So a diverse allocation can leverage the risk; smaller positions also help ensure that if the market goes south potential loss is less.
Special Dividend Analysis
According to Choice Hotels' financial tear sheet, the son of the company's founder, current chairman Stewart Bainum Jr., holds 11.15M shares of the company. In total, the tear sheet shows the Bainums hold 22.9M shares of the company; therefore, they should receive $239M in special dividends; that dollar figure amounts to 60% of the $400M new debt offering.

On July 26, 2012, Choice Hotels announced a special $10.41 dividend.
The record date for the special cash dividend is August 20, 2012 and the special cash dividend will be paid on August 23, 2012. The Company has been informed by the New York Stock Exchange that, in accordance with its rules, the ex-dividend date is expected to be August 24, 2012. Accordingly, stockholders who sell their shares on or before the payment date will not be entitled to receive the special cash dividend. The special cash dividend is being paid with the proceeds from the Company's recent offering of 5.750% senior notes and from its new senior secured credit facility.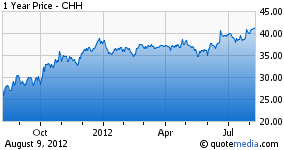 When the dividend is paid, the stock will go down the same amount. So the special dividend mostly benefits long-term shareholders. Investors must remember that Choice Hotels has not seen $42 a share since December 2006; the hotel business is complicated and the company only makes around $100M a year in net income.
So this isn't like Johnson & Johnson (NYSE:JNJ) or Berkshire Hathaway (NYSE:BRK.A) are paying a special dividend. It is Choice Hotels, a company that does not mind a credit drop to the edge of junk in order to take on more debt. Morningstar (NASDAQ:MORN) rates Choice Hotels' stock two stars, another reason for investors to be speculative.
Choice Hotels' Bond Analysis
| | |
| --- | --- |
| Choice Hotels 5.7% 8/28/2020 (CUSIP: 169905AD8) callable price: 107 | Issued: 8/25/2010, Original Size: $250M |
| Choice Hotels 5.75% 7/1/2022 (CUSIP: 169905AE6) callable price: 108.35 | Issued: 6/27/2012, Original Size: $400M |
Choice Hotels' debt is rated Baa3 by Moody's. On June 22 Moody's downgraded Choice Hotels, in part because of this large 2022 debt offering.
Every five shares of Choice Hotels stock will pay $52 in special dividend. Each bond will pay $57 a year per bond until the early 2020s.
| | | | |
| --- | --- | --- | --- |
| Choice Hotels Equity / Debt | Price | Quantity | Special Div. vs. Fixed Income |
| Choice Hotel Stock | $41 / share | 25 ($1,025 total) | $260 |
| Choice Hotel 8/28/2020 5.7% | $1,070 / bond | 1 | $57 / year (for 8 years unless called) = $456 |
*Note for this example I chose the nearer term Choice bond. The next semi annual coupon payment is 8/28/2012.
The special dividend and high yield are attractive. Choice Hotels keeps cost of revenue low; however, their administrative costs are high. One year ago, Choice Hotels traded at $26.54 a share and is currently $41.27 a share; that's a 55% increase.
Choice Special Dividend Strategy
An important consideration for this special dividend is to only invest long-term dollars into a Choice Hotels stock position. Investors do not know if Choice Hotels' stock will ultimately lose shareholder value post special dividend or not.
Investors have seen hotel stocks perform very well in the past year. As the 'fiscal cliff' looms and the election nears, investors are very sensitive. In the past two weeks, the iShares Barclays 20+ Year Treasury Bond ETF (NYSEARCA:TLT) has decreased from $132 to $125.70; a 4.7% drop.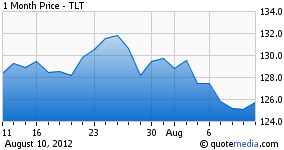 In my previous article, 'Microsoft and Apple Did Build 'That,'' I examined Aaa rated University of Michigan build America bonds and Aaa rated Beachwood City Ohio qualified school construction bonds. A benefit to the BABs and QSCBs is that the issuers receive between 35% - 100% in federal subsidies for the interest; a draw back is if the issuer loses qualification the bonds are callable.
Is interest on BABs tax-exempt?

No, even though BABs must qualify as tax-exempt under section 103 of the Code, interest paid on BABs is taxable to investors.

Are all BABs the same?

No. There are three types of BABs: BABs (Tax Credit), BABs (Direct Pay) and recovery zone economic development bonds. Each type has a different subsidy, a different purpose for which it may be issued and other varying rules.

For BABs (Tax Credit) what is the benefit to the investor?

The investor receives taxable interest income on BABs (Tax Credit) as well as the tax credit equal to 35% of that interest. Both the interest and the tax credit are includable in the investor's gross income. The tax credit is generally allowed against both regular and alternative minimum tax. If the credit allowable exceeds the investor's limitation for that taxable year, the unused credit may be carried forward until used. IRS FAQs on BABs

What is the Federal subsidy for qualified tax credit bonds?

Holders of QZABs (qualified zone academy bonds,) and QSCBs receive a tax credit equal to 100% of the credit rate on the bonds. IRS FAQs on QSCBs
If you do not believe BAB bonds suit your portfolio you could alternatively use fixed income of high yield CEFs to fulfill a diversified strategy. However keep in mind the credit quality of the holdings.
The Nuveen Build America Bond Fund (NYSE:NBB):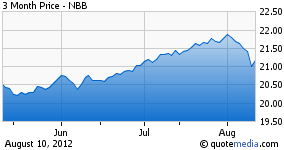 The Nuveen BAB ETF holds 8.6% of assets in AAA rated taxable muni bonds and 47% in AA rated. Additionally .37% in tobacco settlement bonds. The ETF currently distributes $0.108 cents a month per share.
Guggenheim Build America Bonds Managed Duration Trust (NYSE:GBAB):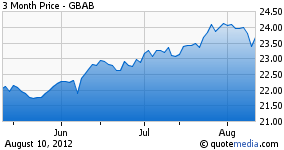 Guggenheim's BAB ETF holds .07% in Aaa and 45% in Aa rated taxable muni bonds; 23% in school bonds and 17% in university bonds. 71% of the fund is invested in BABs and 12% in QSCBs (qualified school construction bonds.) This ETF currently distributes $0.129 cents a month per share.
Blackrock Build America Bond Trust (NYSE:BBN):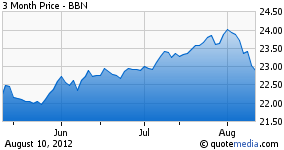 The Blackrock BAB Trust holds 5% in Aaa rated and 58% in Aa rated taxable muni bonds. The trust currently distributes $0.118 cents a month per share.
The Trust may utilize leverage through entering into reverse repurchase agreements. In general, the concept of leveraging is based on the premise that the financing cost of assets to be obtained from leverage, which will be based on short-term interest rates, will normally be lower than the income earned by the Trust on its longer-term portfolio investments. To the extent that the total assets of the Trust (including the assets obtained from leverage) are invested in higher-yielding portfolio investments, the Trust's shareholders will benefit from the incremental net income.
One problem is these funds own more California bonds. For this reason instead you may consider buying individual BAB or QSCBs that are well rated, due to California's financial worries. (Though the minimum purchase quantity is five bonds.)
A recent Seeking Alpha article, 'The Everything You Need Portfolio: A Commodities Play,' introduced Teucrium's new ETFs. The agricultural ETF holds corn, sugar, wheat and soybean ETFs.: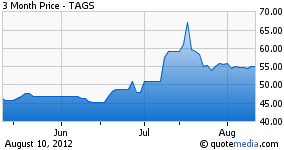 I found that while their Corn ETF (NYSEARCA:CORN) is at a high the Teucrium Agricultural ETF (NYSEARCA:TAGS) has declined from its peak: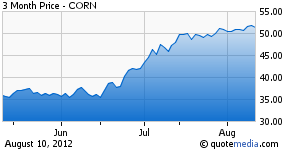 Some exposure to corn given the drought makes sense, however the price has already realized this. In order to diversify for this strategy I chose the Agricultural ETF for long-term exposure to sugar, wheat, corn and soybeans.
In 'Three Phenomenal ETF Performers Investors Should Avoid' I first read about PIMCO's Australia Bond ETF (NYSEARCA:AUD); then in 'Buy The Indian Rupee For Some Quick Gains,' I read about WisdomTree Dreyfus Indian Rupee ETF. I found WisdomTree's ETF holds US Treasuries and CITI (NYSE:C) TRIPARTY REPO 0.17% 08/13/12 and NDF BUY INR 340237577.00 @ 56.56 on 11/05/12. (An INR NDF is an Indian rupee non-deliverable forward.)
I compared these to the CurrencyShares Swiss Franc Trust (NYSEARCA:FXF) and CurrencyShares British Pound Sterling Trust (NYSEARCA:FXB). Based on the charts and additional research into each currency I settled on CurrencyShares British Pound Sterling Trust.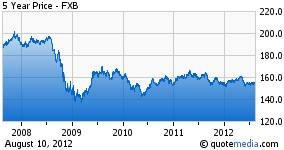 CurrencyShares British Pound Sterling Trust is 100% invested in British pound sterling. Moody's just reaffirmed the UK's Aaa rating however still holds a negative outlook:
The negative outlook in part reflects concerns about the U.K.'s macro-economic outlook for the next few years.
I believe the pound could ultimately be considered a safe haven while Europe continues to flail. Though the negative outlook is worrisome it is a risk involved with investing in Aaa rated securities; take America's credit rating cut for instance. I hope to be able to increase exposure to foreign bonds next; possibly through PIMCO's Australian Bond ETF.
Special Dividend Before Diversity
The former strategy, of buying bond funds, currency and commodity funds in addition to Choice Hotels stock and Choice Hotels bonds is what I call "diversity before special dividend." If instead you wanted to just buy Choice Hotels stock and hope the price of the stock rises, you could use the special dividend to buy the aforementioned funds.
The reason why I favor the former strategy is because I don't have to weigh as much risk, in case Choice Hotels stock does not perform well. However I weigh more risk in the event the company's ability to repay debt falters. There is risk involved in BAB bonds and foreign currency; I believe my position in the special dividend will ultimately compensate for the risk of BAB bonds failing or a fall in the British pound.
Here are two example positions for each strategy in a $100,000 portfolio. I recommend considering 40% in cash, about 10% in corp. bonds, 15% in fixed income, growth and value mutual funds, and 15% equity, using the remainder for individual preferences (such as inflation protection, or REIT, or gold) and targeting the year 2020 to ultimately find higher yield treasuries and corp. bonds.
| | | |
| --- | --- | --- |
| Diversity Before Special Dividend | Quantity | Cost |
| Choice Hotels Stock | 50 | $2,063 |
| Choice Hotels 8/28/2020 5.7% | 1 | $1,070 |
| Teucrium Agricultural ETF | 5 | $276 |
| Nuveen BAB ETF | 12 | $255 |
| Blackrock BAB ETF | 12 | $275 |
| Guggenheim BAB ETF | 12 | $285 |
| CurrencyShares British Pound Sterling | 5 | $777 |
Total: $5,001 (5% of a $100k portfolio)
| | | |
| --- | --- | --- |
| Special Dividend Before Diversity | Quantity | Cost |
| Choice Hotels Stock | 125 | $5,159 |
| Use Special Dividend to Buy | | |
| Teucrium Agricultural ETF | 5 | $276 |
| Nuveen BAB ETF | 12 | $255 |
| Guggenheim BAB ETF | 12 | $285 |
| CurrencyShares British Pound Sterling | 5 | $777 |
Total: $5,159 + $300 = $5,459 (5.45% of a $100k portfolio)
This is a total of $1,593 in ETFs and currency, after a $1,300 special dividend; so you would need to add $300. Because in this strategy you only want to use long-term speculative dollars to invest in Choice Hotels' stock, not bet that it goes up to be able to sell it. To give your investment some time and not be forced to sell at a loss.
If you have any comments or would like to suggest a security that might work for this strategy please comment below.
Disclosure: I am long CHH, BBN, GBAB, NBB, FXB, WCRX.
Additional disclosure: I am long CHOICE HOTELS 5.7% 8/28/2020