Weekly Outlook: The market had a solid week last week on the back of the ECB decision to help Spanish and Italian bond yields stay lower as well as a jobless number that was better than expected. Those two news pieces set the mood, and with a lack of volume and headlines, the market was able to move steadily higher. With the Fed, ECB, Congress, and whole market seemingly on vacation, the week was rather uneventful. Some earnings came out fairly solid for companies like Polo Ralph Lauren (NYSE:RL), Fusion-IO (NYSE:FIO), and SodaStream (NASDAQ:SODA), and earnings were fairly important. All in all, it was a forgettable week, but it does move us into a much more eventful week that should help bring some volume back into the markets.
Will the ECB make a big move this week? Economic data is plentiful, and after an earnings lull, we get some important reports this week. It's a big week in the market, so where do we think things are headed this week?
Economic data is abundant this week, and we expect the market to play off those reports throughout the week. We start out the important data on Tuesday with Retail Sales and PPI. Retail Sales have been lagging over the past two reports, and expectations are for growth. That number could be a source of some definite market movement. Wednesday we get CPI and the Empire Manufacturing Index as well as Crude Inventories and the NAHB Housing Market Index. Thursday we get important data from the housing market with Housing Starts and Building Permits as well as Initial Claims and the Philly Fed Index. We finish up the week with Leading Indicators and the Michigan Consumer Sentiment Index. We see Retail Sales, Housing Starts, Fed indices, and Michigan Sentiment being the important reports this week. Solid reports will probably be less impactful as negative reports. The contrarian view, though, may be buy on bad reports because it is more fuel to a Jackson Hole plan from the Fed to do something more with "free money."
Overseas, we have some important days in the market. We get some important reports from Europe on Tuesday and Wednesday. Tuesday will be the release of GDP for the Euro-Zone, France, and Germany. Additionally, that day will also give us the ZEW Survey report, which is always very interesting. Wednesday is a big day as we get the Bank of England minutes as well as English data on unemployment. Both days will be key to this week as those will create sizable movement in the euro, which will probably be very impactful on the market this week with our lighter volume. For Asia, Japanese GDP on Monday is probably the most important data point this week and will set the stage for the week for them.
Earnings are actually going to be much more important this week again as we have a lot of bellwethers going in the market, especially in the retail industry. The big reports are Wal-Mart (NYSE:WMT), Target (NYSE:TGT), and Cisco (NASDAQ:CSCO). We also will get earnings data from a number of other big names like Gap (NYSE:GPS), Dollar Tree (NASDAQ:DLTR), Home Depot (NYSE:HD), Deere (NYSE:DE), and TJX. A lot of retail goes this week, and those reports seem to always be very key to the market. Watch for a solid report from WMT and HD, and we may see some weakness off the DLTR report.
The Federal Reserve has its one Fed Index on Thursday, but it's another quiet week. The Fed will not really have much happening until its Jackson Hole meeting at the end of the month, and it takes a backseat this week to Europe, data, and earnings. They have put a floor on the market, and the week will only bring about speculation about what they will do next.
So, where are we headed this week?
We saw the market trying to show some signs of rolling over at the end of last week, and those moves were squashed. We have a busy week with a lot more happening than last week, so we believe the market will see a lot of opportunities to make bigger movements. At the same time, volume will be light and we believe most dips will be bought. The market should move more flat again, but we could see more sizable movements for individual equities as volume is light and can create a good deal of volatility.
Stocks To Trade:
The two trades we like right now for the market are American Tower (NYSE:AMT) long and Marriott (NYSE:MAR) short. American Tower had great earnings on August 1 in our opinion. The company continues to show great growth, maintained strong outlook, and they continue to see a great expansion sue to the cell phone craze. The company has maintained $70 since the report, and it has been building a triangle with solid base there. We like buying them and believe they are poised for a breakout. MAR, on the other hand, has been weak as of late. It has started to form a downward channel, and its last earnings report was weak. The company has no catalyst right now and looks like it will continue to underperform into its next report.
Position #1: AMT, Long
Position #2: MAR, Short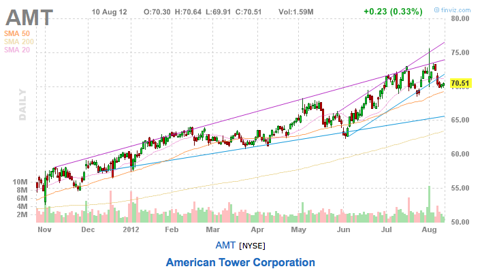 Click to enlarge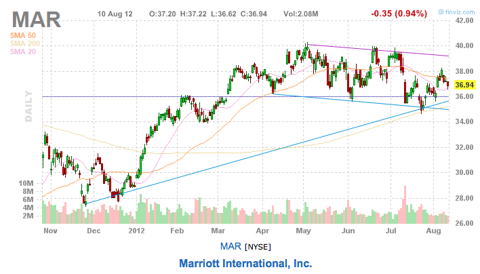 Click to enlarge
Oxen Group Holdings:
We have the following positions:
In our Short-Term Equity Portfolio we are long PPG (NYSE:PPG), Target , Carnival (NYSE:CCL). We are short O' Reilly (NASDAQ:ORLY), Omnicare (NYSE:OCR), and Liberty Property (LRY).
In our Options Portfolio, we are long Yum! Brands (NYSE:YUM), Starbucks (NASDAQ:SBUX), United States Oil (NYSEARCA:USO), Monsanto (NYSE:MON), Dollar General (NYSE:DG), Home Depot (HD). We are short Eli Lilly (NYSE:LLY) and Adobe (NASDAQ:ADBE).
In our Earnings Alpha Portfolio, we are long Francesca's (NASDAQ:FRAN), Discover (NYSE:DFS), Apple (NASDAQ:AAPL) and American Eagle Outfitters (NYSE:AEO). We are short Dell (NASDAQ:DELL). We have a reverse iron butterfly in F5 (NASDAQ:FFIV). We have reverse iron condors in Coinstar (NASDAQ:CSTR) and Facebook (NASDAQ:FB).
In our Goldman Sachs Up/Down Paper Portfolio, we are long Cubist (CBST). We are short Yanzhou (NYSE:YZC).
Disclosure: I have no positions in any stocks mentioned, and no plans to initiate any positions within the next 72 hours.