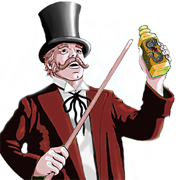 As the week came to an end, I had yet another reason to feel like a charlatan.
As I look back on last week's selections, of the 10 opportunities cited, only one made it as a Trading Alert and was sent to subscribers. Reminds me of the butcher that lowered his price on chicken to $0.12 per pound in order to annoy his competitor, but he only did so after he ran out of supply. It's easy to tout something, especially when you don't follow through.
This past week, there was almost no follow through. My wife might say that I was exhibiting "passive-aggressive behavior," but it was my intent to follow through. I know that I would have been happier, but I suppose averting that happiness would just further get diagnosed as being a classic example of Schadenfreude.
The point is, sometimes you just can't win.
Too bad, they were pretty good selections, but with the market opening strongly on both Monday and Tuesday and really not giving much in the way back, the entry prices just seemed too high. To be fair, just about anything selected after the close of last Friday's market would have looked like a good selection on Monday and Tuesday, as everything went along for the ride, just some more than others.
The alternative Trading Alerts and personal trades were truly a case of night and day. Instead of basking in the glow of all of last week's dividend plays, it was more a week of selling puts of recently disgraced shares, such as Abercrombie & Fitch (NYSE:ANF) and MolyCorp (MCP), as well as selling puts n Barclays Volatility ETN (NYSEARCA:VXX). What was destined to be a week of revelry in the safety of 'traditional' stock selections was instead one of one Hail Mary after another.
Despite the opportunity to add to positions in Starbucks (NASDAQ:SBUX) and ProShares UltraShort Silver ETF (NYSEARCA:ZSL) at what seemed to be bargain prices, it was altogether unsatisfying, despite the very satisfying numbers at the conclusion of the week. Sometimes it's more than just the ends that are important, so too are the means and this past week the means were subdued as I didn't trade as often as usual, not wanting to chase prices higher.
Speaking of unsatisfying, I'm glad that Howard Schultz, legendary Chairman and CEO of Starbucks isn't a friend of mine. For those that owned Green Mountain Coffee Roasters (NASDAQ:GMCR) some 40 points ago will attest, as their partner and presumed ally seemingly pulled the rug out from under the agreement with GMCR.
But on Wednesday, Schultz announced a special liaison with Square, the new mobile payment platform. On its own that seems like a reasonable step forward, until you realize that Groupon (NASDAQ:GRPN), on whose Board of Directors Schultz served until very recently before suddenly stepping down, with nary an explanation, is in the payment processor universe as well.
I should mention that on Wednesday, for my personal accounts, but not sent as a Trading Alert, I increased my Groupon holdings nine fold, although I did immediately write $7 (in the money) call contracts that were assigned at the close of Friday's trading, as Groupon surged mid-day, to avert the possibility of being long shares as Groupon releases earnings on Monday, August 13, 2012.
Whew.
With friends like Schultz, I think I might decline any invitations for a friendly cup of coffee.
As usual, the week's picks are divided into three categories: Traditional, Momentum and Double Dip Dividend. (See details)
As opposed to last week when there seemed to be no shortage of strong contenders, this week I found the pickings fairly slim as I continue to believe that too many stocks are over-priced. With many assigned positions settling and cash accumulating in one's account, it's potentially dangerous to go on a spending spree on Monday.
As so often heard this week, what is being described as a rally is perhaps the least respected rally in recent memory.
In the beaten down, yet traditional stock category is United Healthcare (NYSE:UNH). I don't particularly like its products but I think for the coming week I could learn to like the stock. At a time that I'm more inclined to sell in the money options on positions that I believe to be over-priced, UNH is one that warrants an out of the money strike price. It is the sole traditional stock on my radar screen this week.
With so much talk about the Facebook (NASDAQ:FB) lockup ending this coming week, I think this is a good time to establish or add to a position. As opposed to some of the other recent IPOs that have questionable business models, Facebook may yet have to establish a mobile technology, but it is still a company with real revenues. I think that those exiting the lock up period have more faith in Facebook than do those burned by the IPO itself and those that take glee in the well publicized missteps.
I'm not really certain why I list the ProShares UltraShort Silver as a choice for this week as both it and ProShares Ultra Silver are unwritten choices each and every week and sometimes more than once in a week, whether through purchase of shares or sale of puts. But I think that the dogged defense of $63 makes me believe that a one week play can be a profitable one, even for those that typically eschew the more speculative plays.
This week's dividend plays are summed up by the words oil and trucks, but are a continuation of a recent theme of playing the heavy machinery sector. The torch is passed from Caterpillar (NYSE:CAT), Deere (NYSE:DE), Cummins Engine (NYSE:CMI) and Eaton (NYSE:ETN) to Murphy Oil (NYSE:MUR), Marathon Oil (NYSE:MRO) and Paccar (NASDAQ:PCAR).
Why not? Whatever works and these have.
Traditional Stocks: United Healthcare
Momentum Stocks: Facebook, ProShares UltraShort Silver,
Double-Dip Dividend: Marathon Oil (8/14), Murphy Oil (8/15), PACCAR (8/15)
Hopefully, this week the market will have at least a short-term return to sensibility and take a little bit of a breather to start the final week of the August 2012 option cycle. Although there's some nice satisfaction out of receiving decent premiums and dividends, it would be so much nicer to have shares assigned at levels much closer to their strike prices than they currently are for myself and subscribers.
But it would be especially nice to actually follow through with the script, as planned. It's so much easier that way and I'd much prefer to shed the charlatan's top hat and cape.
Remember, these are just guidelines for the coming week. Subscribers will get Trading Alerts if these appear to be reasonable actions as trading begins next week. If you're on your own, please adjust accordingly with market movement and you'll have the makings of a healthy income stream for the week with reduced risk.
Disclosure: I am long FB, SBUX, ZSL, ETN.
Additional disclosure: I may initiate positions in MUR, MRO, UNH, PCAR