Shares of both Office Depot Inc. (NYSE:ODP) and Staples, Inc. (NASDAQ:SPLS) are down so far in 2012. However, with the back-to-school season fast approaching, investors are likely to put money to work in these names. There are three reasons why I prefer Staples to Office Depot.
Click to enlarge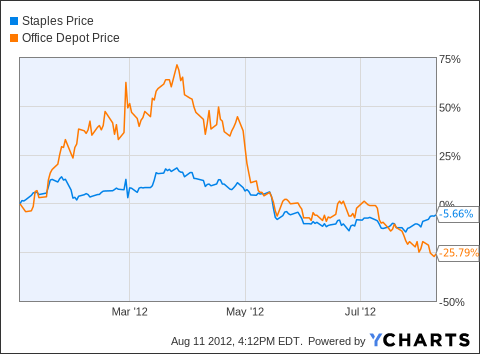 Profit Margins
As shown by the chart below, SPLS has proved to be a much better operator than ODP.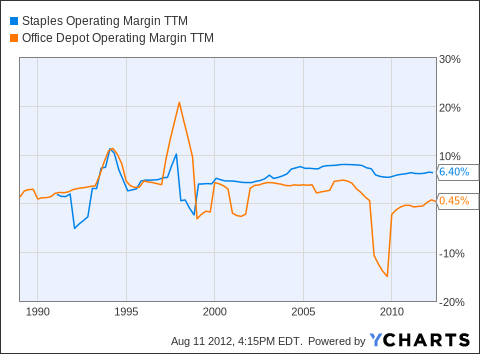 SPLS Operating Margin TTM data by YCharts
There are a few reasons for this, but there is one in particular I would like to point out. As shown by the quarterly revenue chart below, SPLS earns more than twice as much revenue as ODP. However, SPLS employs nowhere near twice as many people as ODP. SPLS has 51,542 full time employees while ODP has 39,000 full time employees. Overall, the difference in profit margins is, at the end of the day, a reflection on management. I believe SPLS's management is far superior to ODP's.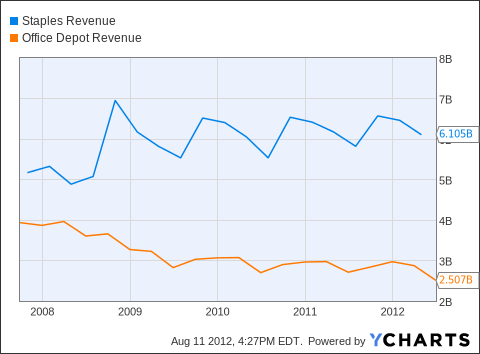 SPLS Revenue data by YCharts
Dividend
SPLS pays a of 44 cents per share or 3.28%. Comparably, ODP does not pay a dividend. Given the current low interest rate environment and the importance being placed on dividends right now, SPLS has a major advantage over ODP.
Debt-to-Equity
Another major contrast between ODP and SPLS is the debt-to-equity ratio. As shown by the chart below, SPLS is in significantly better financial shape than ODP. If business is weak going forward, ODP faces much bigger risks than SPLS. Because of its stronger financial position, SPLS should be able to better withstand any future industry downturns.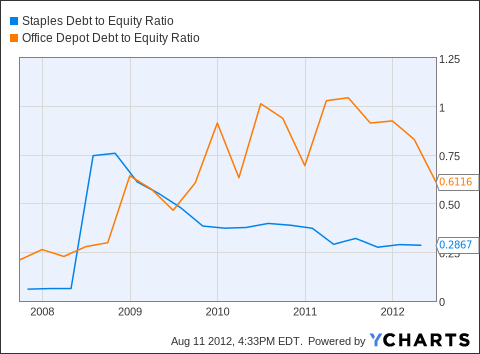 SPLS Debt to Equity Ratio data by YCharts
Conclusion
Do to its superior operating profit margins, dividend, and better financial position, Staples is a better buy than Office Depot.
Disclosure: I have no positions in any stocks mentioned, and no plans to initiate any positions within the next 72 hours.