I recommended shorting LinkedIn (NYSE:LNKD) into 2Q12 earnings as I expected a revenue disappointment. Instead of a disappointment, the company delivered another solid revenue beat, trouncing mine and the Street's estimates ($228mm actual vs. $216mm estimate) and raising guidance. I was wrong about 2Q, but while analyzing my mistake, I think I have found pretty compelling evidence that growth did indeed slow dramatically in 2Q, but the slowdown won't show-up until next quarter. Let me walk you through my analysis:
Revenue Is A Lagging Indicator Of Growth, Instead Look At Bookings
Dusting off your accounting books, you'll remember that revenue recognized in a quarter is different than the amount of new business done in a quarter. For example, in the firm's hiring solutions division, when they sign up a new corporate solutions customer, the customer pays up front for a 1-year subscription (i.e. all cash in the door on day one), but the firm will recognize the revenue over the following year as the service is delivered. There's nothing unusual about this accounting, but it does mean that revenue is a lagging indicator of growth. Here's why. If a firm that was growing very rapidly, suddenly has a slowdown in growth, this slowdown will be masked in the current quarter because they continue to recognize revenue from business done in previous quarters. For a more timely representation of a firm's growth trajectory, you need to look at bookings, not revenue.
Bookings Defined As: New sales done during the quarter (regardless of when they'll be recognized as revenue).
Bookings Calculated As: Revenue + Change In Deferred Revenue (a balance sheet liability).
2Q Showed A Severe Slowdown In Bookings In The Hiring Solutions And Premium Subscriptions Segments
As I described above, LinkedIn generally collects cash up-front in the hiring and premium segments (~70% of revenue), but recognizes the revenue over the period the service is provided (I have assumed that the ad segment generates little or no deferred revenue). Thus revenue does not accurately reflect the amount of new business (or bookings) done in a given quarter in those segments. To calculate bookings, you need to add the change in deferred revenue (a B/S liability) to revenue. In the table below, I show both revenue and bookings over time and show that there was a dramatic decline in bookings growth to 4% in 2Q vs. 22% in 1Q and the growth on an absolute basis was only $7mm QoQ (worst growth in at least a year). Basically, despite robust revenue growth, business growth was relatively anemic.

Deferred Revenue Can Only Hide Slowing Booking Growth For A Quarter Or Two
I've constructed a simple model to project revenue growth based on booking growth in the hiring and premium segments. The model estimates what percentage of bookings is recognized in the current period and what percentage of bookings will be deferred for recognition in future periods. On average, I estimate that roughly half of bookings is deferred in any given period to future periods and I have made the assumption that deferred bookings are recognized pro-rata over the next one-year period. Using this model, I can estimate how different levels of booking growth will flow into revenue in 3Q. In the table below, I show that if bookings only grow 5% QoQ (essentially matching 2Q's growth), revenue growth will slow to only 8% (vs. 18% last quarter). While it is certainly possible that booking growth reaccelerates to 25% next quarter, it leaves little room for error.

Membership Growth Was The Slowest Level In Over a Year
While LinkedIn's membership growth is still robust, it slowed in both absolute terms and on a percentage basis. In the table below, I show that LinkedIn added 13.3mm new members (or an 8% QoQ growth rate) in 2Q12. This compares to 15.6mm members added in 1Q (or a 11% QoQ growth rate). Given that much of the firm's valuation is predicated on sustained robust revenue growth, a slowdown in any of the firm's key operating metrics should serve as a warning sign to potential investors that the required growth needed to justify the valuation may not materialize.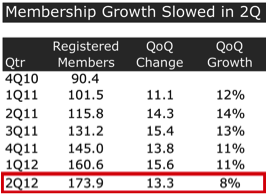 Early Signs The Social Media Bubble is Popping
With Facebook, Groupon (NASDAQ:GRPN), and Zynga (NASDAQ:ZNGA) off 54%, 77%, and 82% respectively from their 52-week highs, there's been a change in sentiment around social media stocks. As this revaluation takes place, none of the remaining properties will be immune and even the strongest businesses will watch their stocks begin to correct. LinkedIn will not be an exception and has quite a ways to fall based on my intrinsic value calculation.
The Stock Call
My investment thesis on the stock is simple. Good company, real business, but the valuation is entirely unsupportable and is currently baking in continued exponential growth, substantial margin expansion and monopoly-like pricing power, leaving zero room for error. Having said that, I do recognize that the stock could continue to trade at a very steep valuation until a crack can be identified in the growth story. In my view, we're very close to seeing that crack. And once that crack comes, the stock could trade down to its intrinsic valuation or below, which I now estimate is around $53 (or about 50% below the current market price).
As always, your comments and questions below are appreciated.
Full Disclosure: I'm currently short the stock and I have been wrong on the name for 2 consecutive quarters. Having said that, I believe the valuation is disconnected enough from the underlying value of the business that I feel I have a substantial margin of safety.
Disclosure: I am short LNKD.