In what had to be the strangest set of five consecutive daily gains in a row, the market managed to advance 1.0% last week. We say it was odd simply because each daily gain was almost imperceptible on its own, but when combined with the other four days, the market managed to defy the odds and actually tack on more gains, rather than pay the price for the prior week's surge into overbought territory.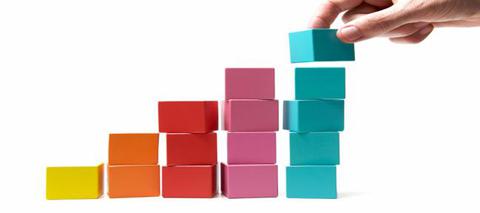 Does the strength against the odds send a loud-and-clear signal that the bulls are back in control, or does the tepid advance simply set us up for a slightly bigger pullback this week? We'll handicap the market in a second, right after starting our top-down analysis with a look at last week's and this week's major economic numbers.
Economic Calendar
Truth be told, there wasn't a lot in the way of economic data to hurt or help the market last week. In fact, the only items of real interest were the consumer credit level change from June, and the prior week's unemployment claims.
As for consumer credit, you may recall the amount of new fixed loans has been in the teens (of billions) for months now, largely fueled by formerly-employed folks who are now back in school, and need student loans to go. Due to new, tighter controls from the government - which is making those loans - the strong pace of loan growth has been expected to ease around the middle of this year. We're finally starting to see it happen, but even more so than anticipated. Economists expected new loan growth to slide from May's level of $16.7 billion to $10.0 billion in June. The actual figure rolled in at $6.5 billion, and though the bulk of that was still the result of new student loans, the pace of student loan growth has slowed tremendously.
On the employment front, the market was surprised that only 361,000 people applied for unemployment benefits for the first time a week earlier, following the previous week's 367,000. The pros were expecting 375,000. Don't become too impressed though. Continuing claims actually rose to 3.332 million two weeks ago, up from the prior reading of 3.279 million. That ongoing claims figure just isn't budging.
Economic Calendar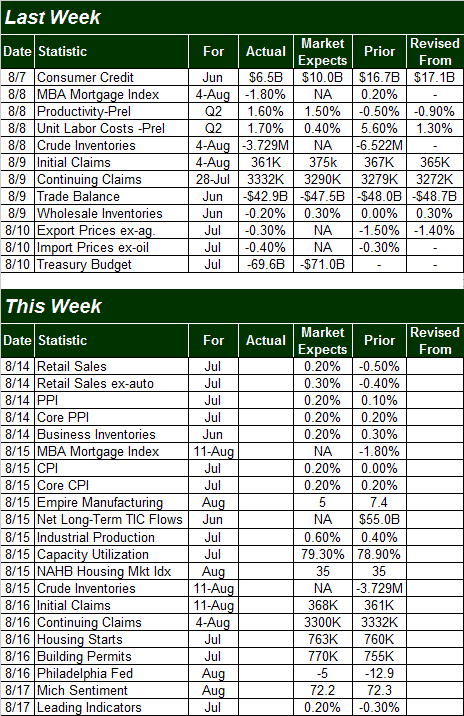 Clearly the coming week is going to be a busy one, and many of those numbers could be market moving. Here are the big ones to watch for.
* Tuesday: Retail sales. With or without autos, retail spending is expected to be up firmly for July. Given how pessimistic investors are right now though, there's no room for a shortfall on this front.
* Wednesday: Consumer Inflation. Not only have fears or rampant inflation (as a result of the Fed over-stimulating the economy) not come to fruition, of anything, the lack of inflation now is starting to become alarming. Pray for a balanced CPI change.
* Wednesday: Industrial Production and Capacity Utilization. We've mentioned before that these two data sets are likely the most important coincidental indicators for the long-term market. If they're up - and they have been for months - the bull market is still alive. If they sink for July, that's trouble… even if nobody recognizes it at the time.
* Thursday: Housing Starts and Building Permits. The numbers for July are expected to only be a tad better than the numbers for June, but another round of improvement here would go a long way in confirming the housing market's rebound.
Stock Market
We've got our usual technical analysis of the overall market this week, but first we just want to show you a zoomed-in picture of the S&P 500 (SPX) (NYSEARCA:SPY) just to show you how odd last week was. Specifically, on the daily chart below, notice (1) how small the daily ranges were, and (2) how small each daily gain was [you can barely even see them].
S&P 500 - Daily Chart (zoomed-in)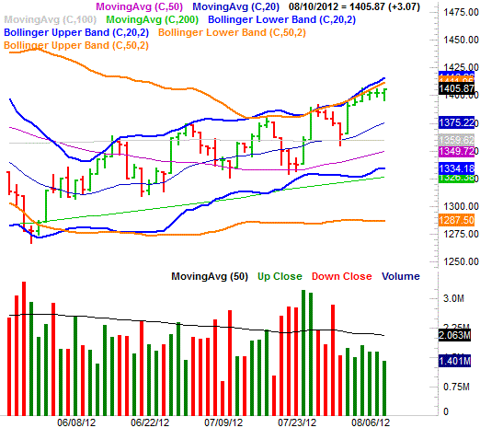 What's it mean? Maybe nothing. And, considering how weak the volume/interest was for all five days of last week, maybe it should be no surprise the volatility was minimal. Perhaps more important though, the lack of volume and buying interest may mean there's no real 'umph' behind the bullishness. It would certainly make sense. We already knew the market has reached its near-term limit a couple of weeks ago by bumping into the upper 20-day and Bollinger bands. Although those lines haven't pushed the market lower yet, the SPX obviously hasn't cleared those hurdles either.
Does anything change when you take a step back and look at a longer-term daily chart? Not really. We can still see there's a bigger uptrend in place, and we can still see (by viewing the rally from early in the year) that meeting resistance at the upper Bollinger bans doesn't necessarily have to mean the really stops. All we're saying is that both charts point to the need for, and likelihood of, a near-term dip.
It's also on this bigger-picture daily chart where we can see just how drastic the drop-off in volume has been.
S&P 500 & VIX - Daily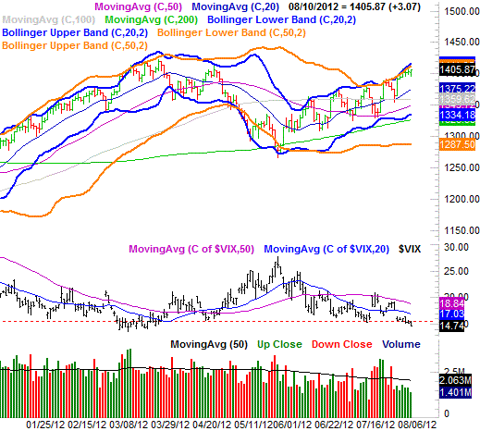 It's with this longer-term daily chart, however, where the CBOE Volatility Index (VIX) (NYSEARCA:VXX) either becomes something very bullish, or very bearish.
The bullish argument is that the VIX has fallen under a key level of 15.60 with Friday's close 14.74. With the exception of late March, the VIX has usually bottomed right around 15.60 while the market peaked…at least for the near-term. To see it move under 15.60 may be a hint that traders are finally ready to start thinking and acting bullishly.
The bearish argument is that the VIX also moved a tad under 15.60 in early March, right before the rug got pulled out from underneath stocks. Ever heard the term "Expect it when you least expect it"? Historically speaking, the VIX is at a point where it usually zags, just when everyone expects it to zig.
Given the whole scenario of tepid bullish volume, tepid bullish gains, persistent resistance at the upper band lines, and a VIX that has gotten uncomfortably low, we're more inclined to expect a downside move here. Again, we're not talking about the beginning of a new bear market - we're just talking about enough to bleed off the bulk of the existing overbought pressure.
For what it's worth, here's a look at the even-bigger-picture weekly chart of the S&P 500. It tells us the same thing… the bigger trend is still bullish, but in the near-term stocks are really pressing their luck. Good news though… there's a very strong floor for the S&P 500 at 1300.
Also note the long-term trend of waning volume, which is a large part of the reason stocks (NYSEARCA:DIA) (NASDAQ:QQQ) (NYSEARCA:IWM) are feeling more and more listless now.
S&P 500 - Weekly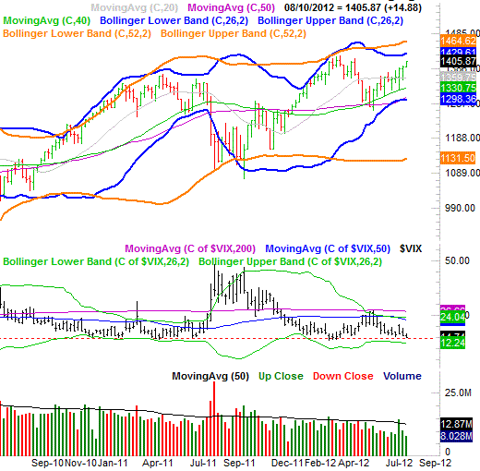 Disclosure: I have no positions in any stocks mentioned, and no plans to initiate any positions within the next 72 hours.