Shares of Crocs, Inc. (NASDAQ:CROX) have posted a steady YTD performance of 11.65%. Since my last bullish call on the stock in early June, the price has appreciated almost 6%. I continue to be bullish on CROX as the company's strong fundamentals remain intact and the stock valuations are still very attractive. In this article, I will illustrate the rationales in a different perspective to support my view.
Despite the solid YTD price action, the stock valuation recently bounced back from its 52-week low measured by forward P/E (see below).
Click to enlarge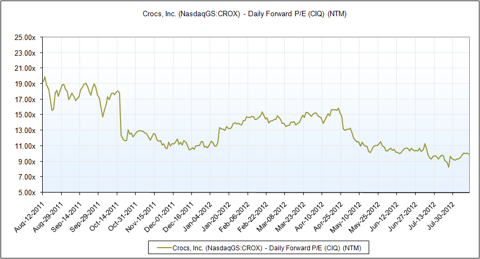 My comparable value analysis includes a set of fashion shoes retailers such as Deckers (NASDAQ:DECK) and Collective Brands (NYSE:PSS). At $16.49 per share, CROX trades at an average discount of 18% to the five peer average valuation multiples - EV/Sales, EV/EBITDA, P/S, P/E, and EV/FCF. Accounting for the company's estimated growth potential, the stock is only trading at 0.7x (see below).

Nonetheless, CROX has a relatively strong financial performance. Revenues, EBITDA, and EPS are estimated to rise by a solid 2-year CAGR of 13.5%, 18.5%, and 18.3% over the current and next fiscal years. These figures are substantially better than the peer averages of 7.0%, 16.5%, and 10.2%, respectively (see above).
CROX also has a superior profitability. The company has the highest gross margin of 54.4% in the peer group. The company's EBITDA, EBIT, and net income margins are all significantly higher than the peer averages. The robust ROE and ROIC also suggest the company is able to produce an above-average return on investments (see above).
In terms of liquidity, CROX' LTM FCF margin is very solid and outperforms the peer average. The company only carries very little amount of debt, resulting in a large interest coverage margin. The above-average current and quick ratios also reflect a very liquid corporate balance sheet (see above).
Apparently, the CROX' discounted valuations suggest that the market has not given enough credits to CROX' financial excellence, and thus I believe the stock remains undervalued.
I am also aware that CROX' EV/Sales and P/S multiples are currently above the peer averages. However, as CROX and its selected peers are relatively matured companies, I believe the market would put more weight on earnings multiples such as EV/EBITDA and P/E in valuing the shares.
On a technical perspective, the stock appears to be building a solid ground in breaking through its 50-day simple moving average, and I expect a likely positive pricing momentum down the road. In addition, there has been a solid price support near the current stock price since September 2011 (see below).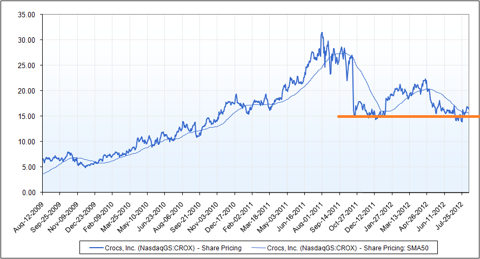 Bottom line, I continue to recommend acquiring the shares at the current price in the light of cheap valuations and strong financial fundamentals that are likely driving a long-term price appreciation.
Technical price chart is sourced from Capital IQ, comparable analysis tables are created by author, and all financial data is sourced from Morningstar and Capital IQ.
Disclosure: I am long CROX.