It wasn't Tesla, or General Motors, or Ford, or Nissan, or even Toyota; Yes, the Winner Is: Kandi Technologies With 20,000.
It has now been just over seven months since I published my last Seeking Alpha article on China based, Nasdaq-listed Kandi Technologies (NASDAQ:KNDI). The title of that article was: "Wall Street Match Up: Kandi Technologies Vs. Tesla Motors (NASDAQ:TSLA)". The purpose of that article was not to denigrate TSLA, but to create an objective evaluation from an investment point of view comparing the only two pure-play EV manufacturers accessible to US shareholders. I will revisit points made in that article shortly, but let me first defend my possibly controversial title of this writing followed by why so large an order is likely to be looked at as relatively insignificant compared to what is on KNDI's near horizon.
After closely following KNDI for over five years and having visited the Company in China, I am now prepared to make a very bold statement referencing the potential of KNDI's patented Quick Battery Exchange technology (QBEX) and their KD5011EV mini-car.
"The reality is that early KNDI investors have been given an investment opportunity in a Company, at a price well under its all-time high, that could likely be looked at in a few years for delivering duel disruptive innovations not to dissimilar to, but possibly greater then individually; IBM's delivery of the first PC's, Apples first sales of the Apple 2E, and Microsoft's release of its first generation Windows software, on one hand, paired with Henry Ford's Model T and Ferdinand Porsche's Volkswagen delivery of the first affordable cars for the masses . None of these were the true first movers in delivering a working product, but all were the first to achieve major sales."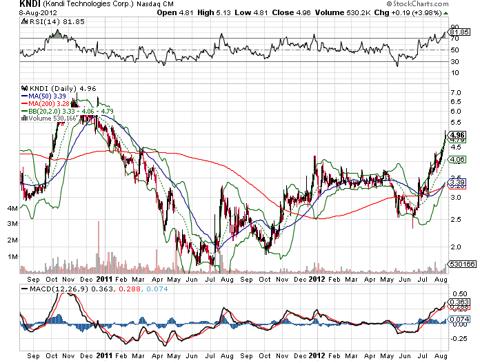 While several of the Companies in the title above may have achieved total worldwide sales above this mark, none have received a "single source" order approaching the magnitude of what KNDI announced July 16th.
OK, so where do I get off in insinuating that KNDI already has this order when their PR headline call it a "Letter of Intent" and what does "Promote" really mean? I have no idea why KNDI's IR elected to use these words in the headline of it press release. Perhaps something was lost in the translation? Or maybe out of traditional Asian respect, they are waiting for their senior partners to make the final announcement at this week's International EV Expo in Hangzhou. Or maybe I am just making the bold statement in the title having taken the advice of many of last year's "China stock attack writers" who continuously proclaimed; "you can't trust what these US China Company's say in their press releases". So instead I have relied on the deluge of articles in KNDI's homeland through the China media (and Google translate) regarding this agreement; where hundreds of articles clearly state that KNDI is the chosen one. For example: Four days prior to KNDI's US press release, this article came out on China's preeminent "Electric Grid" website which seems to confirm my point clearly:
Kandi Vehicles Co., Ltd. Signed a Cooperative Letter of Intent With China Aviation Lithium Battery Co., Ltd. (CALB) to Promote 20,000 Pure Electric Vehicles in Hangzhou

("Condi" is Kandi translated)

2012-7-12 9:57:07

"July 10, the central corporate strategic cooperation with Jinhua City Conference "held in Beijing, more than 10 companies, including Air lithium (Luoyang) Co., Ltd. and Zhejiang the Condi car Co., Ltd. signed a Strategic cooperation agreement. As the participating companies on behalf of the only car prices, the Condi car industry in the Air 20000 lithium electric vehicles "marriage" marks the big screen of the largest pure electric car rental project will be officially opened.

Hangzhou, as the new energy vehicle demonstration and extension of the pilot and the private purchase of new energy auto pilot "pilot" city, has been the vanguard of the promotion of electric vehicles in China. Hangzhou electric the Condi car industry's participation in auto leasing model, but also by the State Council Development Research Center of Enterprise Institute as one of the exploration path of the domestic electric car business model.

It is reported that Hangzhou 20000 pure electric car rental project will be implemented in August, is expected to be completed before the end of 2013 to carry out such a large-scale electric vehicles leasing activities and is not easy. The National Grid, the Air lithium and Condi car industry parties in the event reflects the market positioning strategies of cooperation, and electric vehicles, new industrial mode of operation is also worth to learn from other cities across the country and is expected to promote..."

"…The reporter learned that, in this cooperation, the production of electric vehicles is completed by the Condi car industry. CNAC lithium the Condi car industry purchase of vehicles, and is responsible for the battery pack production work. Car rental and the charge for electricity services is borne by the Hangzhou electric vehicle industrial companies and the national grid, Hangzhou electric vehicle services company.
And here is a similar article the day before (I like this one due to the picture with KNDI's CEO and controlling shareholder Xiaoming Hu singled out at the signing ceremony, front right):
Hangzhou pure electric car rental project, CNAC lithium, Condi car industry, "marriage" Yang Fan, set sail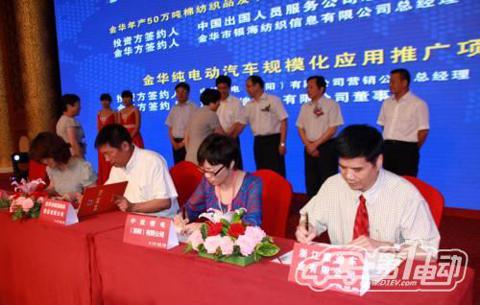 20,000 EV Signing Ceremony- KNDI CEO front right
While I suppose there is a miniscule chance the whole program could be cancelled; but to cancel now would likely cause at least two Fortune 500 Global Companies and a very large city to "lose face". Something Asians hate to do. But to continue; a few of my Chinese/American contacts have pointed out that a "Strategic Agreement" in China is usually the final step before delivery and done well after the "Letter of Intent" stage as we Westerners know it. This in particular when so many parties at such high levels are participants in the deal and its delivery is scheduled to begin so shortly after signing.
Regarding the "Promote" comment in KNDI's PR headline; as is clearly seen in the extracted quotes above, this is another interesting choice of words by the Company which does not seem to be supported by the facts as stated in the China media. KNDI appears to be only responsible for the "production" of the vehicles with AVIC/CALB and the City of Hangzhou responsible for placing the EVs with consumers.
Now I suppose some who don't understand the specifics of this deal might assume that KNDI as manufacturer may have to assist in the promotion of its vehicle sales similar to what Ford (NYSE:F), General Motors (NYSE:GM), Toyota (NYSE:TM), Nissan (OTCPK:NSANY) and Tesla certainly must do. But at least in this stage of KNDI's development, there is a major difference. While most of the World's major car makers have to promote their vehicles to support a "dealer network" to advance sales, not so for KNDI with this initial sale. The sale is being made directly by the Company.
The Principal Partners:
Kandi Technologies will produce 20,000 KD5011EVs (Li battery) with its patented "Side Slide" Quick Battery Exchange Technology (QBEX) incorporated. According to this recent Government filing by AVIC/CALB, (Sorry, PDF only-Google can't translate. But translated on a chat board in China here) here is an excerpt of the roll out schedule from the filing:
"…According to the initial pre-project planning, vehicle delivery cycle will be based on market conditions, to be from September 2012 to The phased launch in August 2013. Preliminary plan from September 2012 to December 2012, per month will be put in the electric Car 1000, and 2012 spent a total of 4000; January 2013 to August 2013, monthly running electric Car of 2000, spent a total of 16 000 in 2013; the whole project a total of 20,000 vehicles put electric cars…"
From various China media sources, it appears that the first 100 test cars will be delivered in August with the balance of the 20,000 as per the above schedule. Which is even a more aggressive delivery schedule then the Company reported in their PR; "…year-end 2013".
China Aviation Lithium Battery Co. (CALB/AVIC)- A publicly traded division of State Owned Enterprise (SOE) Aviation Industry Corporation (OTC:AVIC) of China ranked 250 on Fortunes Global 500. CALB trades on the Honk Kong Stock Exchange under the listing of CAC Integration with a current PE of 47 times earnings. (Wouldn't it be nice if KNDI was co-listed on the HKSE?).
State Grid Corporation (SG) An SOE and China's dominant electric utility company ranked #7 on Fortunes Global 500, covering a land mass of 88% of China and servicing over one billion residents. (Yes, more than three times larger than all electric utility companies in the US combined) This is KNDI's second partnership with State Grid; the first being in the City of Jinhua where KNDI's QBEX was first installed in late 2010 with its KD5010 Lead Acid Battery car. (Here is an impressive State Grid Promo Video showing the full impact as to how immense State Grid really is)
City of Hangzhou - Population of 9 million. It has been described as "one of the most renowned and prosperous cities of China for much of the last 1,000 years…" One of the initial 5 PRC Designated "Pilot Cities" for EV's eligible for PRC subsidies. Also home of the world's largest "BikeShare" program. (Will tie this in later)
The Deal
Effectively, this deal is as follows. CALB/AVIC will make the QBEX compatible low profile battery for the KD5011 which will number well in excess of what will be needed for each EV. They will sell these to State Grid who will put the batteries in a Vehicle to Grid (V2G) program where the excess batteries, when no being used in a car, will be used for "Grid Stabilization" (more on this later). SG is also responsible to build out the QBEX infrastructure to include the robotic arms for the one minute battery exchange. CALB/AVIC will purchase the EVs from KNDI without the battery installed which will be put into a consumer EV lease program run by the City of Hangzhou. The lease cost to a qualified lessee will be somewhere between 800-1000 rimb (US$126-156) per month. This is a net lease which includes all taxes, fees, mechanical, free parking and unlimited QBEX for 3 years or 60,000km. (Lessee only responsible for his own insurance).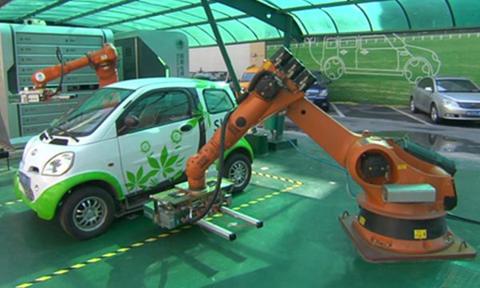 KD5011EV at State Grid QBEX Station with SG Fully Automated Robotic Arms
As I reported in my last Seeking Alpha article; rumor of this deal first leaked in the China media last November from a very reliable source in the PRC decision-making process with this short piece.
Hangzhou For the development of electric passenger cars 20000 private rental of 800 yuan per month November 02, 2011

The first electric online sea are reported:

Automobile Research Institute of Tsinghua University Quanshi held in Shanghai 9th light of pure electric cars meeting on November 2, revealed that from December this year until December 20, Hangzhou, with a year's time for private the development of 20 000 pure electric passenger vehicles, Hangzhou people leasing only 800 yuan a month. (US$126)

The alleged 54-billion funding sources include: the Hangzhou government subsidy of 800 million yuan (US$126 million) for the purchase of the bare car without batteries, the Air lithium to invest 2.4 billion yuan (US$377 million) to provide matching battery, the State Grid to invest 2.2 billion yuan (US$245 million) for infrastructure construction.

According Quanshi 20000 pure electric vehicles will be leased to the public in Hangzhou, each 800 yuan per month rental fee, and three years without paying the electricity bill. Operating unit will register the public to strict qualification examination, including whether it has a driver's license, the main scope of activities.

Quanshi said Hangzhou from Zhejiang the Condi car industry, centralized purchasing, but he also expressed the company's actual capacity of questioning that its should be difficult to produce 20,000 cars a year"
You might note that his only concern at the time was whether the Company could produce enough vehicles to keep up with the order. But as you can see from this piece extracted from an April 30, 2012 article in China quoting KNDI's Deputy General Manager, his concerns were unwarranted:
"…Condi has formed an annual output of 30 000 capacity, the vision will form a scale of 200 000 urban sales of hundreds of vehicles, but the huge production capacity of a fraction of the huge market potential is Condi's expectations and objectives. "into the front said…
In fact; not only was the professors concern quashed, but as you can surmise from this quote, KNDI was already preparing to scale up its Jinhua facility to 200,000 cars per year.
Vehicle to Grid (V2G)
Above I mentioned that State Grid would be putting the batteries they purchased for the lease program into a V2G program. In this case, SG would be charging the batteries overnight during off peak hours and injecting excess power from these batteries back into the grid during peak hours. Using their special computer controlled chargers SG will get max life out of the batteries.
I first addressed this concept in my December Seeking Alpha article, where I referenced a portion of Marc Chang's KNDI SA article (Kandi Technologies: Right Place, Right Time, Right Disruptive Technology, Right Now), as follows:
"Let me digress for a moment and remind and clarify one of the major points Marc touched on in various "Parts" of his article having to do with why the "Grids" in China embracing the QBEX concept, it's called "Smart Grid Stabilization." One element of a "Smart Grid" is the ability to store power generated during off peak and put it back into the grid when needed. The QBEX concept creates a duel opportunity for the "Grids" in that excess batteries which are being charged during off peak hours to ultimately be exchanged in EVs, can also have their stored power reversed and provide need power during peak times. This similar to the concept in the U.S. where businesses and individuals who have solar or windmill power can sell their power back to the Grid from their storage batteries.

Another point on this subject inferred in the China media but which I have not yet confirmed, is that by using the batteries for Grid Stabilization it could be considered a "Grid Upgrade" or Cap Ex item for the Grid which could allow the Grid to pass the purchase cost of all the batteries on to all of their electric consuming customers. If so, it could end up effectively costing the Grid nothing, but allowing them to profit from the EV exchange. If this proves to be so, once again it shows the brilliance of the Chinese business mind."
Recently Tom Konrad "Green Stocks" writer for Forbes.com also addressed this issue in his July 11th article: "Kandi Technologies Bags the Largest EV Order Ever" as follows:
"The batteries will serve a dual use for grid stabilization, or Vehicle to Grid(V2G) technology. The batteries will be financed by charges to electricity customers because of this dual use. So, in addition to this being the largest EV sale ever announced, the project is also effectively the largest scale trial of the use of EV batteries for V2G. V2G is a concept much talked about in academic circles, but so far if has only seen small scale pilot projects in the West. Part of the problem with implementing V2G is typically the split incentives between battery owners and the utility. Battery owners naturally worry about reduced performance of their very expensive battery packs if they are used for V2G. The Hangzhou project neatly avoids this conflict of interest because the utility owns the batteries, and the EVs are only available for lease."
So now you should understand one of the reasons why State Grid and recently South China Grid are embracing QBEX as their "preferred" choice and are turning a "deaf ear" to most all of the much larger China Auto Makers cry to stick with the "plug in and wait 6 hours model". Of course they are, and will continue to offer plug-in terminals, but it is not their preference.
OK, what the big boys really want is a Fast Battery Charge model where the batteries can be charged in 10 or 15 minutes. This is not that difficult to achieve with today's technology, (though not really healthy for a long battery life), but abhorred by Grids around the world.
And here is the other reason. Going back almost 50 years to the only Physics class I have ever taken, in layman's terms, I remember that charging batteries were compressible in time, but not in actual power transferred. What I mean is that in order to fully charge an 85kw battery from "0" (Of course no one, particularly with a TSLA EV is going to brick the battery by draining down to 0 so I am using these numbers just for an example) using the grid, you have to drain the grid for the full 85kw (85,000 watts) plus a bit more. So, it would take some 8500 plus watts of power per hour to fully charge the battery in 10 hours; an equivalent amount of power as 85+, 100 watt light bulbs burning continuously. Not bad, but seemingly more than a fairly good sized house would be using even during peak hours.
So assuming the above, and then cut the charging time down to one hour it would require a surge of 85,000 watts from the Grid for the whole hour; or an incredible 340,000 watts to cut the time to 15 minutes.
Now the "grid" as we know it today could handle this in most environments even considering the likelihood that this would be done during the 9 hour work day when the grid is at daily peak. That is assuming the EV market penetration is in the small single digit percentages of cars sold, asking the "grid" to provide this "surge" power would not overstress. But what happens in 20 years or so when EV sales are up around 50% of the auto market and maybe a few hundred EV's are simultaneously trying to Fast Charge in each city block? Particularly in the summer in say my home town of Houston, or Dallas where home and business AC is already pulling hard on the Grid? You see their point?
The reason why the major auto makers want the plug-in concept is simply cost. Other than Tesla, and Fiska, effectively every other major auto maker that either has, or is currently putting EVs into the market has done it by "re-fitting" one of their Internal Combustion Engine (NYSE:ICE) models; which effectively means they are sticking the batteries wherever they find room in the body of the car. These batteries are easily all connected to a plug, but not conducive to a QBEX model where batteries must be in a standard location. KNDI and TSLA have built their EVs from scratch so QBEX is or could be a simple solution. And OBTW, let's not forget in urban China, most live in high-rise condos where they don't even have parking garages, let alone access to nearby overnight plugs.
We have described why QBEX is a good deal for the Grids, but what about the consumer? It is a great deal for the consumer even without the free exchanges which come with this lease. The most expensive single component in any EV is the lithium battery. In a QBEX program the consumer buys the car without the battery (about 40% of the cost in the KD5011). Compare to ICE vehicles, these EV's have very few parts that wear out, so if the consumer takes good care of the car, it should maintain a very high resale value compared to a standard EV whose residual battery life will become suspect by aftermarket buyers almost from day one due to potential abuse problems.
Additionally, in the QBEX program, the consumer will always have a "current generation" battery. As technology efficiency advances in the batteries, SG will likely be putting the new gen batteries in the system. This would be seamless to the QBEX consumer who might only notice the difference by longer mileage between exchanges. Not so with conventional EVs where the owner will be stuck with a first generation battery for a long time.
Why the 20,000 EV Order Could Soon Look Insignificant To What's On the Horizon.
Back on May 21, KNDI put out a PR that was somewhat overlooked by the stock market:
Kandi Advances Plan for Innovative Pure EV Rental System Before Top Government Leaders and Transportation Experts in Beijing

Pure EV Rental Model in Hangzhou Features 100,000 Vehicles in Centrally Managed "Smart" Vertical Parking Facilities to Relieve Traffic Congestion, Scarce Parking and Environmental Pollution
However, for those of us who closely follow KNDI, once again this was telegraphed days before in the China media with significant coverage.
Hangzhou, Zhejiang For five years the development of 100,000 electric cars to car rental

May 14, the Chinese electric car business model to explore Hangzhou and the feasibility of electric vehicles, car rental Public transport projects "seminar held in Beijing. At the meeting, Hu Xiaoming, chairman of Zhejiang the Condi car Co., Ltd. made a presentation on "Hangzhou 100,000 electric vehicles, car rental public transport project feasibility study report. Hangzhou mode "once again become a focus of the community of experts.
And even before in an SEC 10Q filing on Nov. 14, 2011 (pg.42) a quiet "heads up" was given to shareholders with this comment:
"On August 14, 2011, a team is formally formed in Hangzhou by Development Research Center of the State Council, Society of Automotive Engineers of China (OTCPK:SAEC), and Zhejiang University to begin the research of a subject proposed by the Company: the feasibility of building a 100 thousand pure EV renting network in Hangzhou and the related supporting policies required. The objective of this research is in order to resolve the problem of industrialization of pure EV, the traffic jam problem and parking difficulties in current Chinese cities. This research is planned to be finished by the end of 2011, and expected to help stimulate the Company's development."
So; what's this all about? No question; 100,000 EV's in Hangzhou from KNDI is certainly an "eye catcher".
With a little bit of digging on the China Internet and a few phone calls to Asian contacts, I quickly discovered the incredible magnitude of what KNDI's CEO was proposing to some of China's top Ministry leaders in Beijing. What Mr. Hu was proposing was a "simple" solution to the biggest mobility problems in China's major cities; air pollution and auto congestion. And if you read the PR and the extensive media coverage on this throughout all of China, you will quickly realize his solution was well received.
The genesis of the KNDI concept was the aforementioned "BikeShare" program first initiated in Hangzhou and is now being used throughout the country. Let me first explain the public transport "last mile" variation to this concept.
If you are a visitor or commuter into the City, you will find a corral or rack of bikes outside the bus or train station. You buy a "Smart Card" for an annual fee of say $30US. Each time you enter the city on a public conveyance you can use your card and gain free access to a bike for a limited period of time at no charge. You then drop the bike off at any other BikeShare location. If you exceed the free time, your card is charged a small additional fee.
What KNDI has proposed here is a mini-EV CarShare version of this system. What Mr. Hu presented is a Smart Parking Technology EV (SPT) rental model that if approved will be put into CarShare program with a goal of 100,000 KNDI EV's over the next four to five years initially in Hangzhou and if successful expanded throughout China. (See last paragraph of this China article for a recent comment referring to this program)
The automated vertical parking garage concept while new is not unique in the World as can be seen by these video clips. Budapest, Mumbai, but these existing facilities were designed for ICE vehicles. Kandi's concept customizes it for their Micro EV where in addition to the cars being parked, they are automatically and simultaneously being charged at the same time. Kandi has filed several patents on facilitating the EV specific features of the concept as can be seen by just these two 1, 2 . And though I have not been able to verify on the net, a reliable source tells me that KNDI also has extensive licensing rights to the Smart Parking Garages in other parts of China should this creative concept be adopted.
Phase 1 of the program is specifically patterned after the Hangzhou "BikeShare" program. An out of town visitor arriving at the train, bus station or airport can go to the Smart Parking Garage and pick up a fully charged KD5011 for either free (if included in his bus train or plane ticket charge) or minimal charge and get use for maybe an hour or two, after which time additional hourly charges are added. A perfect program for urban areas that want to:
Cut down on air pollution
Reduce traffic and parking congestion of big cars
help local economy by giving visitors easy access to merchants and businesses
In Phase II, the SBT will be expanded to an outer ring around the city. This is particularly important in Cities like Beijing where City access by ICE cars are already being rationed by odd/even license plate numbers to only four days a week (everyone Sunday). The SPT garages would be surrounded by conventional parking for ICE cars. If a suburbanite needs to go into the city, he can drive to his local SPT Garage, park his ICE car and pick up a Kandi "CityCar" for a small rental fee and access the city 24/7 365 and get free parking.
This weekend, Aug. 10-12 the City of Hangzhou is hosting the "China (Hangzhou) International New Energy Automobile Industry Exhibition".
"…the Hangzhou government announced a new plan with Kandi Technologies and the China Aviation Lithium Battery Company to develop a new leasing program for 20,000 of the Mini EV car model. The project would make electric vehicles significantly more affordable (more so than petrol-based cars) for the Hangzhou public at less than less than 5 thousand USD over three years…"
With KNDI having its executive headquarters in Hangzhou (China's first EV pilot city), being selected as partner with such industry giants as State Grid and CALB/AVIC and the chosen EV provider for such a "world class" order out of Hangzhou; KNDI will undoubtedly be attracting attention at this show which will be attended by not only the key industry leaders from the now 25 PRC EV "approved" cities in China, but also EV leaders World-wide. And if the above doesn't grab enough attention, the recent news that KNDI has just been asked to locate a subsidized 3.4 million sq. ft. facility along with a 20,000 EV purchase assurance in Shandong, China's largest and wealthiest Province should.
In addition to whatever joint demo exhibits KNDI will be doing with State Grid at the Expo (see this SG video), as you can see by reading the PR linked below, KNDI will be presenting their SPT concept. I would think that KNDI's will likely be on the "must see" list by the vast majority of both National and International visitors attending.
Kandi Technologies to Showcase EVs and Smart Parking Technology Before an International Audience at the 2012 China International Green Vehicle Industry Expo Being Held in Hangzhou in August
"…This exhibition is recognized as a significant industry event by China's National Development and Reform Commission, Ministry of Science and Technology, Ministry of Industry, and Ministry of Finance. Additionally, it is strongly supported by the major projects of electric vehicles division of the Ministry of Science and Technology Office.

It is currently expected there will be 25 attendees from China's new energy model cities at the exhibit, joined by other EV industry experts, who will discuss a variety of key industry topics with exhibitors including EV policy in China and EV business models, and also evaluate demonstrations of batteries, motors, electric controls and other crucial core EV technologies.

The exhibition also is expected to attract leading vehicle and auto parts manufacturers from around the world, including the United States, Germany, Britain, Spain, Japan, and Hong Kong. They will have an opportunity to learn more about China's advanced EV technologies and products, including Kandi's EVs, its recently announced smart vertical parking buildings and technology and related advances by the Company…"
While it is likely the final closing of the 20,000 Hangzhou EV deal will be announced at the EXPO, if history holds true, this event will be first covered by the China media followed four to six days later with a Company PR.
EV Subsidies And Loan Guarantees- "Hu's" the real capitalist?
Hardly a day goes by without hearing about the major EV makers and their Government subsidies or loan guarantees. Articles addressing General Motors (GM) Chevy Volt total package of loans and subsidies of $3 Billion with cute headlines like: "Chevy Volt Costing Taxpayers Up to $250K Per Vehicle" or what about Nissan (OTCPK:NSANY); they are not even a US Company "Taxpayers' $1.4B 'Investment' in Nissan EV May Make Volt Look Good by Comparison". Then there is Fisker. They received a loan approval for $529 million by the US Government to build its car in Finland "Green Lemons… Obama's $529 Million Green Loan to Finnish Company That Made $100,000 Cars Is Linked to Al Gore". At least Tesla (TSLA) who also received a $465 million loan arrangement from the US is spending its money in the US. All together some $8+ billion in loans and guarantees have been awarded to build or advance EVs by US taxpayers.
But the real Capitalist in the Industry is KNDI and its CEO Mr. Hu (almost ironic since China based). With NO Government loan guarantees and only a bit over $500,000 in total Government Grants to date, KNDI has managed to build from conception, to design, to prototype, through testing and received final approval for "road use" a total of six EVs (four cars and two trucks). All of this achieved in just three years while staying profitable the whole time in spite of Word-wide economic problems during this period.
I don't have a problem with consumer subsidies for purchase of the completed vehicles as China is providing, but in a supposed Capitalistic country like the US, something about heavily subsidizing on both sides makes me uneasy.
I don't have a problem with consumer subsidies for purchase of the completed vehicles as China is providing, but in a supposed Capitalistic country like the US, something about heavily subsidizing on both sides makes me uneasy.
Back to my last Article, the KNDI, TSLA "Match Up"
As I mentioned in the opening, I did not write that piece to denigrate the amazing job Elon Musk has done in taking Tesla from a start-up to a worldwide voice in the EV Industry. No one can question his passion to deliver in spite of the incredible headwinds of doubt by many. And if anyone ever says they would not love to own a Tesla, they would be lying. I only keep referencing TSLA Motors in my articles because KNDI and TSLA are really the only EV manufacturer public pure play stocks that US investors can directly participate. Were it not for TSLA's high profile in the US stock market, in my opinion, KNDI, the stock, today would just be another of the many good and honest surviving and growing China companies whose stocks are "just existing" in investor oblivion. Thankfully, KNDI is in no way a competitor with TSLA and based on what I know about both CEO's, never will be; even when TSLA inevitably expands to China.
At the time of my last writing on Dec. 20, 2011, TSLA closed the prior day at 27.75 and KNDI closed 2.89. I am happy to see that both stocks have increased these past months. The point of my last article was simply to point out to EV fans the huge disparity between market caps with TSLA's having been some 40 plus times higher and my feeling that at some point this disconnect between two very viable companies in the same industry should start to correct. Obviously as a KNDI shareholder, I would prefer to see the convergence with KNDI going up, but even better if it happens with both stocks going up.
In the past, when I mention TSLA in my articles, I have been fascinated, by the significant number of negative comments about KNDI coming from proclaimed TSLA shareholders. I suppose that Mr. Hu should be flattered that they even think that KNDI is a threat to TSLA's wellbeing. One 22 year old ignorant self-proclaimed die hard TSLA fan even went so far as to write a ludicrous attack article on SA just one month ago and recommended shorting KNDI at 3.00!
On any given day where TSLA's stock moves a bit over a dollar, just that move alone increases TSLA market cap by more than KNDI's total market cap. If an investor really believes in the future of EV's, than he, should want both Companies to be successful. The total shareholders of these only two pure US investor accessible EV plays combined probably represent less the .0001% of all investors money who care about the future of personal transport in the World; so as long as both these companies are successful, it can't help but be beneficial to each other.
The "PerfChart" below tracks the day to day trading comparison. What we do know is the stock in both Companies is events driven. It is interesting to see that during times that both were trading between events, their action did somewhat track.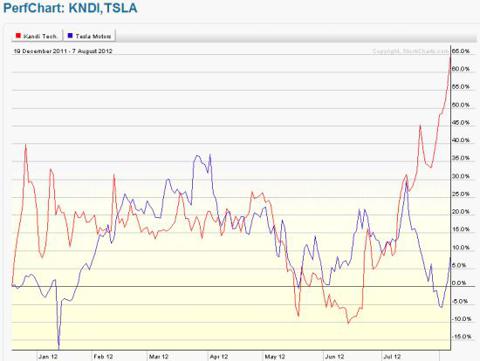 Audience For KNDI Stock Rapidly Expanding
When it comes to the stock market and emerging small caps, to old adage; "Success has many Fathers, Failure Few" is often appropriate. It is very warming to me to see so many experts starting to "adopt" KNDI. I don't think I have to tell anyone who is reading this on Seeking Alpha that I have been KNDI and its CEO Xiaoming Hu #1 "Groupie" from almost the first day of trading in the US over five years ago. It has been a wild ride with the stock first North of $7 and south of $1.50 twice. Many in the stock today have known me much longer than just the five years KNDI has been trading and will attest that I am opinionated but I also do my homework. Even if it means I have to go to China as I did with KNDI. They know I am, and that I have always have been a long term investor who believes in the controversial stance of "putting all my eggs in a few baskets and watch them closely". I don't recommend this method of investing to anyone who is not prepared to spend thousands of hours over time closely monitoring those few stocks; and/or does not have the stomach to look past what the stock is doing at a given point in time.
But the one point I have in common with all prudent investors is to invest in a company where management can be trusted. I have met Mr. Hu on three occasions but have not been in direct contact with him in any way over the past 18 months. While I have at times in the past been frustrated in feeling I have to defend his Asian penchant for public understatement in what I feel can only be described as amazing accomplishment in this trillion dollar potential Industry, with patience, I have never been disappointed with his results.
Yes, I have been vocal and persistent with my writings and chat board comments about KNDI, but always in an open manner. Whether it is here on SA where I write under my own name or on stock chat boards were I may use an alias but still post my name and number frequently. Do to my open persistence, I am happy to see that I have been influential in peaking the interest of other writers, most much more articulate and more importantly, more technically knowledgeable and respected, who are now spreading the word on KNDI.
For now, KNDI may not have any Wall Street analysts following the stock. But what's an analyst anyway? Just a hired gun that does not have his own money at risk and usually writes only about Companies who either are, or might be, future Investment Banking clients of the analysts firm. I would much rather see independent industry experts like Tom Konrad, who is the Green Stock writer for Forbes.com and also publisher of AltEnergyStocks.com who has published two articles on KNDI in just the past two weeks, or Bill Moore, Editor and Publisher of EVworld.com, who just last week personally wrote and published and incredibly perceptive article titled: "More Than Just Eye Kandi". EVWorld is the preeminent word on what's happening in EV's World-wide. And even prolific John Petersen, SA author with over 53,000 followers and battery guru who has never found an EV that he likes, with the exception of KNDI which for now he at least tolerates. And from another direction, John Hendersen, money manager of Inflection Point Investments (NYSE:IPI) who just this past Tuesday wrote an exceptional view of KNDI on SA. He did such a good job (except for maybe misspelling my name :-) that I almost decided to "can" this article which was already 90% complete before I saw his: "Why Kandi Is Poised To Become China's Electric Vehicle Market Leader"
Hendersen may not be an industry expert, but he is an independent money manager who declared his is long the stock. Which likely means so are his clients who look to his particularly expertise and that is to find Companies at their "Inflection Point". Which in both our opinions, is exactly where KNDI is today as an Investment.
Financial Considerations
When I wrote my last article on KNDI last December, based on news out of China, I expected the 20,000 Hangzhou order to have been received and all delivered by the end of 2012. So I attempted to provide and revenue and earnings projection for 2012. This of course did not happen, so rather than twice look foolish, I am going to defer to both Konrad's and IPI's estimates which should put revenues this year well over doubling to around $90-100 million and net around $.60 a share;. And next year top line doubling again with net over $1.20 a share. And now particularly with the new Shandong Province facility on the table which the Company said could generate a half billion additional a year, I am standing by my 2015 estimate of over a Billion in revenues and net income approaching $6 a share. "Kandi Vehicle Co., Ltd. to Expand Into Shandong Market"
I have received a lot of questions lately as to whether I felt KNDI would need to raise outside money to: 1) Deliver this order and 2) build the new facility in Shandong Province.
As of the last 10Q, KNDI had in excess of $34 million in cash and available credit facilities. Since KNDI recently completed a "text book" vertical integration by acquiring three companies who respectfully provide EV motors, EV Air Conditioners and EV Controllers, the three major "outside" costs to build their EVs, IMO, they can now build and deliver a KD5011 for under $4200 "out of pocket". So in theory, with existing cash and facilities alone they should be able to build over 8000 cars even before collecting revenues for sales. Of course there is no reason for them to do this. Under the CALB/AVIC roll out plan of 1000 EVs per month Sept. thru Dec. and 2000, from Jan. to Aug. 2013, I would expect KNDI will be getting paid after each delivery. So barring any other massive deal materializing, the Company should not only have plenty of cash to not just build out this contract, but also a very big war chest of retained earnings to also build out the Shandong facility.
Let me wrap this up with a final thought..
Some may question my extensive use of the China Media in doing Due Diligence on KNDI. To those I say: Would you rather be invested in a US trading foreign company doing business in its homeland who puts out a lot of press releases here and has little coverage at home? Or, as is the case with KNDI; keeps a lower profile in both Countries, but due to its relationships with State Owned mega-corporations at home like State Grid and AVIC is included in hundreds of articles throughout the country?
Disclosure: I am long KNDI.