Lamar Advertising Company (NASDAQ:LAMR) is one of the largest outdoor advertising companies in the United States based on number of displays and has operated under the Lamar name since 1902. Lamar operates in a single operating and reporting segment, advertising.
Lamar sells advertising on billboards, buses, shelters, benches and logo plates. As of December 31, 2011, Lamar owned and operated over 143,000 billboard advertising displays in 44 states, Canada and Puerto Rico, over 112,000 logo advertising displays in 21 states and the province of Ontario, Canada, and operated over 30,000 transit advertising displays in 16 states, Canada and Puerto Rico. Lamar offers customers a fully integrated service, satisfying all aspects of their billboard display requirements from ad copy production to placement and maintenance.
Lamar has operated under the Lamar name since its founding in 1902 and the company has been publicly traded on Nasdaq under the symbol "LAMR" since 1996. The company completed a reorganization on July 20, 1999 that created the current holding company structure. At that time, the operating company (then called Lamar Advertising Company) was renamed Lamar Media Corp., and all of the operating company's stockholders became stockholders of the new holding company. The new holding company then took the Lamar Advertising Company name, and Lamar Media Corp. became a wholly owned subsidiary of Lamar Advertising Company.
Lamar the Advertiser or Lamar the Real Estate Landlord?
Analysts have been speculating for the past few weeks that Lamar might be considering converting to a real estate investment trust (REIT) and last week the hunch became a fact. Last week, billboard operator Lamar said it was considering converting to a REIT, a move aimed at taking advantage of a seemingly more favorable tax environment (see earnings call here).
Shares of the company, which is eyeing a REIT status by January 2014, rose as much as 14 percent to a more than one-year high of $35.99 in early trading.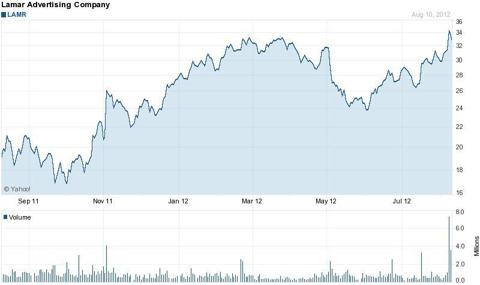 The recent REIT news (for Lamar) is becoming a common theme as several technology companies, especially those with significant real estate assets, have said they are planning to convert into a REIT. Document storage company Iron Mountain Inc (IREM) in June said it was looking at a conversion (see my Seeking Alpha article here), and data center operator Equinix Inc (NASDAQ:EQIX) said earlier this year it was watching very closely the conversion of other technology companies.
American Tower Corp (NYSE:AMT), which said last May it was looking to convert into an REIT, has seen its shares rise 35 percent since then. The tower company began operating as a REIT on January 1.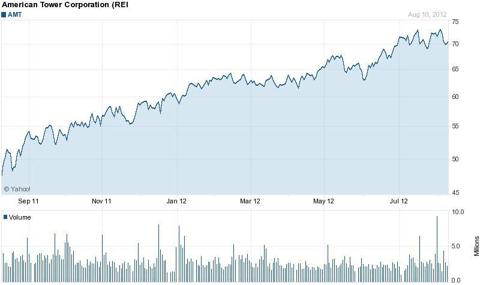 Lamar operates more than 143,000 billboard advertising displays that dot highways and busy street corners in the United States, Canada and Puerto Rico. As of December 31, 2011, Lamar owned approximately 6,900 parcels of property beneath our outdoor advertising structures. The company leased approximately 75,300 active outdoor sites, accounting for a total annual lease expense of approximately $200.0 million. This amount represented approximately 20 percent of billboard advertising net revenues for that period. These leases are for varying terms ranging from month-to-month to a term of over ten years, and many provide the company with renewal options.
Lamar's revenue increased 3.9 percent to $304.9 million for the quarter ended June 30, above analysts' expectation of $304 million. The 110-year-old company, which gets about 80 percent of its revenue from the U.S. market, forecast third-quarter revenue of between $303 million and $306 million. Analysts were expecting $307.1 million.
Lamar sells advertising space on outdoor structures to generate revenues. Advertising spending is particularly sensitive to changes in economic conditions and has been adversely affected by the most recent recession, as evidenced by an 11.9 percent decline in the company's advertising revenues in the year ended December 31, 2009. Since the billboard giant's revenue dropped to just above $1 billion at year end 2009 the company has been successful at increasing revenue to pre-recession levels. Here is a snapshot of the company's historical revenue: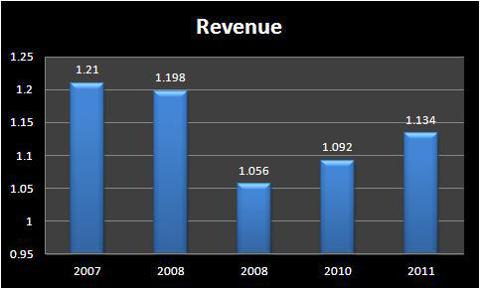 Lamar has borrowed substantially and as of December 31, 2011 Lamar Media, had approximately $2.16 billion of total debt outstanding, consisting of approximately $595.5 million in bank debt, $331.6 million of senior notes and $1.23 billion in various series of senior subordinated notes. In addition, in February 2012, Lamar issued $500 million in new senior subordinated notes and closed a new $100 million term loan A facility, in order to substantially fund the repurchase of $582.9 million of the 6 5/8 percent notes due 2015.
Despite the level of debt presently outstanding, the terms of the indentures governing Lamar Media's notes and the terms of the senior credit facility allow Lamar Media to incur substantially more debt, including approximately $240.6 million available for borrowing as of December 31, 2011 under the revolving senior credit facility. Lamar's debt to asset ratio is concerning as evidenced by the snapshot below: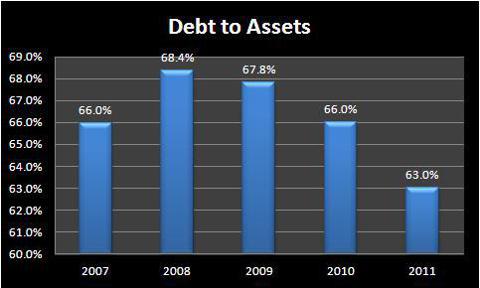 What do I like about Lamar's REIT Idea?
Lamar's proposed conversion to a REIT is deemed to be a more tax-efficient mean to distribute the company's cash flow. By converting to a REIT Lamar cuts its tax burden, but also requires it to distribute at least 90 percent of its profit among shareholders.
One thing I like about the proposed REIT idea is that Lamar offers investors a diversified revenue model in that no individual advertiser accounts for more than 1.0 percent of Lamar's billboard advertising net revenues (Lamar's top customers last year included McDonald's Corp (NYSE:MCD) and Verizon Communications Inc(NYSE:VZ)).
The table below sets forth the ten industries from which Lamar derived most of its billboard advertising revenues for the year ended December 31, 2011, as well as the percentage of billboard advertising revenues attributable to the advertisers in those industries. The individual advertisers in these industries accounted for approximately 73 percent of the billboard advertising net revenues in the year ended December 31, 2011: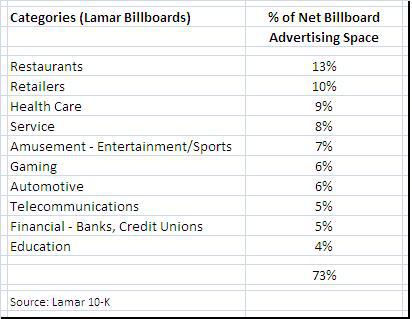 What I Don't Like About Lamar's REIT Idea
Lamar is expected to get approvals from its shareholders and the Securities and Exchange Commission, apart from the Internal Revenue Service for the conversion. According to Piper Jaffray, it sees some possible issues regarding Lamar Advertising's possible conversion to a REIT status, and it keeps an Underweight rating on the stock. Piper claims that a REIT conversion would not yield material tax savings for Lamar until after 2015, and it sees several challenges to convert an ad-based business and one with erratic capex requirements.
Lamar said it intends to seek a private letter ruling from the Internal Revenue Service. If they proceed with a REIT election, they would likely make the election for the taxable year beginning January 1, 2014 during 2013, subject to the approval of our board of directors. Lamar warned investors, however, that there is no certainty as to the timing of a REIT election or whether they will ultimately decide to make a REIT election.
I do not see how Lamar adds value as a REIT. In addition to the erratic capex requirements (noted by Piper Jaffray), the business model does not provide the income sustainability warranted by other property sectors (due to the fluctuating ad-based business). Also, states have passed billboard control statutes and regulations that are as restrictive as the federal requirements, including laws requiring the removal of illegal signs at the owner's expense (and without compensation from the state).
I fear that the underlying assets owned by the proposed Lamar REIT will be subject to uncontrollable risks (economic, governmental, and competitive) as well as potential losses in principal due to declining revenues. Lamar has a century old business model as an advertiser and that is the company's core of competence - not being a landlord.
As a real estate asset class, I believe that billboards can be a good investment alternative; however, I am not a proponent for recommending shares in a publicly traded REIT for investors - especially investors relying on a fixed-income or living off of monthly dividend income.
Shares of Lamar, which competes with Clear Channel Outdoor Holdings Inc and CBS Corp-held CBS Outdoor, were up 10 percent at $34.50 in last week on Nasdaq. Clear Channel's shares were up 5 percent at $5.33 on the New York Stock Exchange.
Investors looking for REIT's with sustainable dividend income should consider shares in Realty Income (NYSE:O), National Retail Properties (NYSE:NNN), Federal Realty (NYSE:FRT), Ventas, Inc (NYSE:VTR), Omega Healthcare (NYSE:OHI), Tanger Factory Outlets (NYSE:SKT), or Taubman Centers (NYSE:TCO).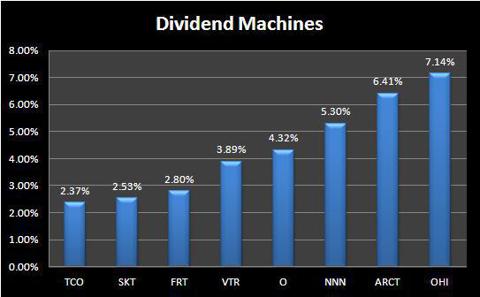 Source for article: Lamar Advertising Form 10-K
Disclosure: I have no positions in any stocks mentioned, and no plans to initiate any positions within the next 72 hours.