The Gunfight at the O.K. Corral was a gunfight that took place on October 26, 1881, in Tombstone, Arizona, and is generally regarded as the most famous gunfight in the history of the American Old West. The gunfight, believed to have lasted only about thirty seconds, was fought between the outlaw Cowboys Billy Clanton, Tom McLaury, and his brother Frank McLaury, and the opposing lawmen Virgil Earp and his brothers Morgan and Wyatt Earp, aided by Doc Holliday acting as a temporary deputy of Virgil.
Cowboys Ike Clanton and Billy Claiborne ran from the fight unharmed, but Ike's brother Billy Clanton was killed, along with both McLaurys. Lawmen Holliday and Morgan and Virgil Earp were wounded. Only Wyatt Earp came through the fight unharmed. The fight has come to represent a time in American history when the frontier was open range for outlaws opposed by law enforcement that was spread thin over vast territories, leaving some areas unprotected.
In the 1957 movie, Gunfight at the OK Corral, directed by John Sturges, Wyatt Earp (played as Burt Lancaster) explained gun-slingin' strategy to Billy Clanton (played by Dennis Hopper):
You think you're pretty tough, don't ya, son? I never knew a gunslinger yet so tough he lived to celebrate his 35th birthday. I learned one rule about gunslingers. There's always a man faster on the draw than you are, and the more you use a gun, the sooner you're gonna run into that man.
Source: wikipedia
Weingarten Realty Investors: This Shopping Center REIT is Packing Some Heat
Shopping center REIT portfolio fundamentals are improving as national tenant demand has pushed big/mid box occupancy above 95 percent, while small shop occupancy is slowly increasing, and leasing leverage is moving back in the landlord's favor at high quality centers.
With average big/mid box occupancy above 95 percent and increasing national tenant leasing demand, the shopping center REITs are in a stronger position to replace or downsize a weaker tenant when leases expire. In addition, REITs are also working proactively with at-risk tenants to downsize stores or negotiate an early lease termination to upgrade to a stronger retailer.
In addition, many shopping center REITs are upgrading tenant portfolios by recycling assets or pruning non-core properties and replacing them with higher quality assets in more densely populated trade areas. By recycling assets, REITs are able to position the respective centers to better withstand potential economic downturns while also deleveraging balance sheets to provide ample capital for growth in development and acquisitions.
Weingarten Realty Investors (NYSE:WRI), based in Houston, has been stocking up on ammunition to prepare for the next wave of gun-slingin'. At of the end of the second quarter, Weingarten sold $476 million in assets - the bulk of this was the industrial sale that generated net proceeds of $363 million, but also includes 22 retail assets representing $88 million.
Of this $400 million (approximate) of capital, Weingarten redeployed nearly $130 million with the purchase of two outstanding shopping centers, one of them subsequent to quarter end. Both of these new centers are in outstanding locations with significant barriers to entry and great demographics.
As of the end of the second quarter, Weingarten owned 316 properties, down from 380 properties in 2011. The majority of the dispositions were part of the company's strategic intuitive to focus on core shopping center investments (Weingarten is on track to dispose of the remaining industrial assets held in joint ventures before the end of the year).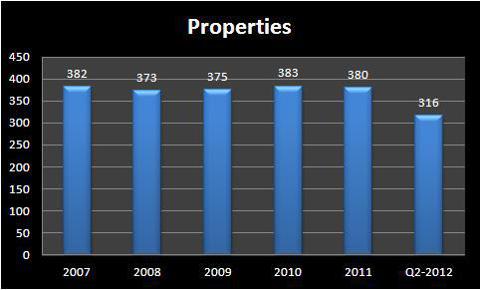 Weingarten's total assets have also dropped around 21 percent from $5.114 billion in 2007 to around $4.218 billion as of the second quarter of this year.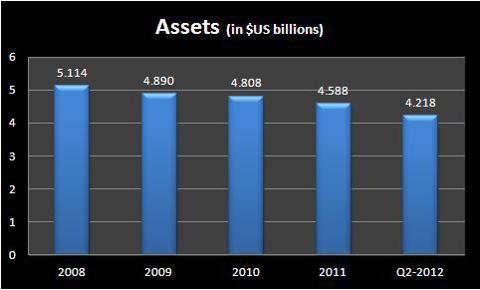 Weingarten - Plenty of Gunpowder
Weingarten's debt-to-total market capitalization has decreased from 39.4 percent on a pro-rata basis at the end of last quarter to 36.3 percent at June 30. By de-leveraging the balance sheet, Weingarten has improved its financial position that and also placed the REIT among the upper tier category of the peer group.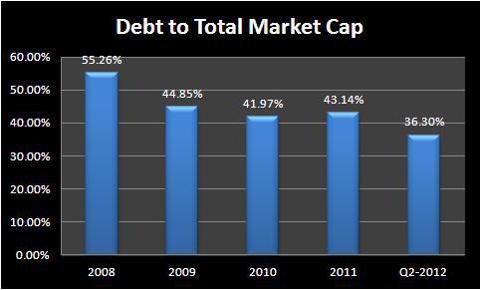 Weingarten's net debt to EBITDA went down to 6.62 times at March 31 to 5.89 times at June 30.This marked improvement positions the company among the best in its peer group. Accordingly, this also provides Weingarten with plenty of dry gun powder for future acquisitions and new development investments.
Weingarten: Picking Strong Targets
Weingarten operates in around 21 states and the company's well-balanced geographic footprint is best explained by Weingarten's chief operating officer, Johnny L. Hendrix, on the recent earnings call:
Our geographic footprint is positioned to capture a disproportionate share of new job growth. Almost 50 percent of all the jobs created in the U.S. over the last 12 months have occurred within the states where we operate. This portfolio is well positioned for the future.
Texas, Florida, and California make up over 55 percent of the Weingarten portfolio where Texas and California are leading the way in occupancy, both in excess of 95 percent (Houston is over 96 percent occupied). Here is a snapshot of Weingarten's top markets: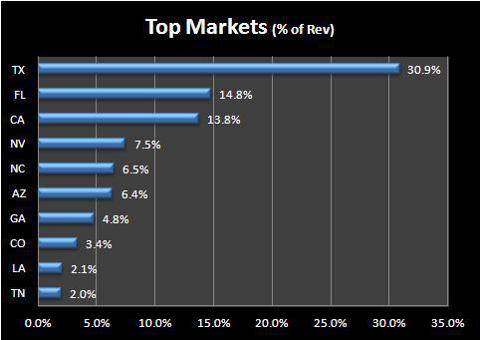 Shopping Center REITs have replaced the tenant bankruptcies in their top tenant lineups with higher quality retailers, including, Bed Bath and Beyond (NASDAQ:BBBY), Dick's Sporting Goods (NYSE:DKS), PetSmart (NASDAQ:PETM), and Whole Foods (NASDAQ:WFM). Conversely, Weingarten has focused its retail leasing platform on tenants that provide necessities, services and discount clothing. Accordingly, Weingarten's retailers have found growth opportunities serving budget constrained consumers who still must buy necessities that are focused on value offered by many of our retailers like TJX and Ross. Here is a snapshot of Weingarten's top tenants: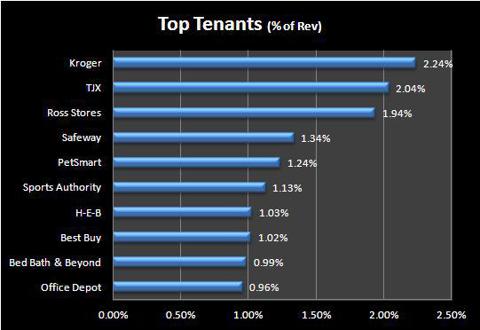 Weingarten: Hits the Bulls Eye
Weingarten's second quarter profitability of the company's core portfolio continues to improve. Retail occupancy continued to move upward to 93.7 percent with a significant increase in small shop leasing driven by a 30 basis point increase from the first quarter and a 130 basis point increase from the second quarter of 2011. Combined with reasonably strong rental rate increases, this led to another strong quarter of same property NOI growth with year-to-date increase over last year of a strong 3.8 percent. These exceptional results were explained (during the recent earnings call) by Andrew "Drew" Alexander, Weingarten's president and CEO:
During the quarter, we made significant progress in achieving the three strategic objectives that we've continued to highlight over the past quarters. The objectives are number one, to further improve operations and leasing our portfolio back to 95 percent plus occupancy; number two, continue improving the quality of our portfolio through recycling of capital by selling non-core properties and acquiring or developing assets in high barrier to entry markets with strong growth prospects; and number three, improving our financial position by slightly de-levering our balance sheet.
With plenty of dry powder, Weingarten is in a strong capital position and with a veteran management team, the cowboys from Texas should be able to wrestle down prey of any size. Weingarten has a market cap of $3.302 billion and the company has an investment grade rating of BBB (S&P). The recent stock price was $27.32 (August 10) and the 52-week high was $27.82 on August 7. The dividend yield is 4.26 percent and that is in-line with peer shopping center REITs including Kimco Realty (NYSE:KIM), Regency Centers (NYSE:REG), Equity One (NYSE:EQY), Federal Realty (NYSE:FRT), Excel Trust (NYSE:EXL), and Retail Opportunity Investment Trust (NASDAQ:ROIC).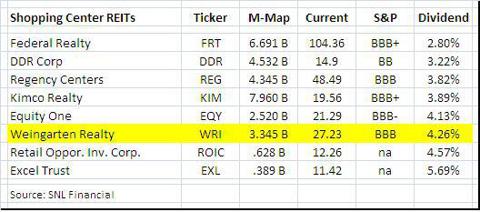 Weingarten has also contributed strong year-over-year total return performance. Over the last twelve months, the company has achieved total return performance of 34.78 percent and higher than most shopping center REIT peers.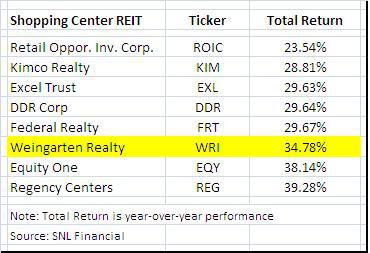 Weingarten has three preferred stocks (series D, E, and F) and all are currently redeemable and trade almost flat to par when the accrued interest is stripped out of the price. This implies that the market assumes they are going to be redeemed. When looking at the coupon on the three series, it would make sense for the company to redeem all three series as they could refinance them materially cheaper. As a result, an investment in these could be considered a short term investment where an investor is picking up the coupon rate until they are called. For longer-term investors, it is difficult to make the case that these will be outstanding for a long period of time.

Weingarten: No Need to Fear This Sleep Well at Night REIT
During the battle at the O.K. Corral Wyatt Earp explained the plight of a gunfighter:
All gunfighters are lonely. They live in fear. They die without a dime, a woman or a friend.
I certainly don't fear Weingarten and furthermore I believe that an investment in the REIT would yield more than a dime and a friend. With a renewed focus on its "core of competence", Weingarten should outperform and begin to build greater differentiation with its high-quality, necessity-driven shopping centers platform. This REIT is a sustainable sleep well at night (SWAN) cowboy and I think Doc Holliday would be pleased with the heat that Weingarten is packin'. Perhaps even, "the deadliest pistol since Wild Bill, they say".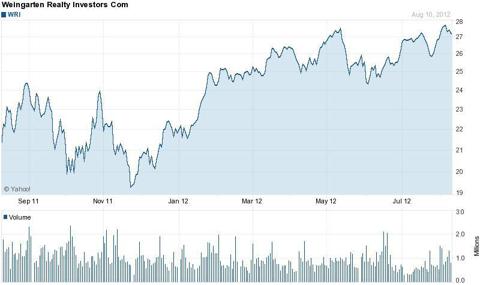 Disclosure: I have no positions in any stocks mentioned, and no plans to initiate any positions within the next 72 hours.