We previously analyzed CenturyLink (NYSE:CTL) versus Frontier Communications Corporation (NYSE:FTR) and Windstream Corporation (NASDAQ:WIN), two other rural telecommunications firms and we concluded that CenturyLink offered the best risk-reward scenario of the three rural telecoms. We followed up our first research report with another report that researched and analyzed CenturyLink's steady business performance, strong generation of free cash flows and growth potential from Savvis. We then followed it up with individual reports analyzing the performance of Frontier and CenturyLink respectively and now we will devote a report to Windstream since we find the rural telecom sector to be very interesting to us, especially with Windstream and CenturyLink's recent acquisitions of cloud companies.
Last year, we actually considered replacing CenturyLink with Windstream. At the time, CenturyLink's dividend was about 7.5% while Windstream's was 9%. Plus Windstream had seen smaller pro forma revenue declines than CenturyLink and Qwest Communications (NYSE:Q), which CenturyLink acquired in April. Windstream was a smaller company than CenturyLink and all else being equal one would expect it to grow faster. Even Jim Cramer liked Windstream's business model of shifting into broadband and business services communications and interviewed Windstream s CEO Jeff Gardner. Also, we remembered that Windstream was the former legacy wireline business of Alltel Wireless, which performed well enough to attract a $27.5B private equity LBO in 2007 and one year later Verizon Wireless (NYSE:VZ) agreed to buy it for $28.1B in cash and assumed debt. After further review, we are glad that we stuck with our blue-chip rural telecom holding in CenturyLink and did not let our envy get the best of us. We are not saying this because CenturyLink's stock has significantly outperformed Windstream's this year. We are saying this because CenturyLink has shown significant improvement in its revenue and because it is steadily shifting its revenue proportion away from rural incumbent local exchange communications to strategic services like broadband and cloud services and CenturyLink was effectively a special situations turnaround company that has shown success in turning its business model around to avoid a distressful decline and fall. We were previously impressed with the fact that Windstream generated 68% of its revenues from "business and broadband revenues". However, after further review, we realized we were getting the exact same thing from CenturyLink in that 67.5% of its revenues were from business customers, data integration and strategic consumer communication services.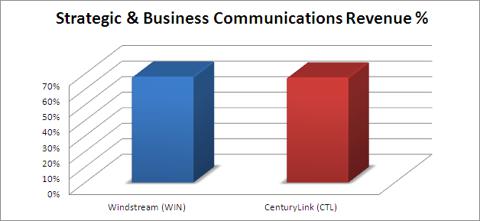 Click to enlargeSource: Windstream and CenturyLink s most recent earnings releases
Before the market opened on August 9th, Windstream reported adjusted Q2 2012 EPS of $.12/share, which met the analyst consensus and was a decline from the $.19 GAAP EPS achieved in Q2 2011. We were surprised by WIN's pro forma revenue decline in Q1 of 0.5% and even more surprised in the negative trend in its revenue as pro forma revenue declined by 1.18% in Q2 versus Q1. This is worse than the 1.22% achieved at CenturyLink because WIN had acquired the business communications and cloud services firm PAETEC (NASDAQ:PAET) last year. CenturyLink has also acquired a cloud services firm in 2011 (Savvis); however Savvis only represented 5% of its revenue whereas PAETEC represented 25% of Windstream's revenue. One piece of good news for Windstream stakeholders is that Windstream actually saw a narrower year-over-year decline in its access lines than CenturyLink as well as Frontier.

Click to enlargeSource: Most recent earnings releases by the companies
Despite continuing to have a narrower wireline access decline rate than CenturyLink and Frontier, all is not well on Rodney Parham Road (Windstream s headquarters). Despite the heavy emphasis Windstream has made towards strategic communications services the number of High-Speed Internet and integrated services customers only increased by 2% year-over-year and declined by .18% in the linked quarter. CTL's 4.4% and FTR's 2.45% growth exceeded that. We're not surprised that CTL outpaced WIN but we were surprised that FTR performed better than WIN in this metric. WIN's internet growth was weaker than the 2.6% growth at Verizon but at least better than the flat growth that AT&T (NYSE:T) saw. However, AT&T still has more internet customers than Verizon, CenturyLink and Windstream combined. Another area that Windstream is leading its rural telecom peers is the digital television segment. All three companies have satellite television partnerships with DISH Network (NASDAQ:DISH) and DirecTV (DTV). Windstream and CenturyLink also offer a proprietary digital television service. However, this is a case of good news and bad news. The good news is that Windstream has nearly 5 times as many digital TV customers. The bad news is that Windstream's digital TV growth has stagnated while CenturyLink's PRISM TV growth has been steadily picking up. Despite having a smaller customer base than Windstream, CenturyLink's PRISM TV picked up more new subscribers in the seasonally weak Q2 (2012) period than Windstream's digital TV offerings have in the last 12 months.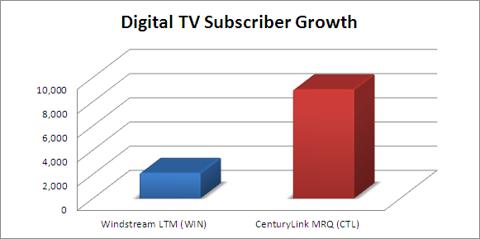 Click to enlarge
Source: Windstream and CenturyLink s most recent earnings releases
Windstream's business revenues grew by 2% in Q2 2012 on a pro forma basis versus the prior year's comparable quarter and reached $892.5M. Product sales jumped by 26% and reached $67.8M in the period. The company also saw a slight reduction in its operating expenses excluding the impact of depreciation and amortization expenses. Unfortunately, that was not enough to offset a steady 3% decline in consumer service revenues and the continued erosion of wholesale revenues, which declined by 4.7% on a linked-quarter basis versus Q1 2012 and by nearly 12% year-over-year versus Q2 2011.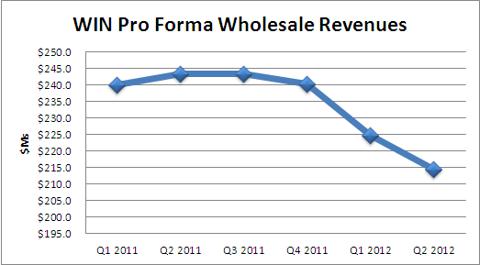 Click to enlarge
Source: Windstream Financial Supplement
Windstream generated nearly $400M in operating cash flows during the quarter and over $110M in free cash flows. Windstream's free cash flows would be higher except for planned capital investment expenditures this year. Windstream expects its CapEx to decline after this year as well as cash interest expenses and is targeting increased free cash flows in 2013. Windstream declared its 25th straight quarter of a $.25/share dividend and this represents a 1.7% yield based on the August 9th closing price of $9.30/share. Windstream strengthened its balance sheet by amending its credit agreement in order to raise $900 million of additional proceeds, which it used to fully repay its outstanding revolver balance and create sufficient liquidity to refinance 2013 debt maturities. This transaction did not change its net leverage ratio and allows WIN to repay the 2013 debt maturities without further need to access the debt markets. WIN ended the quarter with net leverage of 3.66x adjusted OIBDA. WIN remains committed to reducing net leverage to 3.2 to 3.4x adjusted OIBDA, and seeks to make significant progress toward this goal next year as by permanently paying down a portion of the 2013 maturities, which will allow it to reach the top end of its targeted leverage ratio by the end of 2013.
In conclusion, although Windstream is at a much better entry point now at $9.30/share than the $12/share price when we were contemplating it in December, we still prefer CenturyLink until we can determine that Windstream has snapped out of its funk. We are more than cognizant of the fact that CenturyLink's 6.9% dividend is nearly 4% below Windstream's 10.75% dividend. Despite the fact that these companies are primarily suited to investors who have a low-risk tolerance and a high need for current income, we believe that right now CenturyLink offers the best risk/reward opportunity to provide a suitable current yield (return on the money) and stable revenue and cash flow performance (return of the money):
Although CenturyLink's dividend yield of 6.9% is lower than that of its rural telecom peers, it is still higher than the 4.7% yield from AT&T and the 4.5% yield from Verizon
While Windstream is taking proactive steps to improve its debt financing position, it is still a high-yield credit as is fellow rural telecom peer Frontier. CenturyLink is an investment grade credit and its weighted average interest cost for its debt dipped below 6% whereas Windstream's is 6.9% and Frontier's is over 8%.
While Windstream has an "online electronics store" in which customers can buy computing devices and other high-end electronic items, CenturyLink was the first rural ILEC to sign a sales and marketing reseller agreement with Verizon Wireless in February 2011 and Frontier follow suit in November with a deal with AT&T. We think Windstream should consider striking a deal with Sprint (NYSE:S) in order to catch up with its rural ILEC peers in this field. We've written positively about the changes that have taken place at Sprint and how it has made progress fixing Gary Forsee s foul-ups.
CTL has five key markets that we are attracted to; Denver, Phoenix, Seattle, Portland and Las Vegas. Denver (17.9%), Phoenix (33.1%) and Las Vegas (36.6%) have seen strong population growth. Portland and Seattle have also seen above-average population growth over the last 10 years. We can't repeat this enough times because operating in vibrant, growing metro areas offers better business growth prospects for businesses.
Windstream's broadband internet and digital TV growth is stagnating and falling behind CenturyLink.
Windstream doesn't have any naming rights on famous buildings whereas CenturyLink picked up three naming rights deals in the Qwest merger. Also, Savvis used to have the naming rights for the St. Louis Blues hockey team. We believe that promotes better awareness of the CenturyLink brand versus Windstream.
We believe that these reasons explain why CenturyLink's stock has outperformed Windstream's stock over the last twelve months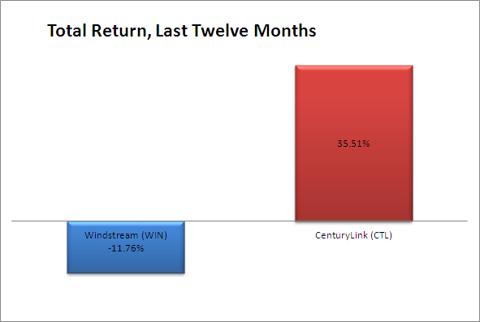 Click to enlarge
Source: Bloomberg LP
Disclosure: I am long CTL.
Additional disclosure: Saibus Research has not received compensation directly or indirectly for expressing the recommendation in this report. Under no circumstances must this report be considered an offer to buy, sell, subscribe for or trade securities or other instruments.