On August 2, Zagg Inc. (NASDAQ:ZAGG) reported second quarter earnings per share of $0.18 on a diluted basis. This met consensus estimate (see here and here). However, Thomson Reuters ONE, Motley Fool and Seeking Alpha reported that Zagg missed earnings by $0.01. The next day after the closing bell Thompson Reuters ONE posted a correction to its mistake and Motley Fool posted a corrected version, but this was too late to prevent the stock from falling 20% on August 3.
Over the two prior quarters Zagg beat its earnings expectations by a wide margin. While the inaccurate reporting definitely had a large effect, I believe the major driver for the sell-off was because the market was looking for a better than expected earnings report. So was the sell-off justified? Was it the case that Zagg was trading at lofty multiples and not beating its earnings expectation was the impetus needed to bring it back to a reasonable value? Analyzing the numbers this does not appear to be the case. It seems more likely that it is another case of Mr. Market having a bout of erraticism.
Zagg reported revenues of $61.6 million beating the consensus estimate of $58.4 million by 5%. Revenues grew 59% from last year and net income was up 123% over the same period. Granted second quarter 2011 net income was low from charges related to the iFrogz acquisition, but pretax income was up 62% when adjusted for acquisition charges. So with revenues higher, why did Zagg not report higher EPS than expected? Gross and operating margins were in line with historical performance, so blame can't be placed on deteriorating margins. The problem was a higher than normal tax bill. Zagg's effective tax rate this past quarter was 39.2%. The effective rate for 2011 and this year's first quarter was 34.9% and 36.9% respectively. If the tax rate held at 36.9%, this would have been enough for Zagg to report an extra $0.01 diluted EPS. Zagg's management has stated that they have been working on implementing a tax strategy to better manage its tax exposure. It will probably be another six months before that process is complete.
Last month Apple (NASDAQ:AAPL) missed its earnings by 10%. Despite having higher than expected iPad sales, iPhone sales were about 2 million units below forecasts and were the main reason for the poor earnings. Considering this it actually makes Zagg's earnings look even better since it was able to meet expectations despite fewer iPhone sales. Everyone knows that Apple is not faltering; it is just that consumers are holding out for the iPhone 5. The demand is still there, it has just shifted to later in the year. What this means for Zagg and Apple is that the third quarter may be slow, but the fourth quarter will be a blowout.
Why it's a good time to buy
Using a multiples valuation, Zagg is currently trading (as of 8/8/12) at its cheapest price that it has been in over the last two years. This is even lower than when Zagg plunged almost 45% in December for no real reason. Remember what kind of buying opportunity that sell-off presented for investors? Opportunity is knocking a second time.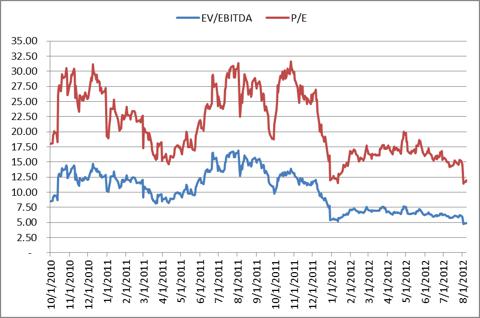 Click to enlarge
The skeptical reader is probably thinking that this time is different. Something must have changed in Zagg's outlook for the market to discount the stock this much. But that is why this is such a ripe opportunity. Zagg's outlook and the health of the company have never been better. The iFrogz acquisition has gone well. The company is now cash flow positive. Its the market leader in its industry. Its patents are keeping competitors from getting anywhere near Zagg's level of distribution. And there still is plenty of opportunity for growth in the industry. Zagg continuously proves its critics wrong. I do not wish to go into those details here, but refer the reader to mine and other's prior articles.
Zagg's management stated in its recent earnings call that it is shipping more product by sea versus air. This change is expected to save $4 million over the next 12 months which amounts to about an extra $0.02 diluted EPS per quarter.
Why it's a good time for shorts to cover
When Zagg dropped to a low of $6.65 on December 29, 2011 it presented a perfect opportunity for short sellers to take profits and reverse their position. Instead short sellers actually increased their position to a high of nearly 45% of the float in the time leading up to Zagg's 2011 fourth quarter earnings release. Short sellers must have really been expecting Zagg to become a penny stock since they did not take advantage of that big drop. Since Zagg had stellar earnings in the fourth quarter last year and first quarter this year short sellers have been cutting their losses. The short interest is now 28% as a percent of the float.
The predicament facing short sellers is how to buy back shares without moving the market. As of July 13, 2012 it would take short sellers 14 days to cover their positions. One of the main reasons for Zagg's volatility is that small market orders of 1,000 shares can move the price more than 1%. So how do they buy back 7.17 million shares without moving the price? I suggest short sellers take advantage of the current low price by selling in-the-money put options and let them get exercised. This will enable them to lock in their purchase price, collect a small premium, and buyback shares without moving the market. Then again, that would be 71,700 contracts and current open interest for August is only about 11,000 contracts. The large short position will be difficult to unwind however it is done.
Conclusion
Warren Buffett says he tries to be greedy when others are fearful and fearful when others are greedy. The recent sell-off of Zagg is one of those opportunities to be greedy. Happy trading.
Disclosure: I am long ZAGG.