We view Friday's JPMorgan downgrade of Big Lots (NYSE:BIG) to Underweight from Neutral as an opportunity to consider accumulating shares of the nation's largest broad line close-out retailer.
Contrary to JPMorgan's belief that BIG "is in the wrong place at the wrong time with a stretched core consumer demographic and more-discretionary shopping profile", we believe the value proposition of discount retail remains a viable concept in discretionary consumer spending.
More to the point, regardless of concerns that BIG's core market is less focused on "need-based consumables" our struggling economy helps to keep the behavior of retail-slumming (the practice of shopping down the value chain) alive and well.
BIG has come a long way from the old days of Pic 'N Save and Mc Frugals and the business model is an interesting one. Granted, the product mix leans towards furniture, home and seasonal, but the products they sell are indeed bargains.
Our dual cash-flow, accrual and capital productivity analysis of BIG suggests that following JPM's downgrade, shares are now priced modestly higher than our fair-value estimate of $37.11.
Although revenue trends are erratic, earnings quality is quite good and the spreads between cash-flows it generates from actual operations and the cash-flows resulting from balance-sheet management are comfortably wide.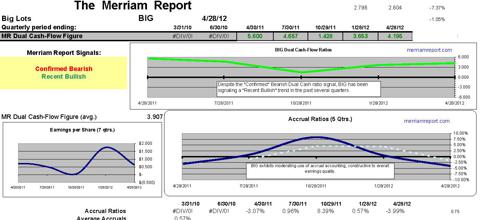 We also like the fact that management's dependence on accrual accounting has moderated significantly in recent quarters.

On the expense side of the ledger, BIG has room to improve, but we do note that capital productivity (particularly with regards to inventory) is well managed. Offsetting this was a slight increase in cost of capacity utilization during the most recent quarter ending April 28, 2012.
Competitive pressures aside, close-out retailing is not the only focus at BIG. Consumers also benefit from the strategy of "alternate channeling", where product manufacturers sell their products through alternate and otherwise non-traditional retail channels.
One example of this arrangement was a recent deal involving Mrs. Renfro's brand salsas. Often times these are "in-and-out" sales either as a one time deal to expose a company's products as a novelty item in hopes of reaching a broader market. In some cases, the arrangement can lead to repeat orders. Thus, BIG should also be viewed as a discount retail distribution conduit for companies wanting to grow market share and build product awareness.
Using the JPM downgrade as a catalyst, investors might want to consider waiting for a further pull-back to the $36 area to initiate partial positions; full positions up to $35. Trading opportunities appear to have a wider berth with potential entry points between $35 and $40. Keep in mind however that BIG shares have historically experienced frequent and wild swings in price action, particularly following analyst opinion changes.
That said, we think the recent JPM downgrade does help move the stock (lower) and towards a more favorable entry point.
You can view the complete BIG report here .
Disclosure: I have no positions in any stocks mentioned, and no plans to initiate any positions within the next 72 hours.
Additional disclosure: Data and information used in this article were obtained from: merriamreport.com, bizjournals.com,star-telegram.com and Dow Jones News (wire).