Cisco Systems (NASDAQ:CSCO) reports fiscal 4th quarter '12 earnings after the bell on Wednesday night, August 15th, with analyst consensus expecting $0.46 in earnings per share (NYSEARCA:EPS) on $11.6 billion in revenues for expected year-over-year growth of 15% and 4% respectively.
There have been a number of interesting Cisco earnings previews both on Seeking Alpha (and other sites) and all are quite good in one way or the other, but my impression of the struggles of the $94 billion networking giant is that investors are struggling with an appropriate long-term growth rate for the company, as well as the fact that the company's performance has been decidedly uneven off the 2008 - 2009 recession bottom.
Cisco is now "old tech" given it is one of the prior bull market kings, and as it struggles to reinvent itself in the new world (the set-top-box foray doesn't look so smart in hindsight), it is struggling with inconsistent results.
Last quarter, CSCO actually reported a decent quarter of 7% revenue growth and 14% earnings per share growth, but cautious guidance from John Chambers sunk the stock. Product order growth was just 4% last quarter, and "enterprise" grew just 1%. Chambers noted that enterprise, public sector and Europe (naturally) were all weak, while "service provider" (about 1/3rd of sales) was strong.
In August, 2011, with CSCO trading under $14, the company reported a better-than-expected quarter and Chambers offered good guidance and we then watched the stock rally off the August, 2011, multi-year low and trade to $21 in April, 2012.
Earnings and revenue estimates have been fairly stable for fiscal 2013. Per the data, here is the earnings per share and revenue estimates for CSCO for full-year 2013 over the last 4 quarters:
Aug, 2012: $1.91 and $48.1 billion (as of this weekend)
May, 2012: $1.92 and $48.3 billion
Feb, 2012: $1.98 and $49.1 billion
Nov, 2011: $1.93 and $48.5 billion
Aug, 2011: $1.89 and $48.1 billion
At $17 per share, CSCO is trading at 9(x) 2013's expected earnings of $1.91 for expected earnings per share and revenue growth of 6% and 5% respectively.
And therein lies the rub for CSCO: an investor in the stock needs a longer-term horizon and holding period, as the company transitions itself from a hyper-growth to mature, stable grower.
Frankly, I think CSCO's valuation is pretty reasonable, at 8(x) cash-flow and 9(x) forward earnings. The network giant is pushing into new product areas, and enterprise, public sector and Europe will not remain weak forever, plus, CSCO is repurchasing stock. As of the middle of 2008, CSCO had roughly 6 billion shares outstanding, but today (or as of May quarter end) CSCO has 5.5 billion shares outstanding, so the company already has repo'ed about 8% of their shares, even though the majority of their cash position is domiciled overseas. (This is probably why the company has been so slow to declare a dividend.)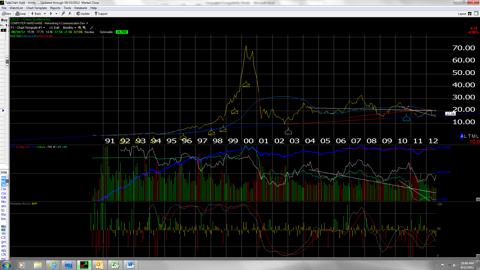 Click to enlarge
(Click to enlarge)
The attached chart indicates CSCO is forming a longer-term bottom in the mid-teens, and as long as the August, 2011 low of $13.30 isn't broken, the bottoming process looks to be intact.
The challenge for me as a portfolio manager is that - given overall market and large-cap valuations - amongst scarce client resources, I have a host of sectors and companies that i can invest in with attractive valuations, and better dividend yields, with the potential for better upside catalysts (e.g. large-cap pharma today), than a Cisco right now (sorry, John).
Right now CSCO looks set to grow mid single digits in revenues over the foreseeable future with high single digit and maybe low double-digit earnings per share growth, with a small dividend, and no real fundamental catalyst. I think investors need a long time horizon and a patient temperament with CSCO's stock.
A true long-term technical breakout would occur if CSCO took out $21.59 - $21.75 on very heavy volume.
Disclosure: I am long CSCO.