Apple (NASDAQ:AAPL) has experienced an extremely volatile 2012 and I have recommended option strategies on Apple since 2010 with positive results (remember past performance is not indicative of future results). For reference, please view the first and other articles in the series to fully understand the strategy and its potential returns. This strategy is oriented toward long-term investors with the objective of simultaneously generating income and reducing your effective cost basis. In essence the investment objective is to capitalize on Apple's volatility by selling out-of-the-money options to generate weekly income without sacrificing long-term returns. Even if you have no plans to engage in the options market this is your one-stop primer for the critical Apple developments from the past week.

(Source: Yahoo Finance)
A brief recap of this week in Apple, which was up $4.41 (0.7%):
Apple headlines in the past two weeks have focused on one of two things: Apple's $2.5 billion lawsuit against Samsung and new iPhone rumors. Surprisingly, Apple's historic $2.65 per share dividend on Thursday was practically an afterthought (who would have guessed that). The court case has been called the case of the century and hardly a day goes by in which interesting factoids do not make their way onto the front page on to both blogs and mainstream media. As a layperson it does appear that Apple has the lead with evidence of Samsung's apparent blatant copying of Apple; however, no one can ever guess what a jury will do. Apple is expected to call its final witness early this week and the case may have a resolution sooner rather than later.
Regardless of the ultimate outcome for the lawsuit, Apple investors should rest more easily at night knowing that the iPad is clearly dominant. The Galaxy Tab tablets are one of the primary competitors to the iPad and the disappointing sales are only getting worse. In the second quarter of 2012 Samsung sold only 37,000 Galaxy Tabs, an 86% decline year-over-year. In a staggering contrast Apple sold 17M iPads in its most recent quarter, far more than Galaxy Tabs than Samsung has sold in total. Rivals such as Microsoft (NASDAQ:MSFT) and Amazon (NASDAQ:AMZN) will continue to fight Apple in the tablet space but it is safe to say that Apple has such barriers to entry that it will not be dethroned anytime soon. Just as the iPod commanded a 70% market share throughout its growth and maturity, I expect the iPad to do the same. This is a critical analogy as Apple is poised to release an iPad Mini later in 2012 to finally enter the ~7 inch space. Competition in the smartphone space is far fiercer but Apple's ecosystem and brand equity still provide it sufficient time before it is truly challenged.
Apple investors should take advantage of the elevated volatility and optimism that the trial is supplying. There are abundant opportunities for both new and existing Apple investors. From a strictly time-value ratio standpoint a conservative approach would be the sell the in-the-money August Monthly 620 calls with a .75% time-value ratio and collect $4.65 in time value if Apple closes above $620 on Friday. On the opposite extreme, if you are worried about getting called away too soon, the monthly $630 calls provide over eight dollars of upside with a respectable $2.28 effective "dividend". If Apple crosses $630 this week you will likely have an opportunity to repurchase it the following week as it would be entering overbought territory, barring any unexpected news. With the trial looming and the prospect of a new iPhone release date being announced soon, I suggest that you provide yourself with more of an upside cushion to avoid potential lost profits.
Below I present three possible scenarios and the potential returns for the Apple options. The first scenario represents a negative outlook for Apple while the final two scenarios are more reasonable. These scenarios are forecasts and there is no guarantee that they will come to fruition. Even if you are optimistic it is important to consider both positive and negative circumstances in order to stress your assumptions. As a general rule, selling calls with higher strike prices has greater potential return but additional risk of loss due to the lower (or lack of) downside protection. For more information on the fundamentals of covered calls, consult Investopedia.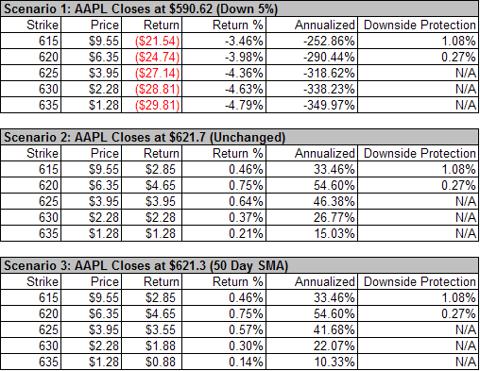 Additionally, if you would like even more information, I have prepared a sensitivity analysis for absolute return and percent returns, respectively. After studying the information above, these two charts make it easy to pick a strike price based on where you believe Apple will close at the end of the week. Estimate where you believe Apple will close and select the strike price with the highest return.

With this information, executing a buy-write on AAPL August (Monthly) 630s is the optimal risk-return strategy. If you are uncomfortable with this strike I would consider a buy-write in the range of 610-635. Even if you are extremely bullish you can still profitably sell covered calls; Apple is volatile enough that you will have opportunities to repurchase on further dips. An alternative approach is to sell out-of-the-money 615 puts and collect the ~$3 premium without having to purchase the stock outright. If called this would imply a $612 purchase price for Apple, which is quite reasonable. Note that if the stock declines to the strike price, you are obligated to buy the stock (or closeout the position). You should always consider the risk factors (particularly with naked calls or puts) raised in this article in light of your personal circumstances (including financial and taxation issues) in consultation with your professional financial adviser.