Wal-Mart (NYSE:WMT), the retail mass merchant discount giant, reports fiscal 2nd quarter earnings before the bell on Thursday morning, August 16th, with analyst consensus currently expecting $1.17 in earnings per share (EPS) on $115.565 billion in revenues for expected year-over-year growth of 5.5% and 7% respectively.
While the earnings per share estimate of $1.17 has been stable since May, the revenue estimate has improved by $200 million since the last earnings report, thus there is a slight upward bias to WMT's estimate revisions.
The one brokerage estimate we saw for WMT's 2nd quarter comp's was +2.5% - 3.5%.
The stock has been on a tear since mid-May, 2012, rising from just under $60 to WMT's recent high near $75, thanks to a strong Wal-Mart comp number in the May earnings report.
Up 22% year-to-date (as of Friday's August 10th close, and excluding the dividend) WMT has been a pleasant surprise this year.
Wal-Mart division comp's are key for the company and there is no question that the retail giant is improving this metric:
Jan '11: -1.8%
Apr '11: -1.1%
Jul '11: -0.9%
Oct '11: +1.3%
Jan '12: +1.5%
Apr '12: +2.6%
There are three primary segments to WMT's reporting:
WMT (big stores, US): 60% of revenues and 75% of operating profit;
Sams: 10% of revenues and 5% of operating profit;
International: 30% of rev's, 20% of operating profit;
In the April '12 quarter, the Wal-Mart division grew revenues and operating profit 6% and 8% respectively, the best y/y growth rates since late 2008.
WMT appears to have fixed the "pricing" issue, particularly with their competition, as "ticket" has contributed positively to the quarterly comp number in the last 5 quarters, even though traffic has been mixed.
The key question investors are asking: "Is the return of Wal-Mart's comp strength temporary or permanent ?" Wal-Mart went through a similar period of US comp store weakness and stock underperformance in the late 1980s, early 1990s but once the US comp's started to grow again (starting 1994 and 1995), the stock took off, partially aided by the large-cap growth stock boom in the late 1990s.
Technically, WMT broke out of a 12-year base on July 3rd, 2012, when it closed above the $70.25 high water mark set in January, 2000 at the height of the tech and growth stock boom of the late 1990's.
To give readers of some idea of WMT's valuation today versus January, 2000, in fiscal year 2000 (ended Jan 31, 2000) WMT earned $1.28 in earnings per share on $167 billion in revenues. For fiscal 2013 (ends Jan 1 '13) WMT is expected to earn $4.92 on $476 billion in revenues. In January of 2000, WMT was trading at 55(x) earnings and growing revenues and earnings 20% - 25%. Today WMT is trading at 15(x) expected earnings and growing earnings per share and revenues 9% and 6% respectively.
Like most of a portfolio manager's outperforming positions, you always wished you'd owned more of the better stocks, but we went long WMT in May after fiscal q1 earnings, and want to increase the size of the position, but the stock is technically extended on a short term basis currently, thus we will wait and see what Thursday morning's earnings hold, and wait for a pullback to the $70 level (or more).
No question WMT is one of our favorite companies: a $250 billion market cap company, that is also the USA's largest single-employer, WMT is a retail and distribution juggernaut that represents the best of America. The key to their "every day low pricing" (EDLP) strategy is their distribution system, which could get trucks into New Orleans first (as rumor has it), after Hurricane Katrina, before the US government or military could.
The retailer made a key product change in the early 2000's, and started offering groceries, and today, groceries represents about 50% of WMT's total sales. It also drives quite a bit of foot traffic into the stores.
WMT is a cash-flow juggernaut as well, generating over $8 in cash-from-ops per share and trading at 8(x) cash-flow. The stock still seems reasonably valued but we'd prefer to buy it on a pullback. At 15(x) expected 2013 earnings per share of $4.92, on expected 9% earnings per share growth in fiscal 2013 and 2014, the p/e seems reasonable too, about inline with the market.
On a price-to-sales measurement, WMT is trading at a market cap that is just half of its $469 billion in annual sales or to be more precise 0.53(x) annual sales.
To conclude, WMT's breakout from its 12-year (see attached chart) was a huge positive indicator for a great company that continues to innovate in the retail space. In US GDP reporting "consumption" is 2/3rd's of US GDP, and Wal-Mart is thought to be 10% of all retail sales, so I've always thought WMT was one of the best real-time economic indicators we have.
Technicals are flashing positive, but we would like to see fundamentals continue to improve.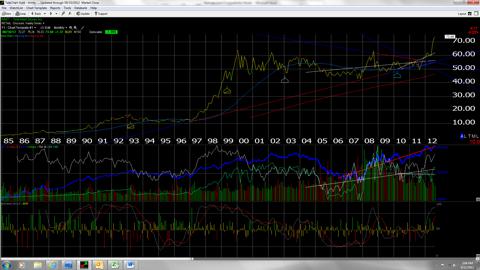 Click to enlarge
Disclosure: I am long WMT.