Dividend investors are typically well aware of large-cap dividend payers such as Kraft (KFT) and Walgreen's (WAG), which offer relative stability. They are also generally well aware of large dividends in sectors such as Energy Master Limited Partnerships (MLPS) and global shipping companies, both of which offer above-average yields but with significant price volatility due to their roles extracting and transporting commodities.
While opportunities abound in those areas, there are a number of small and mid-capitalization companies in a wide array of industries that receive less attention but offer lucrative opportunities for both equity price appreciation and attractive dividend yields. Small companies with attractive yields offer a twofold advantage in terms of returns: potential significant gains in share prices and the prospects for a growing dividend. Three of these firms are brought to the attention of investors below.
Click Software Technologies (NASDAQ:CKSW): Israel-based Click Software Technologies provides software solutions for companies with mobile and far-flung workforces, and its products put it squarely on the software side of the increasingly popular "cloud computing space". The company has experienced significant share price volatility in the past year, rising from $8 per share in August 2011 to over $13 in April 2012 before settling at $7.61 on August 10, 2012.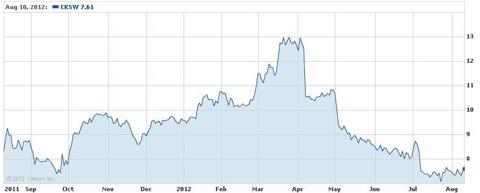 CKSW has a market capitalization of $240 million and has rapidly grown revenue from $61 million in FY 2009 to $87 million in FY 2011. CKSW is anticipated to continue fast growth in revenue, as it has forecast revenue growth of 18 percent in 2012. Fundamentally, the shares are relatively inexpensive for the industry, trading at just 2.6x sales, and 15x forward earnings. In terms of the balance sheet, CKSW has no debt and $1.56 per share in cash.
CKSW first instituted a quarterly dividend payment of $.08 in November of 2011. The recent decline that took the company from $13 to $7.61 could prove a boon to investors that purchase shares now, as the dividend yield has increased to an attractive rate of 4.40%. Investors seeking both price appreciation and a high dividend yield should consider a near-term investment in CKSW. If the company continues to grow by 15-18% annually, the share price is highly likely to increase, which would lower the effective dividend yield back to the 2% range where it was in April 2012.
Williams Controls (WMCO): Williams Controls is a Portland, Oregon based company that supplies manufacturers of heavy-duty vehicles with key measure parts, such as throttles, pneumatic controls and electronic sensors. The company, which has a market capitalization of $79 million, has experienced robust growth, with a revenue increase of 59% from FY 2009 to FY 2011. The strong revenue growth allowed the company to swing to a profit in 2010, which caused company management to institute dividend payments. WMCO, which is a lightly traded New York Stock Exchange issue (only 10,000 shares daily volume) is exceedingly cheap from a fundamental perspective. WMCO trades at just 1.2x sales, which is remarkable considering the rapid sales growth for the company. It also trades at a price-to-forward earnings ratio of just 10.
The first dividend payment in 2010 was a special one-time annual dividend. Subsequently, the company in 2011 began issuance of a quarterly dividend of $.12, which it has paid for the past five quarters. At the current share price of $10.85, the WMCO dividend yields 4.4%. WMCO offers dividend investors strong prospects for revenue and profit growth, which are likely to translate into both share price gains and an increase in the quarterly dividend. Investing in growing small capitalization companies early in their dividend issuance cycle is a tremendous way to generate both price appreciation and a high effective yield over the long run.
Big Five Sporting Goods (NASDAQ:BGFV): Big Five Sporting Goods operates sporting goods retail locations primarily in the Western United States. BGFV operates from a deep value position in the industry, and has a limited number of competitors, including Dick's Sporting Goods (NYSE:DKS), Play It Again Sports, and general merchandisers such as Wal-Mart Corporation (NYSE:WMT). The company has experienced flat revenues over the past 5 years, with FY 2012 revenue of $902 million little changed from the $898 million the company generated in FY 2007. Only July 31st, BGFV beat earnings estimates by 20% with Q2 earnings of $.12, and the company forecast earnings during Q3 of a midpoint of $.31. Analysts estimate that the company will earn $.60 for the year, which would provide support for a potential dividend increase in the near future for the company.
Big Five Sporting Goods has a market capitalization of $171 million. The quarterly dividend for BGFV has been somewhat volatile over the years, increasing throughout the early 2000s until the economic downturn of 2008, when the company slashed the dividend nearly in half. The company has increased the dividend since to .30 annually. The regular quarterly dividend generates a yield of 3.8% at the current share price of $8.01.
Disclosure: I have no positions in any stocks mentioned, and no plans to initiate any positions within the next 72 hours.