Arena Pharmaceutical (NASDAQ:ARNA), a company operating in the healthcare sector, is involved in developing and commercializing drugs that target 'G-protein coupled receptors'. A key highlight for the quarter was Arena acquiring an approval for its weight loss drug, Lorcaserin, marketed under the trade name Belviq. After the company reported its financial results on Thursday, its stock fell by approximately 1.2% to $7.27, from $7.36. However, the average traded volume for the company was quite low; total shares traded were 35% of the company's average daily traded volume. The losses for the quarter were much larger than anticipated. Analysts were expecting EPS of $-0.072, while the figure actually reported by the company was $-0.12.
2Q2012 Results
During this quarter, the stock appreciated to its highest price of $13.5 since 2007. During the last 52 weeks, the share price for the pharmaceutical company has moved between $1.23 and $13.5. The price increase during this quarter was due to Belviq being approved by the FDA. However, the stock was not able to follow through on the hype surrounding the drug. The stock price has depreciated since then due to a number of reasons, amongst which is the approval of its rival company's weight loss drug. Vivus Pharmaceuticals (NASDAQ:VVUS) also received FDA approval for its weight loss drug, Qsymia, in July. Qsymia, according to trials, is slightly more effective in reducing weight, but has more risks attached to its usage. ARNA's stock has fallen 36% since Belviq received approval on June 27. Another possible competitor to Belviq could be Contrave, which is being presented for FDA approval by Orexigen (NASDAQ:OREX) pharmaceuticals.

Click to enlarge
For the quarter ended June, the company reported total revenues of $22 million. However, the company has not generated any revenues from the sales of any of its drugs. The revenues reported were milestone payments from the marketing and distribution partner of Arena Pharmaceutical, Eisai (OTC:ESALF), and payments made under a manufacturing services agreement with Siegfried Ltd (SFZN). The company received $20 million from Eisai for clinical trials of Belviq, according to company reports. During this quarter, Research and Development expenses decreased from $14.7mn to $14.1mn, as compared to 2Q2011. However, according to company disclosures, R&D expenses are expected to increase in the third and fourth quarters of 2012. The increase will be primarily associated with post-approval studies on Belviq.
The company acquired financing of $98.1 million from two separate cash inflows. Deerfield Management exercised its warrants for an amount of $32.4 million, thus fully exhausting its Arena warrants portfolio. A significant cash outflow came in the shape of a payment of $10.5 million to Deerfield, as a repayment of loan principal. Deerfield Management had forwarded a loan of $100 million to Arena Pharmaceutical back in 2009; Arena had agreed to give Deerfield warrants for 28 million shares of its common stock with an exercise price of $5.42. Arena also raised $65.7 million by offering 12,650,000 shares at a price of $5.5 per share under an Initial Public Offering.
Eisai remains Arena's key partner for distribution and marketing of Belviq. It holds the distribution rights to the drug in North and South America. Arena continues to hold the marketing and distribution rights to Belviq for all remaining territories. According to company disclosures, all post-marketing studies on Belviq will mostly be funded by Eisai. For studies on cardiovascular outcomes, Eisai will bear 90% of the expense, while Arena will only bear 10%. For other pediatric studies, expenses will be evenly distributed between the two partners.
Arena is looking towards approvals for Belviq in the European Union and Switzerland. The company has filed MAA (Marketing Authorization Applications) for Belviq's approval in the aforementioned territories. The MMAs are under review and no decision has been made yet in this regard. JPMorgan (NYSE:JPM) is expecting the approval to come through in the first half of 2013. Moreover, according to company disclosures, the company plans to apply for such approvals in other territories as well. Asian nations such as China and India are other potential markets for Belviq. These countries are facing health-related issues rising from obesity; especially China, which is struggling against Diabetes.
Analyst Opinions
If we look at the graph below, we can see the change in analyst opinions over the last few months. From a total of nine analysts, six are recommending a hold position on the stock, two have a buy recommendation, and none have a sell recommendation.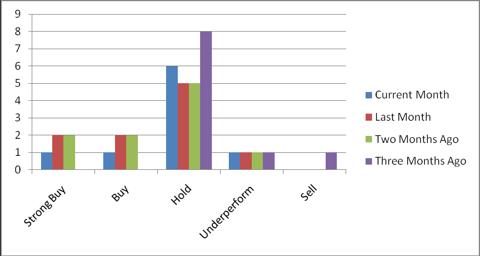 Click to enlarge
Valuations
The company is not reporting any sales-driven revenue for the time being due to the nature of its business. Therefore, an industry average P/E multiple has been used to estimate Arena's share price. Using mean EPS estimates of $0.35 for 2015 and $1.45 for 2016, our target price for 2015 is $10 and $43 for 2016.
| | |
| --- | --- |
| Average P/E of Industry | 30x |
| EPS2016 | $1.45 |
| EPS2015 | $0.35 |
| Target Price 2016 | $43 |
| Target Price 2015 | $10 |
|   |   |
JPMorgan has maintained its price target of $9 (December 2012) for Arena, as the company did not provide any further information in the earnings release that could change the current estimate. JPMorgan uses the NPV (Net Present Value) of future cash flows from Belviq sales to estimate price target.
Conclusion
The company's liquidity position is stable, and currently it faces no financial problems. We believe that Arena will acquire European approval for Belviq. The company still holds distribution rights for Europe and all other territories except the Americas. Considering these factors, we maintain a buy recommendation for Arena.
Disclosure: I have no positions in any stocks mentioned, and no plans to initiate any positions within the next 72 hours.