Edited By Kate Boehme
Heckmann Corporation (HEK) is an environmental services company, composed of two business segments: Heckmann Water Resources and Heckmann Environmental Services. The water resources unit treats and disposes of water generated by energy companies involved in oil and natural gas production. Heckmann Environmental Services, on the other hand, is in the business of recycling used oily products. Such products include spent antifreeze, oily waterwaste, used motor oil, parts washers and used oil filters. Heckmann Corporation employs more than 1500 people and operates in 52 locations across the United States.
Heckmann also carries fresh water for production and offers services to facilitate water pit excavations, site preparation, and remediation. Heckmann sells its services to those engaged in temporary water transmission and storage, treatment or disposal of fresh water, and complex water flows, as well as those looking to acquire fresh water. The Heckmann Corporation works with Energy Transfer Partners (NYSE:ETP) to expand water pipeline infrastructure and treatment solutions. These efforts are designed to cater to oil and gas producers in the Marcellus Shale and Haynesville Shale areas.
In addition, Heckmann Corporation holds a seven percent equity interest in Underground Solutions, Inc. Underground Solutions provides water infrastructure solutions and pipelines. It also owns and operates a fleet of approximately 600 trucks for water transportation as well as approximately 1,100 frac tanks.
Stock Performance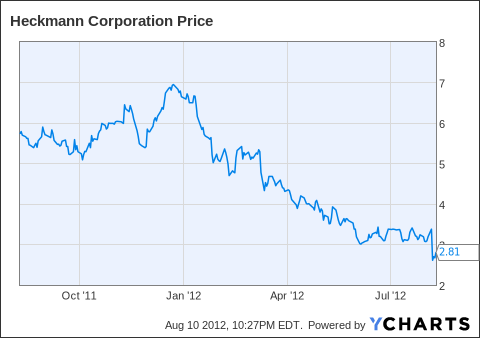 Heckmann's stock price has been declining since last December. The stock closed at $2.80 after losing 12% in the last week. Heckmann has a market capitalization of about $400 million and a Beta of 0.84. Furthermore, the company's stock has a 52-week range of $2.60 and $7.05. At the moment, HEK is trading near the bottom of this 52-week range.
Financial Performance
Contrary to market performance, Heckmann announced great financial results. Most notably, revenues increased more than 100 percent from the same period last year. Revenue levels thus now stand at $90.8 million. Net income for the quarter was $10.7 million, a massive improvement on the $0.3 million figure from the previous year. Net income for this period also showed a deferred tax benefit component. These figures thus translate into an EPS of 7 cents per share.
The reported period also showed vast improvement in the company's adjusted EBITDA numbers, which experienced an increase of 105 percent. In fact, Heckmann witnessed a significant increase in both gross margin and EBITDA margin. The gross margin rose from 13 to 17 percent, while the EBITDA margin grew from 19 to 21 percent.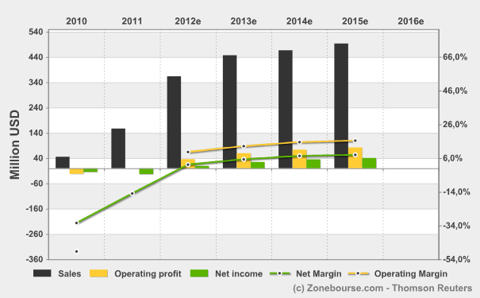 Source: Zonebourse.com
Comparison with Peers
| | | | | |
| --- | --- | --- | --- | --- |
| Company | Gross Margin | Net Margin | Debt to Equity | P/E ratio |
| | | | | |
| Heckmann Corporation | 18.55% | -1.77% | 0.6 | 49 |
| Basic Energy Services (NYSE:BAS) | 37.53% | 5.83% | 1.9 | 6.1 |
| Baker Hughes (NYSE:BHI) | 22.02% | 8.70% | 0.2 | 11.4 |
| Key Energy Services (NYSE:KEG) | 36.53% | 5.60% | 0.7 | 8.9 |
Values taken from Morningstar.com
The table above compares the Heckmann Corporation with a few of its main competitors. Heckmann has a significantly high P/E ratio, but its debt-to-equity ratio is quite manageable. Gross margin for Heckmann is on the rise as demonstrated by the company's most recent earnings announcement.
Heckmann has a price-to-book ratio of less than one, and a P/B ratio of 0.9, which is considerably less than the industry average of 1.7. Their price-to-sales ratio is equal to the industry average of 1.4, while revenue growth exceeds the industry average at 146.2 percent. The Heckmann Corporation has an attractive forward P/E ratio of 15.88. Liquidity ratios for the company are also incredibly robust, indicating strong management of operations. Moreover, the current ratio and quick ratio stand at 3.58 and 3.56, respectively. Analysts are predicting EPS growth of 27.50 percent over the next five years.
It is clear that Heckmann has some work to do if they are to come up equal with other companies in their industry. Currently, the metrics do not paint an especially pretty picture for Heckmann, but the indicator ratios are rising and it seems likely that they will soon catch up with the peers.
Summary
Heckmann Corporation stock has taken a hit recently, almost touching its support level of $2.60. The recent earnings figures show that the market has had a negative impact on the stock. However, the adjusted EBITDA margin was more than double, which is by no means a small feat. Meanwhile, Heckman revenue rose by 132 percent.
I believe that Heckmann stock has fallen as far as it can, and will only go up from here. Considering the globe's increasing population and infrastructure, there will always be increased demand for waste management systems. Heckmann Corporation will therefore likely see further growth in relation to the rising demand for industrial cleaning services. Increasing revenues and solid earnings growth show that Heckmann will be able to cover its debts, permitting the company to expand further. I expect that Heckmann Corporation will start its recovery here, and will continue to experience substantial gains over the coming months.
Disclosure: I have no positions in any stocks mentioned, and no plans to initiate any positions within the next 72 hours.