Lubrizol's specialty chemicals enhance the quality and performance of a wide variety of products. North America, which generated 41.8% of 2007 revenues, is its largest geographic market. The company's brands include Anglamol, Carbopol, Estane, and TempRite.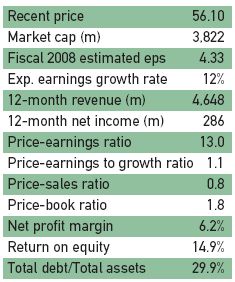 The larger of the company's two segments makes additives for engines and drivelines. The Additives segment produced 66% of 2007 revenues. These products are used in automobile and diesel engine oils, marine engines, small and stationary engines, oilfield refining, automatic transmission fluids, gear oils, and farm tractor lubricants. This segment also makes industrial additives such as hydraulic lubricants, metal-working fluids, industrial gear grease, and compressor fluids. LZ's additives help reduce oil thickening, eliminate deposits, prevent rust and corrosion, improve storage stability, reduce friction, and prevent wear.
The Advanced Materials segment generated the remaining 34% of 2007 revenues. Its performance chemicals include acrylic thickeners, film formers, emollients, silicones, specialty surfactants, and lanolin derivatives. These chemicals impart certain properties to lotions, shampoos, hair gels, cosmetics, and other personal care, home care and pharmaceutical products. This segment also makes performance resins and additives that add gloss and increase the durability, protection, and adhesion properties of paints, coatings, and inks. Its engineered polymers, resins and compounds are found in residential and commercial plumbing, and its highly versatile thermoplastic polyurethane is found in automotive trim, sporting goods, packaging, medical tubing, and cable insulation.
Q1 net revenues increased 14% year-over-year to $1.23 billion on volume growth, a favorable sales mix, and foreign exchange. The Additives segment climbed 18.7% to $826.2 million, offsetting weakness in Advanced Materials, which fell 5.4% to $401.1 million. The pro forma operating profit margin fell 130 basis points to 10.23% due to higher raw material costs and reduced volumes in the Advanced Materials segment. Pro forma net income, however, improved by a better-than-expected 9.9% to $76.5 million or $1.10 per share. Because LZ is dependent on petrochemical-based raw materials, the relentless rise in crude oil prices is a key concern. LZ is trying to counter higher costs by raising prices, but profit margins could fall if price hikes are implemented slowly or fail to stick. The Advanced Materials segments represents another concern. Restructuring efforts should improve performance, but associated charges could hurt GAAP earnings in the short run. Furthermore, there is no guarantee that these actions will deliver the desired effects, especially if economic conditions continue to worsen.
Despite these headwinds, management projects 11-12% revenue growth for 2008 and earnings of $4.25-4.45 per share. Margins should improve over the long term as cost increases subside and restructuring efforts begin to pay dividends.
Current restructuring activities include the divestiture of a textile compound plant and a reduction of 30 positions. A plan to expand capacity in the Additives segment should improve operating efficiencies. LZ will refurbish certain facilities in North America and Europe, which should eliminate bottlenecks. Finally, LZ plans to construct a new facility in China to support expected growth in that region.