Veeco designs equipment for manufacturers and researchers. The data storage market accounted for 34% of 2007 sales, scientific research and industrial applications accounted for 29%, high-brightness light emitting diodes [HB-LED] and wireless devices for 28%, and the semiconductor market for 9%. VECO generated about a third of its 2007 sales in the Asia Pacific region, a third in North America, 19% in Europe, and 14% in Japan.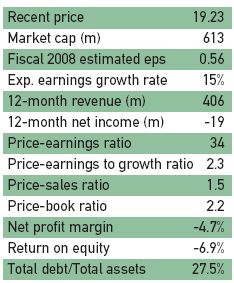 LED & Solar Process Equipment is the company's largest segment, producing 41% of Q1 sales. This segment makes molecular beam epitaxy systems used to fabricate semiconductors and solar panels. It also makes metal organic chemical vapor deposition systems, which produce HB-LEDs for large signs, mobile communications devices, and other applications. The Data Storage Process Equipment segment accounted for 24% of Q1 sales. It makes ion beam etch systems, ion beam deposition systems, diamond-like carbon deposition systems, physical vapor deposition systems, and precision lapping, slicing and dicing systems. The Metrology segment produced 35% of Q1 sales. It makes atomic force microscopes, optical interferometers, and stylus profilers for measuring semiconductor devices and thin film magnetic heads. The segment's largest customers are manufacturers of semiconductor and data storage devices.
Net sales for 2007 fell 8.7% year-over-year to $402.5 million because two major customers merged and a third closed a manufacturing facility. The pro forma EBITA margin fell 779 basis points to 3.79%. Pro forma net income dropped 74.9% to $2.24 million or 7 cents per share. Management launched a comprehensive plan to cut costs and focus on products with the greatest potential for growth. During the second half of the year,VECO significantly reduced its workforce and discontinued two product lines.
Q1 net sales grew 3.2% to $102.3 million. LED Solar segment sales jumped 87.9% to $42.1 million, but Data Storage sales plunged 32.5% to $24.1 million even though orders were up 26.1%. Metrology sales declined 12.1% to $36.1 million as demand waned in the semiconductor market. The Asia Pacific and European markets grew 16.5% and 25.5%, respectively. North America and Japan fell 6.1% and 15.8%, respectively. VECO took a $2.9 million non-recurring charge to pay for consolidation of its headquarters and employee severance. The pro forma EBITA margin fell 54 basis points year-over-year, but rose 136 basis points sequentially to 5.15%. Pro forma net income fell 10.2% to $2.89 million or 9 cents per share.
Challenges remain, but current trends are encouraging. Total orders in Q1 grew 3.2% to $109.3 million, giving VECO a 1.07 book-to-bill ratio. Management expects Q2 revenues to grow 3-11% to $102-110 million driven by LED and solar process equipment sales. Net sales for the full year are expected to grow 10% to $440 million. Profits should accelerate during the second half of the year thanks to better pricing and cost reductions.
Longer-term prospects are also promising. Demand should remain strong for hard disk drives and markets for HB-LEDs should continue to grow, driven largely by geographic expansion and technological innovation. Furthermore, solar cells and nanotechnology continue to represent opportunities for growth.