There have been considerable changes in the overall atmosphere on global markets within the last few weeks. The stocks are sailing on a much calmer ocean as European stocks rose for the 10th time in a row, the longest trail since 2006. Companies are announcing better-than-expected earnings reports. Even Bankia SA, the Spanish bank which asked for a recapitalization on May, rallied by 31% and doubled its share price from this year's low. Most of the European companies are gaining their losses at an accelerating pace. Surprisingly, even Nokia (NYSE:NOK) might have saved itself with an 18% gain in the very eve of its planned announcement of new-line smartphones using the Windows Phone 8. With economy giving a hand, the Nokia legend might literally come true.
Amid this attractive atmosphere, some of the stocks made it to new lows recently. All of these stocks have P/E ratios lower than 17 and offer substantial dividends, so they are clearly not out-of favor stocks. However, they are under short-term selling pressure. They can constitute sizeable value for contrarian investors. Based on the Relative Strength Index (RSI) indicator, I have found four stocks that are being dumped by the investors. Let's see, why these stocks are in the oversold territory, and whether they can be fair contrarian picks after making significant losses recently.
Bristol-Myers Squibb Co. (NYSE:BMY):
Bristol-Myers reported terrible second quarter results, leading the stock to lose value immediately. Moreover, this negative atmosphere of the company is supported by the arrest of a Bristol-Myers executive on charges of insider trading. There are some serious accusations on the executive, and this seems to be affecting the company's performance in a considerable time. The stock has lost nearly 11% of its value since August 2, dragging its RSI down to 28.4%. Insider trading is not a rare thing in the world of markets, but investors have no tolerance for these mistakes. Along with these problems, I don't think there's any need to mention its pipeline setback issue.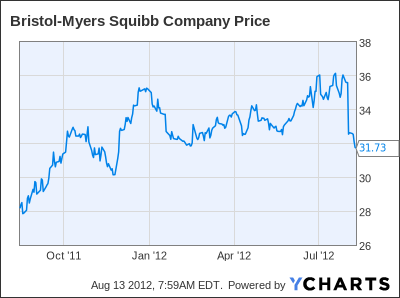 On the other hand, things are not all-bear for Bristol-Myers. The company has successfully completed its acquisition of Amylin Pharmaceuticals (AMLN) for $7 billion. Moreover, the company is receiving $3.4 billion from AstraZeneca (NYSE:AZN) for a 50% share in Amylin's products. Although the company will struggle to sustain its performance until the new initiatives fruit, I see considerable value in the long run. If you seek sizeable profits in a broader scale, then Bristol-Myers is what you're looking for. The biopharma has an O-Metrix score of 1.79.
FirstEnergy Corp. (NYSE:FE):
FirstEnergy is going through one of its unlucky moments as Q2 earnings fell by 8% due to lower electricity prices, missing consensus estimates by $0.05. Moreover, it suffered from severe thunderstorms and heavy wind in Ohio, New Jersey, Pennsylvania and West Virginia. The stock is down by nearly 9% in just four days.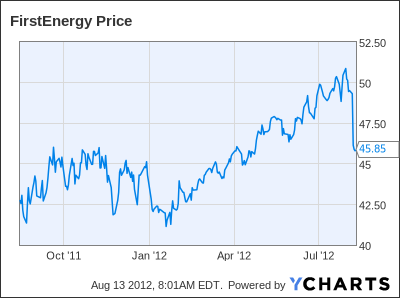 No matter how disappointing FirstEnergy sails, it is one of the largest utilities in the U.S. It is not so easy to disqualify this big boy and treat it as an out-of favor company. FirstEnergy has strong assets, as well as a significant cash flow. The company is serving nearly 6 million customers in six states. With a Beta value of 0.44, the stock is one of the least volatile in its industry. Despite underperformance, there's heavy institutional interest (institutional ownership at 70.83%). What's more, insider transactions for the last six months have increased by 26.02%. I recommend thinking twice before ignoring this profit generator. Besides, a dividend yield of 4.80% is superb for many investors. Based on its indicators, FirstEnergy has an O-Metrix score of 2.90.
Lorillard, Inc. (NYSE:LO):
Lorillard is a tobacco company offering famous brand names, including Kent, Old Gold, Maverick and Newport. Lorillard went crushing down after Q2 2012 earnings reports were announced. Although the company reported results with sales showing an upside, profits fell short and Lorillard has lost more than 11% since July 18.
I would like to add more, but Lorillard is the best-looking stock here in this list. The stock has already started pushing upwards since August 8. It is subject to the heaviest institutional interest in this "sin" industry with an institutional ownership rate at 92.86%. Moreover, it pays a terrific dividend of 4.60%. Debt-to-equity ratio is 2.0, crushing the industry average of 14.8. The company has a long line of tested new products, which are waiting for FDA approval. If Lorillard receives such approval within this year, these new products can result in a tremendous upside in earnings. Lorillard exists since the foundation of the U.S., and it is never the kind of stock to dump out when its feet slip. The stock's overall performance proves me right here. Based on its numbers, Lorillard has a C Grade O-Metrix score of 5.77.
Wisconsin Energy Corp. (NYSE:WEC):
Don't worry, Wisconsin has almost nothing to regret. The stock has reached its top and now experiencing a pullback. However, this pullback got intensified by Wisconsin's quarterly reports, in which revenues fell short of consensus estimates. Although the company topped earnings per share estimates by $0.07, it still could not straighten itself up.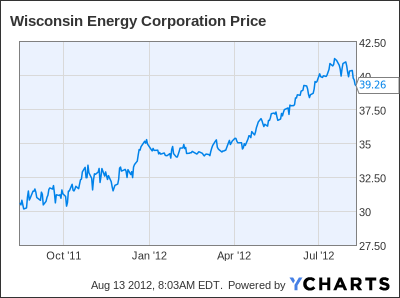 As the seventh largest electric utility in the United States, Wisconsin has a great deal of potential to generate robust profits. Surpassing analyst estimates for four quarters in a row, the utility is a fabulous choice for income investors. The stock is relatively less volatile with a Beta value of 0.31. However, its bullish trend will not last forever. There will be ups and downs, as part of the nature of stock markets. Analysts are downgrading Wisconsin one by one, although some identify these moves as "valuation calls". This pullback is only a result of Wisconsin's continuous pushes into the overbought zone for a long time, and revenues falling short. I don't see a major problem to accelerate Wisconsin's decline further. Besides, this might be a unique opportunity to get in. The stock has an O-Metrix score of 2.56.
Disclosure: I have no positions in any stocks mentioned, and no plans to initiate any positions within the next 72 hours.