Baytex Energy Trust (NYSE:BTE) shares were up more than 4% on Thursday, after the company said it was raising its cash distribution from C$0.20 to C$0.25.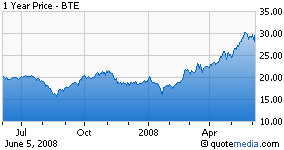 Baytex also reported that it has completed the Burmis acquisition announced on April 9th, and that its bank credit facilities have been increased from C$370-million to C$485-million.
RBC Capital Markets analyst Fergal Kelly said:

The distribution increase does not come as a surprise to us as our analysis suggested that Baytex would need to increase monthly distributions by C$0.05/unit to avoid being cash taxable this year assuming current commodity prices hold.
He continues to rate Baytex shares "outperform" with a C$30 price target.
Meanwhile, Raymond James analyst Kristopher Zack also reiterated his "outperform" rating on the stock leaving unchanged his C$33 price target. However, he lowered his cash flow estimates for the company over the next two years.
In a note he said:
As a result of the higher monthly distribution, there is now less debt repayment in our model over the course of the year, translating into slightly higher interest expense.
He adjusted lower his cash flow estimate from C$493.9-million to C$493.4-million or C$5.10 per unit in 2008 and from C$510.7-million too C$507-million or C$4.99 per unit in 2009.
Mr. Zack added that the distribution is still in good shape, estimating a capex-adjusted payout of 76% in 2008, up from 71%. and 84% in 2009, up from 72%.