"One metaphor that contrarians are fond of: The bull market is a bucking bronco, doing its darndest to throw us off its back on its way across the rodeo ring." (Mark Hulbert, Analyst and Writer, from a MarketWatch article dated March 22,2011).
The above quote was written just eleven days after the devastating earthquake off the coast of Japan on March 11, 2011.
By March 22nd the market had already recovered from the levels reached before the disaster. It had "climbed a wall of worry" and uncertainty like it usually does.
The stock market is a mechanism filled with surprises and unexpected quick moves. In today's world it is a way create news and to massage the public's view of the economy and the world.
At the present, it wouldn't shock me to see the market have a sharp down-and-dirty sell-off between now and "The Big Announcement" that everyone and their mother is expecting.
You know the one from Fed Chairman Bernanke that will be made "one of these days" and as I wrote last week, better be beyond investors' expectations.
The Fed needs more proof that it can do a massive monetary easing to jump-start our sputtering economy. Yet the stock market doesn't seem to care much either way.
In spite of the worst drought since the Dust Bowl and the hottest summer in our recorded history, the stock market continues to climb the proverbial "wall of worry."
Take a look at this chart of the S&P 500 going back two years to the dreadful summer of 2010, which includes the spring of 2011 when the Japanese earthquake rocked the financial world.
Do you see what I see? Strangely, and not by any coincidences I can think of, the S&P 500 reached some painful lows in September before scaling the peaks of Mount Bull-Olympus again and again.
Now take a look at the same broad-based index for the past 3 months.
That's a fairly narrow trading range, and suggests that for most of this summer whenever the SPX moved below 1,350, no matter how bad the news has been, no matter how many companies missed their earnings estimates and lowered guidance, the stock averages would move up.
Despite this and thanks to the folks at Schaeffer Research I was alerted to the fact that the weekly investor sentiment survey taken by the American Association of Individual Investors revealed that the bears have outnumbered the bulls for 13 weeks in a row.
Schaeffer's Senior Quantitative Analyst Rocky White made the following astute observation worth paying attention to: "Below is a table showing other streaks of at least 13 weeks of bears outpacing the bulls, along with the S&P 500 Index (NYSEARCA:SPY) returns over different time frames out to about six months (26 weeks).
"In the summary, you'll see the average of the returns after an occurrence as compared with the typical SPY returns over those time frames. Checking out the data, the returns after one of these signals outperforms what the market typically does -- especially at the 8-week and 13-week time frames (approximately two and three months, respectively)."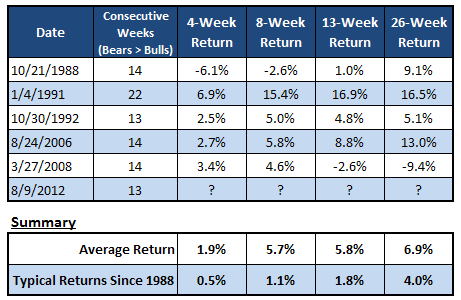 (Thanks to Schaeffer Research for sharing this with us)
Do you understand the significance of this data? If you're a contrarian you get excited when investor sentiment is too bullish or too bearish.
As Mr. White explains it, " If the poll is indicating that investors are moving from a bearish outlook to a bullish outlook, then it may be quite a buying opportunity."
For a moment I became confused, until he explained even more. "That's because the 13 weeks of bearishness is a sign that investors may have been keeping money on the sidelines [italics added] -- and if they're turning bullish, that money could now begin flowing into the market to drive stocks higher."
Point well taken and a lesson of history that we don't want to miss. If there is a tanker full of money on the sideline, especially big, institutional money, we'll want to be in this market before it jumps in!
Perhaps after the next quick market pull-back, sentiment will get even more bearish and worry will begin to expand.
We love it when that happens, because that's the time that the best-in-breed (and best-in-greed) stocks begin to get saddled up and off to the races. It may be our next best entry point.
Risk Is On Again, Or So It Appears
The "Jim Cramer Signal" that I've been watching for broke through the noise last week. With the summer Olympics concluded, maybe that signal will grow louder and brighter.
Mr. Cramer told subscribers to his Action Alert Plus trading service that the U.S. economy is more likely to muddle through than break down.
"The debate now is about whether the Fed will take action as a result of the better data. At the very least, commentary from Chairman Bernanke has put a floor under the markets, meaning that if the data turn south, the Fed will act" Mr. Cramer and his associate Stephanie Link wrote on Friday.
I couldn't agree with them more when they wrote, "But the real focus is on the European Central Bank's potential policy changes as well as China, and we believe there will be action. September will be a very important month for the markets."
Perhaps that's why they've been giving the "thumbs up" to such untouchables as Vale SA (NYSE:VALE) and Schlumberger (NYSE:SLB), which may have one more price dip left to go before a big move higher.
VALE pays a drooling 6% dividend, and SLB pays 1.5%. Devon Energy (NYSE:DVN) would be another interesting buy, especially if it pulled back to the August 2nd low of near $55.
DVN trades at around a 40% discount to its net asset value, and its 42% operating margin should help generate cash and improve earnings. I'd look at it as a longer-term hold and one to buy on dips.
Then there are the Show-Dogs of the Dow. These are the perennial stars of the DJIA, some of which have nice upside potential.
I'd be watching best-in-breed stars like Caterpillar (NYSE:CAT), which may get a big boost from an improvement in the metals and miners sector.
Cisco Systems (NASDAQ:CSCO) has taken quite a haircut, and announces earnings on August 15th. Trading at 9 times forward earnings, any positive surprise and encouraging forward guidance might cause it to pop.
CSCO still is the preeminent player in the computer networking space along with its many other businesses. If you haven't studied its website and updated yourself on how diverse this company has become, you owe it to yourself to do that before investing.
Another Dow Show-Dog is little noticed and under-appreciated. United Technologies (NYSE:UTX) is a diversified conglomerate that owns more and does more than you might have imagined.
UTX recently acquired Goodrich Corp.This North Carolina-based aerospace company is a leader in aviation products and helps make UTX an even bigger player in the aviation equipment supply industry.
This little understood powerhouse pays nearly a 3% dividend ($2.14 annually) and has raised its dividend for 17 years running.
With its 24% Return on Equity I was somewhat surprised to see its 2nd-quarter earnings (year-over-year) be less than 1%. Shareholders will be clamoring for better results next quarter, so if you're fortunate you might be able to start accumulating shares near the July 24, 2012, low of $71.40.
The following one-year chart complete with the Bollinger Bands will give you some guidance about the trading range of UTX.
If the risk-on trade kicks in, many of the Show-Dogs (like AT&T [T] and Home Depot [HD]) might be dumped for the undervalued sectors like precious metals, industrial machinery, and the industrial metals stocks.
Freeport McMoRan Copper & Gold (NYSE:FCX) is a good example of a stock that has exposure to the risk-on, upside trade while seeking some dividend yield (3.5%).
Another risk-on, higher-yielding (3.7%), mineral mining powerhouse is Rio Tinto (NYSE:RIO), which I liked a lot more when its share price was below $45.
RIO's share price has moved up 20% since its July 25, 2012, intra-day low of $42.64, so why not wait and watch to see if it retraces 50% of that move on a sell-off? You'll be able to buy below $45.
Remember, the big rewards with investing show up after you've had the courage and vision to buy what isn't hot and then sell it when everyone greedily starts chasing what few seem to want today.
Choose your stocks unemotionally, never chase them, and someday you won't be called a "contrarian," you'll be called a smart investor.