Both DryShips (NASDAQ:DRYS) and First Solar (NASDAQ:FSLR) once soared on the wings of lofty market capitalizations and the hope of retaining a strong market position. Yet several years and many unforeseen events later, the prospects of these companies have shifted into a tarnished state. Value investors have been watching these two companies for some time as the market pummeled these former leaders in their respective industries over the past few years. However, as their stocks round the corner of what appears to be a more solid bottom, a closer look at the two companies appears to be merited with the suggestion that it might be time to consider them once again.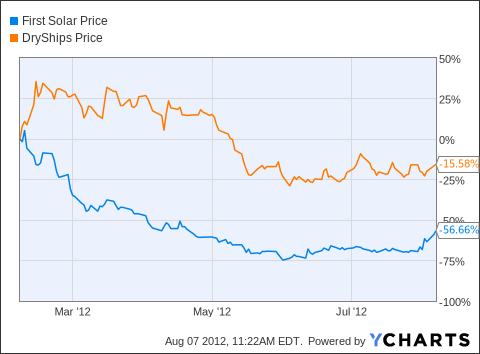 | | | | | |
| --- | --- | --- | --- | --- |
| Company Name | Market Cap. (8/12/12) | Price/Book Ratio | Price/Sales Ratio | EV/EBITDA Ratio |
| DryShips Inc | $1.00 Billion | 0.32 | 0.90 | 9.17 |
| First Solar, Inc | $1.86 Billion | 0.56 | 0.60 | 2.91 |
DRYS
The name DryShips has become a bit of a misnomer for this debt-laden shipping and oil services company. Having formerly been a pure play on the dry bulk sector, timely acquisitions have expanded this company's reach into ultra deepwater drilling rigs through its subsidiary Ocean Rig (NASDAQ:ORIG). Though plagued with questionable management decisions, large amounts of debt, a burdened market, and expiring charters, DryShips continues to offer a young diversified fleet and the prospect of stable cash flows through its drilling segment. Above all, the company currently trades with a price-to-book ratio of 0.32 in clear indication of the stark discount at which the market has been willing to price the company's operations.
DryShips continues to find a strong base around the $2 support line. Investors should continue to watch the performance of ORIG as an investment in DRYS is deeply correlated. At current prices, shareholders of DRYS are practically getting the shipping component of the company for "free," even as the drilling sector of ORIG accounts for much of the existing market capitalization for DRYS. After several quarters of developing its drilling fleet, the company is likely to see progressive oil cash flows about to help stabilize the portfolio. This is especially important as the security of the company's charters begin to expire heading into 2013 and beyond.
FSLR
The bandwagon of negative sentiment that has surrounded First Solar has made the company the whipping boy of the solar industry. Yet for all its recent failures in regards to recognizing the threat of falling polysilicon prices and for its neglect in addressing meaningful R&D efforts, the company has begun to turn things around after some significant setbacks. In its most recent quarter, First Solar soared past the downbeat analyst estimates, topping them by 83% with an EPS of $1.65 over the expected EPS of $0.90. In its earnings call, management highlighted its expansion into markets with budding potential such as Australia, India, and the Middle East.
Across almost every traditional financial metric, it appears as if First Solar remains severely discounted. Most importantly, the large issues in the near term that can throw the company into financial jeopardy have almost all but passed. The Chinese competition has its reputation under the spotlight, LA County has allowed for plant progress to continue, no major module failures have continued to be reported in high heat environments, the company's costs are coming down via the restructuring, and signs of new project life are beginning to take hold. Over the long term, one could argue that the company's cost and efficiency curve may threaten First Solar's outlook in light of its competition, but for the moment, the fanatic panic that sent this company's stock into a spiral has all but diminished.