On June 8th, our report analyzing and comparing Exelon (NYSE:EXC) versus Wisconsin Energy (NYSE:WEC) was published. Our thesis was that dividend and utility investors should consider Wisconsin Energy instead of EXC because Wisconsin Energy is targeting an increased dividend payout in 2013 and 2014 while Exelon is bogged down in integrating its merger with Constellation Energy Group.
On June 18th, we published our report further analyzing Exelon. We analyzed the following points of interest with regards to Exelon as an investment:
Exelon's formation and its business operations structure
its poor Q1 results and its poor stock performance since 2008
The $1B in concessions that Maryland utility regulators wrung out of Exelon-Constellation will serve as a headwind to future profitability.
We have published two more reports on Exelon versus Wisconsin Energy and each report has reinforced our replace EXC with WEC thesis. Our July 23rd report pointed out that while Exelon is stronger in Power Generation, Wisconsin Energy's We Energies utility subsidiary is a much better performer than Exelon s three utility subsidiaries (Commonwealth Edison, PECO and Baltimore Gas and Electric). Our August 8th report pointed out that while Exelon is better at generating favorable corporate press and influence than Wisconsin Energy, Wisconsin Energy quietly goes about its business of providing industry leading delivery of utility energy products to its 1.1M electric customers and 1.1M gas customers. We have tremendous respect for the low-key culture of performance excellence of Gale Klappa and his management team at Wisconsin Energy, much more than the influence seeking approach of John Rowe and his successors at Exelon.
As far back as May, the company's consensus estimates for Exelon's FY 2012 and FY 2013 EPS were $3.01 and $3.03 respectively. This represented a 20% decline versus 2011 EPS, which have stagnated since 2007. At the June 7th Investor Day meeting, Exelon announced that the company couldn't even meet those low bar targets. Exelon announced that 2012 adjusted operating EPS was $2.55-$2.85. We still found it amusing that Exelon's Cover Slide for the presentation said Performance that Drives Progress since we see a company with a long and proud track record of underperformance, and its 2012 adjusted EPS is regressing back to 2004 levels. We simply couldn't believe that Exelon had the nerve to repeat this trick in the most recent presentation by declaring "Another quarter of solid financial and operating performance." Exelon's management is entitled to its own opinion, not its own facts. Exelon's Q2 2012 adjusted net income declined by 25% versus Q2 2011 levels despite issuing nearly 200M shares to acquire Constellation Energy. Exelon's Q2 2012 adjusted EPS declined by 42% year-over-year despite the added revenue from Constellation's NewEnergy power generation operations and Baltimore Gas and Electric.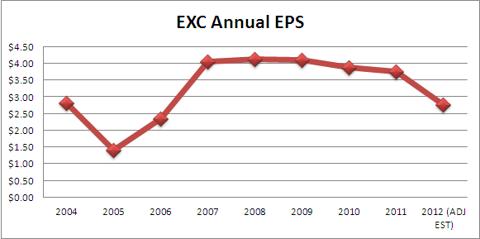 Click to enlarge
Source: Morningstar Direct
Evaluation of Exelon Generation LLC (Power Generation Subsidiary)
We were disappointed but not surprised that Exelon did not report pro forma results for Exelon Generation. That didn't really matter because its performance was simply awful anyway. Despite bulking up the division with the acquisition of Constellation NewEnergy, ExGen's adjusted net income declined by nearly 25%. Exelon's bulls have all said "Wait until natural gas prices rise". Despite the fact that Henry Hub Natural Gas prices have risen by 31% from the end of April to the end of June and despite the inclusion of NewEnergy's operations in the income statement, ExGen's linked quarter adjusted net income declined by 2.5% ($409M in Q1 to $399M in Q2 2012). At least ExGen has $8M less charges in Q2 2012 than in Q1 2012. ExGen achieved a 93.4% capacity factor however this was not enough to offset higher nuclear fuel costs and lower realized market prices for the sale of energy. Plus considering that natural gas prices have gone up 50% since 2002 in spite of two US recessions, a European debt crisis and hydraulic fracturing serving as a supply and demand changer, we don't see any rational and fundamental reason for gas prices to keep up the rapid increase since April.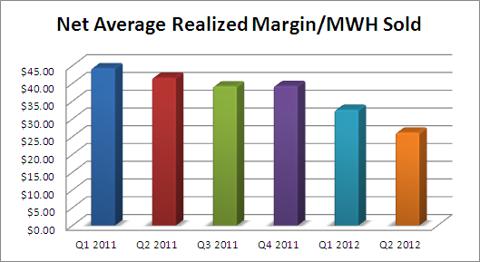 Click to enlarge
Source: Exelon Q2 Earnings Release
Evaluation of Utility Subsidiaries
Commonwealth Edison's Revenue declined by 11% during Q2 2012 versus prior year levels. However, the majority of the revenue decline was offset by sharply reduced purchased power expenses. Unfortunately for ComEd, its adjusted net income declined by 56% due to a sharp 18% increase in operating and maintenance expenses. ComEd's depreciation and amortization expense saw an increase of nearly 12% during Q2 2012 versus Q2 2012. The poor results from this quarter more than offset a 20% gain in adjusted segment operating income enjoyed in Q1 2012 versus Q1 2011. We noted that the Illinois Commerce Commission has agreed to reopen ComEd's formula rate case. The final decision won't be known until September 19th and if it goes in ComEd's favor, will contribute a $.10/per share boost to Exelon's consolidated EPS. We agree with management that it is hopeful for a favorable outcome especially since the ICC reopened the case.
PECO's Adjusted Net income was stable for the quarter and declined by 12% year to date. This was due to a decline in operating revenues of 15% for Q2 2012 versus Q2 2011 levels and 25% for H1 2012 levels versus H1 2011 levels. PECO's operating revenues were nearly offset by reduced excise taxes and purchased power and fueling costs. PECO's performance was also influenced by unfavorable weather trends in its Southeastern Pennsylvania service area.
Baltimore Gas and Electric actually saw its profits stabilize in Q2 2012 versus Q2 2011. Like PECO and other utilities nationwide, revenues declined due to the lower cost for purchased power and other fuel expenses. Operating and maintenance expenses slightly increased versus the prior year's period, as did depreciation and local taxes. Interest expense slightly increased during the period in comparison to last year's comparable period, but this was offset by lower income tax expenses.
We'd also like to point out that Wisconsin Energy generated a higher level of net income during the quarter than ComEd and BGE combined, or PECO and BGE combined. Wisconsin Energy's Net Income was within $4M of the combined net income of ComEd and PECO and within $20M of Exelon's three utility subsidiaries combined, despite having one-third the total revenue of Exelon's collective utility subsidiaries and a metropolitan service area (Milwaukee) that has maybe 8% of the total population of the metro areas of Exelon s three utility subsidiariesClick to enlarge.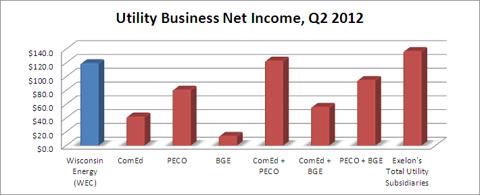 Click to enlarge
Source: Wisconsin Energy and Exelon Q2 Earnings Releases
Exelon's management reaffirmed the FY 2012 adjusted EPS range of $2.55-$2.85 and said it was comfortable reaching in that range. Considering that it is a wide range, we think that's a pretty easy goal to meet. Wisconsin Energy only has a $0.04 cent range ($2.28-$2.32). Another thing we don't like about Exelon is all the "non-recurring charges that it takes". Of the $522M in "adjusted net income", $236M represents "non-recurring charges" that reduce reported EPS. Wisconsin Energy didn't report any "non-recurring charges" this period. Then again, Wisconsin Energy is the Midwest's leading utility company and as such, it doesn't have to Alibi Ike its earnings with "non-recurring charges". ExGen accounted for all but $3M of the "non-recurring charges" and with $233M of "non-recurring net charges" this accounted for 58% of its "adjusted segment net income". The good news is that Exelon's management thoughtfully put a letter explaining each adjustment to net income. The bad news is that the "adjustment letter footnotes" went up to "J". I guess we can think of it as the alphabet soup of adjustments. Even with the lack of adjustments, Wisconsin Energy's actual profit margin exceeded the adjusted profit margin of Exelon and its subsidiaries, including the highly-vaunted Exelon Generation wholesale merchant power generation subsidiary.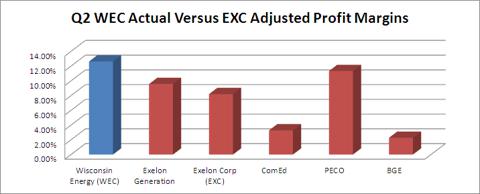 Click to enlarge
Source: Wisconsin Energy and Exelon Q2 Earnings Releases
Conclusion
In conclusion, we believe that if one is looking for a high-quality utility to invest in, we don't recommend investing in Exelon . We believe that EXC is an overhyped, overrated, lumbering and inconsistently underperforming of a utility conglomerate behemoth. At 5.52%, Exelon has the highest dividend yield of all utilities headquartered in the United States. Despite the high dividend yield on its shares, we can think of at least a dozen other utilities we would rather invest our money in instead of Exelon. We have always been underweight utilities in our proprietary portfolio book and we see utilities as a whole are fairly valued. At the same time we know that there are utilities that are better than others and we have even pondered taking a short position in the S&P SPDR Utility ETF (NYSEARCA:XLU) to hedge out our allocation to Wisconsin Energy. Despite Exelon's 2.5% higher dividend yield versus WEC, we expect WEC to perform better than Exelon and we could not find fault with intrepid investors who go long WEC and short EXC. Investors who own Exelon would be better off selling Exelon and redeploying it towards a higher quality utility. With regards to the power generation segment of the utility sector, we would probably look at Duke Energy (if it sorts out the management issues), Entergy and Public Service Enterprise Group instead Exelon. We wonder if Exelon's ticker EXC is short for "EXCuses", since the company seems to have those in spades. Even if ComEd gets its rate case decided in its favor, all of Exelon's utility operations subsidiaries would have generated less income in the quarter than Wisconsin Energy. Even with the run-up in Natural Gas Prices since the April bottom and subsequent run-up, Wisconsin Energy's stock price has done better than Exelon. Then again, Wisconsin Energy doesn't have trouble making its EPS targets and it hasn't reduced guidance.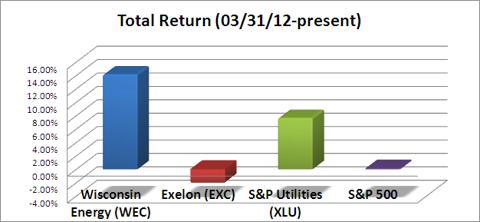 Click to enlargeSource: Morningstar Direct


Disclosure: I am long WEC.
Additional disclosure: Saibus Research has not received compensation directly or indirectly for expressing the recommendation in this report. Under no circumstances must this report be considered an offer to buy, sell, subscribe for or trade securities or other instruments.