For investors seeking to beat the market, value plays are good places to look. McDermott (NYSE:MDR), an engineering & construction company, is showing some decent value characteristics when compared to traditional E&C companies on several important measures. In addition, will the key drivers for the energy industry served by McDermott likely to remain? Further, what barriers to entry does McDermott have to protect their market position?
Performance Comparison
A quick look at a couple of measures tells an interesting story. As shown in the chart below, McDermott sports a lower PE ratio compared to many of its peers. I used the current stock price and 2007 earnings to for each firm to help make the results comparable. The lower PE ratio could mean McDermott is slightly undervalued compared to its peers or the market has lower growth expectations.
| | | | | | | | | |
| --- | --- | --- | --- | --- | --- | --- | --- | --- |
|    | MDR | URS | CBI | FWLT | FLR | KBR | JEC | SGR |
| Stock Price (6/3/2008) | 62.21 | 47.21 | 45.77 | 78.22 | 184.45 | 35.83 | 92.07 | 62.98 |
| 2007 Earnings Per Share | $2.66 | $1.93 | $1.71 | $2.72 | $5.85 | $1.08 | $2.35 | ($0.24) |
| PE Ratio | 23.39 | 24.46 | 26.77 | 28.76 | 31.53 | 33.18 | 39.18 | -262.42 |
The Earnings Yield (EBIT/Revenue) helps to see which company is generating the most profit from their business. In this case, McDermott is ahead of the pack. The dip in 2006 is primarily caused by the consolidation of Babcock & Wilcox after they emerged from Bankruptcy.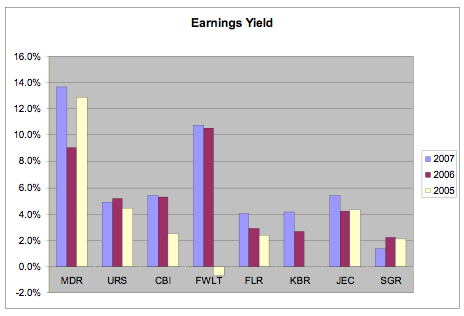 Looking at the free cash flow is another way to determine if the company is efficient in generating cash that can be use for reinvestment, to pay dividends or buy back stock. Again, McDermott is able to beat the competition. As mentioned, the dip in 2006 is due to the consolidation of Babcock & Wilcox after they emerged from bankruptcy.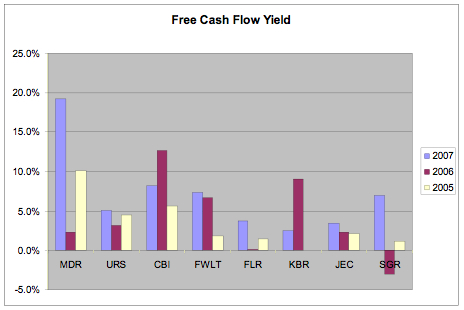 While not complete and thorough analysis, it looks like McDermott is a good candidate for value investors.
What Drives McDermott's Performance
I always like to understand what the key outside factors that drive a company. In addition it is very useful to identify the barriers the company has established to help them sustain their competitive advantage.
McDermott focuses on the energy sector, or more specifically offshore platforms for drilling and production, electrical power generation facilities and nuclear energy. They also are working to find ways to reduce and/or eliminate CO2 gas from power generation plants throughout the world.  The demand for energy will continue to grow as economies throughout the world continue to expand. McDermott's backlog continues to expand, a sign they are benefiting from demand for energy. Their total backlog grew to $10.2 billion, up 27.5% from the same period one year ago ($8.0 billion) and up 3.0% from the quarter ending December 2007 ($9.9 billion).
To protect their leading position in the market, McDermott has established two important barriers (moats) that provide them a competitive edge. First, they have significant engineering expertise for the design and construction of power plants, nuclear power, and offshore oil & gas exploration and production. Unlike other engineering and construction companies, they do not work in other infrastructure segments. Each project they complete helps to expand their engineers' knowledge and expertise. McDermott's future depends on the quality of their engineers. Growing the expertise of their engineers provides a significant competitive advantage that is difficult to replicate. 
McDermott is not currently chasing the hot green technologies, though they are actively involved in pursuing ways to make a substantial difference in the generation of green houses gases and provide the necessary electrical power everyone demands. According to executive management of McDermott, their engineers have stated, "If we just had known that we need to eliminate CO2 we would have accomplished that, just like we did the harmful particulates we eliminated years ago." If McDermott can achieve this goal of eliminating CO2, they should realize a substantial increase in the demand for their services. 
In concert with their quality engineering talent, McDermott has put in place repeatable processes for their business. By remaining focused on their current industry segments, McDermott can continue to improve their bidding, design and construction process, helping to lower costs, improve on time delivery and enhance quality. Repeatable processes give a company additional competitive barriers that can be used to maintain higher margins, as McDermott has demonstrated so far.
The Bottom Line
As a value play, McDermott leads its peers in several important categories. Furthermore, they have established strong competitive barriers that should help protect their position in the energy sector. McDermott is highly dependent on the growing demand for energy. Should the world face a slowdown that reduces this demand, then they will face a business slow down. 
I am looking to acquire shares on any dip in the price of the shares.