We have held a long position in Brookfield Infrastructure Partners (NYSE:BIP) since the beginning of 2011 and we have been pleased with the results of the company during this time. We published our research analysis report reaffirming our thesis behind our investment in BIP two months ago. We then followed up with a report analyzing the company's secondary offering in order to partially finance several strategic initiatives for BIP, including approximately $165 million to acquire an interest in Autopista Vespucio Norte, $250 million to acquire an interest in OHL Brasil and $465 million to acquire 85% of Inexus Group and invest equity in its recapitalization. While we typically frown on companies issuing secondary offerings in order to finance "growth," BIP is not your typical company and the assets it owns are not your typical every-day investable assets. BIP grows through prudently acquiring high-quality infrastructure assets much as a private equity firm grows through the acquisition of desirable investment targets. We think of our investment in the partnership units of Brookfield Infrastructure as a diversification away from traditional stocks and bonds and being able to utilize a high-quality asset manager for investing in unique, hard-to-duplicate infrastructure assets.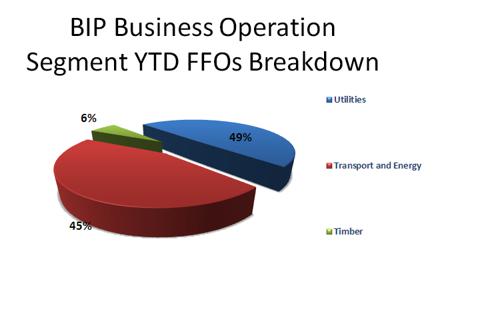 Source: BIP s Earnings Supplement
In conjunction with the secondary public offering of partnership units, Brookfield released preliminary financial information. While we are never happy to see a company's EPS or in BIP's case Fund Flows from Operations decline on a year-over-year basis, we were happy that it exceeded the consensus estimates of Wall Street. For the ninth time in the last ten quarters, BIP's Fund Flows from Operations exceeded consensus estimates published by sell-side analysts. BIP pre-announced Q2 FFOs of $.60 per unit. While it was a 7.7% decline versus Q2 2011 FFOs per unit, it still beat analyst estimates by $.02/unit. BIP's total FFOs increased by 8.8% in Q2 2012 versus Q2 2011 and reached $111M due to the issuance of shares to fund the expansion of its Australian Railroad operations. Positive drivers of BIP's FFO performance was driven by the growth in its utilities operation and expansion of the Australian Railroad and this was offset by continued weakness in its timber operations and increased corporate expenses.
BIP Utilities saw an 18% increase in its Q2 2012 FFOs versus prior year levels. The increase in FFO was primarily attributable to greater contributions from its UK regulated distribution business where BIP saw higher connection revenues and the inclusion of its Colombian regulated distribution business which was acquired in Q1 2012. For the period, BIP's maintenance capital expenditures were $6 million, which is consistent with its estimated quarterly sustainable level. BIP's AFFO yield was 16% on an average invested capital. This also enabled revenues to grow by 17% in the period.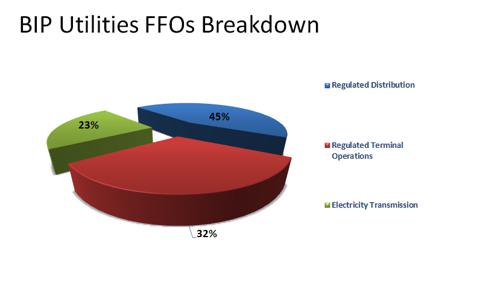 Source: BIP Q2 2012 Supplemental Information
BIP Transportation saw a 36% increase in its FFOs for Q2 versus the prior year's period and this was due to the inclusion of the results from its Australian Railroad expansion which was undertaken last October. BIP's Transportation operations shook off a 2% revenue increase by reducing its operating cost by 7.5% and was able to achieve its FFO growth in spite of an 8% increase in interest expenses. Non-cash expenses for BIP Transportation were $43M for Depreciation and Amortization (up 54% versus last year) and deferred taxes and charges of $40M attributable to the recent refinancing completed at its North American gas transmission business and an impairment charge relating to a restructuring at one of its European ports. BIP plans to invest $620M in the next two years to grow its Transportation, including $214M for the Australian Railroad.
BIP Timber saw a 54% decrease in its FFOs during Q2 versus prior year's levels. This was due to a 21% decline in revenue in its share of the timber platform. BIP's Timber operations reduced its harvest and sale of timber due to the continued decline in prices for Douglas Fir and Whitewood timber. This revenue decline was partially offset by an 11% reduction in its operating costs, however was not enough to stanch the FFO decline. BIP expects its timber operations to recover over the long-term based on the following fundamental factors.
The mountain pine beetle infestation, which is having a significant impact on the supply of timber from the interior of British Columbia, Alberta and the U.S. inland region;
Ongoing demand from Asian markets;
The rapidly expanding bio-fuel industry; and
Continuing withdrawals of timberlands for conservation and alternate uses.
BIP's Corporate and Administrative segment saw a $10M increase in its net expenses largely due to the increased management fees that it pays Brookfield Asset Management (NYSE:BAM). BAM owns 100% of BIP's general partnership units and over 28% of the limited partnership interests. BAM is also participating in BIP's secondary offering, acquiring 70% of the shares issued to the public.
We like that BIP's unique, hard-to-duplicate infrastructure assets provides the company the ability to generate cash flows from operations. Because BIP is a publicly traded limited partnership, it is required by law to pay out a sizable proportion of its income to partnership unit holders in order to remain tax-exempt at the entity level (BIP is a publicly traded limited partnership and one buys "partnership units" of BIP rather than common shares). We previously discussed that this avoids the corporate tax of 35% and saves investors outside of a tax-advantaged account 10-30% based on the direct and indirect impact of double taxation of corporate dividends versus the singular taxation of partnership level dividends. While BIP's Distribution Payout Ratio is high on a GAAP earnings basis, it is respectable on a FFOs basis. BIP's dividend.
In conclusion, we still like what we see from Brookfield. While we think BIP's current market performance is starting to converge with its intrinsic value, we believe investors are warming to BIP's portfolio of unique, hard-to-replicate assets, which have provided shareholders with strong returns from capital appreciation and partnership unit distributions since it went public in 2008. We can see why Brookfield Asset Management still owns 28.1% of BIP's outstanding limited partnership units, 100% of BIP's general partnership interest and increased its position in the wake of BIP's secondary. BIP's secondary offering was oversubscribed at a ratio of two shares demanded for one share offered. We like that management isn't afraid to consider pruner the portfolio and to continue to refine its focus. We also like BIP specifically because of its unique, hard-to-replicate assets, which have provided unit-holders with strong returns from capital appreciation and partnership unit distributions since it went public in 2008. While we don't expect the relative returns to be as breathtaking over the next 5 years as the previous ~5 years, we expect that this will be a great alternative to the S&P 500 and traditional utilities as represented by the XLU.
Disclosure: I am long BIP.
Additional disclosure: Saibus Research has not received compensation directly or indirectly for expressing the recommendation in this report. Under no circumstances must this report be considered an offer to buy, sell, subscribe for or trade securities or other instruments.