It was a rough end to 2011 for shares of SodaStream (NASDAQ:SODA). The company that makes the machines that allow you to make soda at home saw its shares crushed after growth prospects were questioned. The stock became a short seller favorite, and became grouped together with names such as Green Mountain (NASDAQ:GMCR), Netflix (NASDAQ:NFLX), and Deckers Outdoor (NASDAQ:DECK). SodaStream is doing much better than all of those names, and proved itself again recently when it reported record second quarter results.
Second Quarter Results:
For the quarter, the company reported record revenues of $103 million, handily beating estimates for about $90 million. Adjusted earnings per share of $0.52 beat analyst expectations by 6 cents. An overall financial review, taken from the company's earnings report, is below.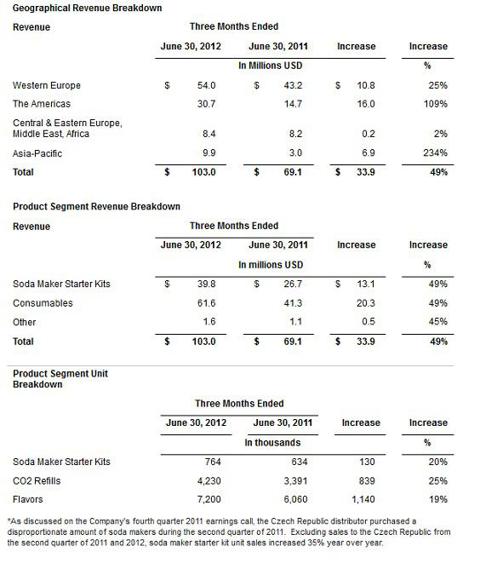 Click to enlarge
So it was a great quarter because revenues were up more than 49% and the company had its first $100 million revenue quarter.
Overall Takeaways, good and bad:
Here are the main takeaways I saw in the report, besides the overall numbers reported, first the good.
Gross margins increased from 53% in the prior year period to 54.36% in this year's period.
Cash flow from operations was over $20 million, compared to just $2 million in last year's quarter.
Here are a couple of negatives:
Operating margins decreased from 9.97% in the prior year period to 9.45%. This was mainly due to higher advertising expenses in the US and the addition of the Nordic expenses from the acquisition of the Nordics distribution activity.
Pre-tax profit margins fell from 11.3% in last year's period to 9.3%, due to the decline in operating margins as well as a $1 million plus decrease in interest and other income (shifted from a positive to a negative).
True working capital (current assets minus current liabilities) decreased from $148.5 million at the end of 2011 to $141.4 million at the end of Q2, mostly due to an increase in trade payables.
If the company is forced to spend too much on marketing, it will continue to pressure operating margins going forward. The tax issue was described in the following statement.
"Tax expense was $134,000 compared to a tax expense of $1.2 million in the second quarter of 2011. The decrease in the effective tax rate to 1.4% from 15.9% is primarily attributable to the geographical taxable income distribution, the utilization of taxable losses and progress in some of the group-companies discussions with tax authorities that enabled partial release of past-years' tax provisions."
Guidance:
Thanks to another strong quarter and sales trends looking better than expected, SodaStream raised its full year guidance. The company now expects revenues to grow by 40%, up from prior guidance of 33%. Analysts were looking for 33.5% growth prior to earnings, but have upped their average to 40.5%. At 40% growth, the company is looking for 2012 revenues of approximately $404 million. Yes, this company still is a drop in the bucket when compared to Coca-Cola (NYSE:KO) or Pepsi (NYSE:PEP), but if they continue growing at these rates, they will break a billion dollars in revenues over the next couple of years.
In terms of net income, the company expects 2012 net income to rise by 55% now, up from previous guidance of 50%. Analysts were looking for earnings per share of $2.21 this year (compared to $1.60 in 2011) prior to the second quarter report, and are now at $2.24.
Other news worth mentioning:
First, this quarter did extremely well because SodaStream made its initial push into Wal-Mart (NYSE:WMT). This was a huge move for the company, and has significantly boosted its US retail presence. To hear how the move into Wal-Mart is working, I would suggest reading the company's conference call.
Although Coke and Pepsi dominate the soda market, SodaStream made it clear that it will not bow down to the big boys. In fact, it is using a bold advertising campaign against the two giants. Coca-Cola has taken notice, and SodaStream is refusing to comply with a cease and desist letter from Coca-Cola in South Africa. Yes, SodaStream is not a multi-billion dollar revenue company yet, and in dollar terms is not growing as fast as the big boys. However, the company expects to grow revenues at 40% this year. You don't see that from Coke and Pepsi. SodaStream is becoming a larger player in this industry, and if you don't see that, you are clearly missing the picture.
During the quarter, the company also announced plans to enter US grocery stores in 2014, with test runs in 2013. As I explain in the linked article, this is a logical progression for SodaStream, and fits perfectly into its expansion strategy. This company is growing fast, and Coke and Pepsi do need to watch a little.
One last point to make, regarding Green Mountain Coffee Roasters. There have been times in the past where SodaStream's shares have been hit when Green Mountain issues a profit or revenue warning, or when Green Mountain missed its revenue expectations. The theory behind this is that since both make machines and products to be used at home, or office, if one is slowing, both are. Well, they aren't. Green Mountain has now lowered fiscal 2012 revenue guidance twice, and SodaStream has raised guidance twice. SodaStream is looking to grow product and brand, while Green Mountain is looking to reduce capital expenditures. SodaStream is not Green Mountain, and investors should realize that.
Conclusion - A good investment:
SodaStream is here to stay, and second quarter results reaffirmed the positive future this company has set up. They have now entered Wal-Mart, and over the next year will look to continue their international expansion as well as continue progress on their new factory. Don't forget, the new machine "Revolution" will debut soon for the upcoming holiday season.
As for the stock, SodaStream shares closed Friday around $40, which is the rough midpoint of the $30 to $50 range they have traded in for most of the past year. This name has been a favorite with short sellers in recent times. Roughly half of the 20 million shares outstanding, or about 2/3 of the 16 million share float, have been shorted. However, short interest is coming down. About 10.8 million shares were shorted in mid-May, and that number has come down to less than 9 million by the end of July.
This is a good company to be in, and I expect that if the company keeps pumping out results like this second quarter, the short sellers will finally give up. But for now, they still seem to control this name to some extent, and I think that they will try to push this name down to $30 one more time. I would encourage investors to be long this name going forward, but buy the name on pullbacks. They will come.
Disclosure: I have no positions in any stocks mentioned, and no plans to initiate any positions within the next 72 hours.