Every month, we run the numbers looking for the best seasonal performers for the coming three months.
This month, nine large-caps pass our seasonality hurdle. Each has finished October higher than it begins August in 9 of the past 10 years.
The list includes one consumer, Ambev (ABV), one financial, Chubb (NYSE:CB), one services, Paychex (NASDAQ:PAYX), three technology, Apple (NASDAQ:AAPL), Automatic Data (NASDAQ:ADP), Garmin (NASDAQ:GRMN) and three utility stocks, Consolidated Edison (NYSE:ED), E Q T (NYSE:EQT), and Transcanada (NYSE:TRP). I touch on each of these a bit more below the following table.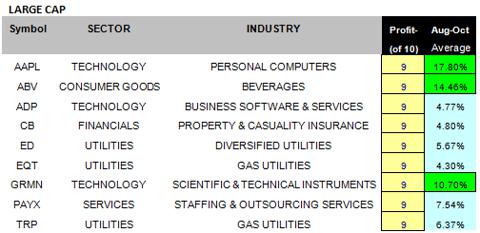 Consumer company Ambev loves hot weather. The Brazilian maker of beer and soft drinks operates in 13 countries and its U.S. traded ADRs are 11% off their 52-week high. The Street is looking for EPS to grow 2% in 2012 to $1.64 and an additional 10% in 2013 to $1.80. Ambev's beer market share is roughly 80% in Brazil, where it also owns 40% of the total beverage market as the bottler of Pepsi products and producer of Guarana Anarctica, the second best selling soft drink in Brazil. In the most recent quarter, volume rose 2.4%, led by a 3.9% lift in Brazil.
Insurer Chubb is a property & casualty insurer with a $20 billion market cap and expected EPS growth of 14% in 2012. Shares are trading just shy of their 52-week high and yield 2.3%. The company benefits from the improved trend in new car sales, which support higher coverage and premiums. Commercial insurance premiums have seen pricing firm, particularly in the wake of catastrophic claims the past two years. This, combined with culling less profitable accounts, helped EPS come in at $1.37 last quarter, well ahead of $1.15 estimates.
Payroll provider Paychex makes money when companies hire, which means July's 163k private job number was welcome news. While you'd think the lackluster recovery in jobs since the unemployment bottom in early 2010 would mean poor results at Paychex, think again. In the most recently completed FY'12, the company posted record service revenue as checks per client increased and the company succeeded in selling its ancillary human resources products to more people. Shares are trading near their 52-week high and yield 3.9%.
Apple shares sold off sharply following a rare earnings miss last quarter. Investors stepped aside worrying over decelerating phone sales, however shares have marched higher from their low of $570 in late July. As iPhone 5 pre-launch excitement builds, shares typically trend up over the coming three months, posting an average 17.8% gain from August through October. Aside from the next iPhone iteration, investors should be happy with significant iPad growth. And, there's always the TV rumor and new dividend too.
Similar to Paychex, Automatic Data Processing is enjoying a run on expectations hiring trends will continue to support upside. Analysts are looking for the company to grow EPS by 7% in 2013 and another 9% in 2014. The company's revenue grew 5.2% from last year in the most recent quarter as employees on client payrolls rose 3.2%. With the ASA weekly staffing index, a leading indicator of full time job growth, up 5.8% in the past year, it's likely the company will continue to see solid growth ahead.
Sales of Garmin's GPS devices rebounded, pushing revenue up 7% in the most recent quarter from last year. A bit more than half those sales came from automotive, which saw growth increase 8% thanks to last year's acquisition of Navigon. Geographically, sales in the Americas and Asia were strongest, up 9% each. Both units and average selling prices increased, rising 4% and 3% respectively.
Consolidated Edison makes most of its money providing electricity and gas across New York's 5 boroughs and Westchester county. While warm weather weighed down winter electricity demand, it's boosting summer loads. In the most recently reported month of May, U.S. electricity retail sales were 3.4% higher than last year, generating retail revenue growth of 1.6%. Shares currently yield 3.8%.
Hot weather is also helping E Q T Corp as electricity demand helps support natural gas prices. The company's 3.5 million Marcellus acres give it low cost production, allowing it more flexibility than counterparts. EQT also has midstream exposure through 11400 miles of transmission pipeline and 63 bcf of storage. Its midstream gathering volume continues to benefit as it ramps Marcellus production, which rose 74% last quarter. Revenue from its distribution segment has remained hampered, however should improve given higher summer electricity demand.
Finally, Transcanada is likely to benefit from recent improvements in natural gas pricing too. Shares are yielding 3.8% and short sellers hold over 5 days to cover short, despite operating in a regulated industry providing long-term contracts and earnings visibility. Last quarter, the company received the third permit necessary for its Gulf Coast pipeline, which will connect Texas and Gulf Coast refiners to U.S. oil supplies. And, there's always post-Presidential potential for Keystone XL. The company also benefits from higher energy demand through nuclear and solar power generation.
Disclosure: I have no positions in any stocks mentioned, but may initiate a long position in PAYX, AAPL over the next 72 hours.