After reporting earnings on Wednesday night, Continental Resources (NYSE:CLR) moved up slightly as investors battled over the huge production gains and the spending increases. For some reason the market was disappointed with a forecast increase in capital spending while oil approaches $94 (not to mention that Brent crude exceeds $112).
The company is an oil and natural gas exploration and production company focused on the Bakken and Anadarko areas.
The market remains very focused on reduced spending in the domestic energy production sector that any added spending is seen as negative. SandRidge Energy (NYSE:SD) encountered this very problem the previous week. Though natural gas still struggles around $3, the market is missing that oil prices remain strong. Why wouldn't an oil exploration company attempt to produce more oil at these prices?
Q2 2012 Highlights
The company reported the following highlights for Q2 2012:
Achieved record production of 94,852 barrels of oil equivalent per day (Boepd), a 76 percent increase over production of 53,984 Boepd for the second quarter of 2011. Production reached 100,000 Boepd in June 2012.
Continental's oil and natural gas sales were $523.4 million for the second quarter of 2012, compared with $388.8 million for the same period of 2011.
Earned $421.9 million of EBITDAX, 48 percent higher than the second quarter of 2011, and increased net income compared to the second quarter last year.
Accelerated the value of high rate-of-return projects in the Bakken play of North Dakota and Montana and the Anadarko Woodford play of Oklahoma through increased drilling efficiencies and capital spending.
Analysts expected earnings of $0.76 so the reported earnings of $0.68 were seen as a big earnings miss. At the current size of this company, the 76% production increase has to be seen as a more important achievement than earnings growth.
Guidance
The company provided improved guidance for the rest of 2012 as follows:
The Company increased 2012 full-year production growth guidance to a range of 57 percent to 59 percent, while reducing its operated rig count to 29 rigs today from 44 in late 2011. While the market didn't like the increased capital expenditure guidance, the company is producing more oil at very attractive prices.
The Company has increased its 2012 capital expenditures budget to $3.0 billion. This incremental capital in the revised budget reflects accelerated spending to drill high rate-of-return projects in the Bakken and increases in Continental's average working interests in Bakken and Anadarko Woodford wells, which has helped boost production growth.
Drilling Activities
The company has greatly reduced the amount of drilling rigs it is using from 44 to 29 due to the transition to ECO-Pad capable rigs. These rigs allow the company to quickly drill multiple wells from the same pad site, therefore, reducing operating costs and time per well.
The main focus for Continental remains the Bakken where production nearly doubled over 2011 to 53,471 Boepd for the second quarter. The company participated in 56 net wells and completed 46 net wells during the quarter.
The secondary focus is the Anadarko Woodford where production increased 4x year-over-year. Now producing nearly 17,000 Boepd in the Anadarko, the company has some diversity away from a Bakken only play.
Bakken operated drilling rigs dropped from a peak of 26 in the first half of 2012 down to 19 currently. Anadarko operated drilling rigs dropped more than 50% to only 7 rigs to better optimize capital with infrastructure timing to maximize returns.
Not Only Spending Increase
While SandRidge was slammed the previous week for higher capital expenditures, Continental held up well after boosting its 2012 spending plan.
Along with Williams Companies (NYSE:WMB), this is at least the third major producer to increase capital expenditures recently. While the market didn't exactly expect these increases, it only seems logical with oil prices up and costs to drill down.
The company is increasing capital spending to $3.0B from $2.3B primarily for additional Bakken Shale drilling and completion costs. This increase comes after the company guided up during Q1 to $2.3B from $1.75B. Ironically the company has already spent $1.6B in the first half of the year either suggesting a slight decline in the second half or guidance that will once again be surpassed.
Per this Bloomberg report, analysts were cautious on higher capex back in May in what according to them remains a weak price environment. While the natural gas and natural gas liquids markets are weak, the oil sector remains strong.
Stock Price
The price action of Continental remains range bound now for three months. The stock has been stuck between $62.50 and $75 since mid-May. Considering the stock has been in a tight range, investors might want to look for a breakout in either direction as a time to move. The current price of oil should support much higher stock prices.
1 Year Chart - Continental Resources
The chart below compares the price of Continental with oil for the last year.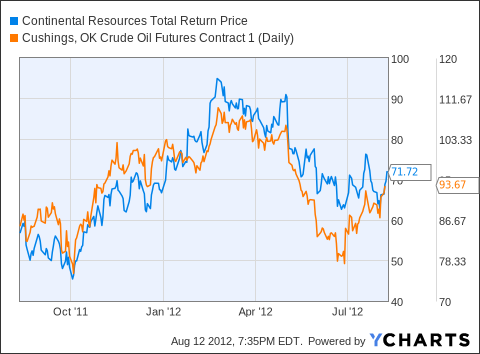 CLR Total Return Price data by YCharts
Conclusion
This company remains difficult to value considering the volatile swing between prices for natural gas and oil. Regardless, the increased capital spending by Continental Resources appear warranted considering the spike higher in oil prices.
With an oil price differential of nearly $13 per barrel, Continental will eventually reap much higher profits when the infrastructure issues are resolved. Though the stock trades at nearly 17x forward earnings, those are now growing faster than the multiple and will ultimately be a lot higher.
A company such as Continental that fights the market herd mentality to take advantage of opportunities should be considered for inclusion in any portfolio.
Disclosure: I have no positions in any stocks mentioned, but may initiate a long position in CLR, SD over the next 72 hours.
Additional disclosure: Please consult your financial advisor for any investment decisions.