Earlier this year Alliant Techsystems (ATK), a manufacturer primarily of ammunition and pyrotechnics, began to adjust to mitigate the expected changes in the U.S. defense market. While they also participate in the commercial ammunition and aerospace markets, their major customers remain the U.S. military and NASA. Both of these will see reduced budgets and spending in the years ahead as the U.S. moves to deal with its budget deficits.
The company also recently lost one of their major defense contracts, operating an ammunition manufacturing facility. They also face a challenge to keep another similar contract this year. In the past these two efforts represented a substantial portion of the company's revenues and earnings due mainly to the demands of the fighting in Iraq and Afghanistan.
The company reorganized this year into three distinct groups that reflect changes in their sales and markets. They hired a new CFO to help develop business strategies and like other defense contractors relocated their headquarters to outside Washington D.C. This allows them to be nearer key decision makers for defense spending and space policy.
The company, like many other defense contractors, has conducted stock buybacks and worked to reduce their pension costs. These measures have helped the price of the stock while reducing management-related costs.
Since these plans were announced, ATK reported two more quarters of earnings including the full fiscal year 2012. Most recently the report for the first quarter of 2013 seems to show that these changes may be paying off faster then analysts expected. For the first quarter of FY13 the company beat estimates by almost 74 cents, coming in at $2.16 a share. This is on top of the final quarter of 2012 where they also beat by 17 cents. Sales for the most recent quarter were $1.1 billion reflecting no growth year-to-year with net income falling to $71 million with earnings per share up 3 cents.
Because of the good first quarter led by the Defense Group's increase in sales and income, the company is raising its prediction for 2013 by $50 million in sales and 75 cents in earnings per share to $7.00-$7.30. Much of this is due to improvements in their tax rate and pension costs as well as a debt swap reducing their interest expense. Even so the company still has a way to go to recover to their consistent earnings of 2010-2011.
While the increase in earnings per share was a big surprise for the quarter overall, and the expected results for 2013 have been increased, they will still track to a weaker year overall compared to 2012 that saw sales of $4.6 billion and adjusted earnings per share of $8.68. Management is expecting further in 2013 further reductions in the Armament Systems and Defense groups leading to the lower predicted performance.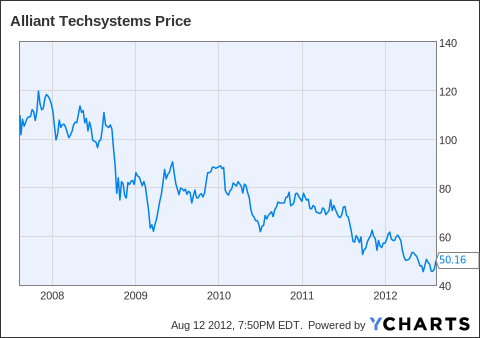 Stock price has tracked these trends in revenue. It did see a spike last week when the earnings were announced, but closed Friday at $50.16 a share. This is only $7.00 above its 52 week low and is almost $15.00 below its high. The stock has been declining slowly over the last five years after hitting a high of close to $120.00 in 2008. Short term it has done well compared to the overall market, but over the last year has been well below. The stock currently has a PE of just over 10 and pays a moderate dividend of 80 cents a year. Some analysts have recently upgraded and have the stock in the $56-$57 price range.
The company does continue to face challenges. Not only is there a chance they will lose their second major ammunition plant contract with the U.S. Army, but overall declines in defense and space program spending should be expected. These may not be offset by better civil ammunition and aerospace sales and continued emphasis on reducing overall costs by management leading to reduced performance in 2013 and 14.
It is hard to see the Alliant Techsystems' stock price breaking out in the near future, but if trends from the first quarter continue with better then expected performance there is a solid basis for higher growth. Keeping the Lake City ammunition plant contract later this year would be a solid boost for the company and might be the spur the stock needs. Losing it would have the other effect perhaps causing a dramatic short term drop in the price.
The whole industry is facing challenges which is causing many defense contractors to make changes to their product lines, cost structures and investments. ATK has also done this. It has paid off so far and hopefully will continue to do so. Whether the stock market recognizes this and rewards it remains to be seen.
Disclosure: I have no positions in any stocks mentioned, and no plans to initiate any positions within the next 72 hours.