On June 29 I published an article called OIL: The Buy of 2012. The article asserted that oil was sitting at a price point on par with past annual lows - and I suggested that the commodity looked like it had some great upside.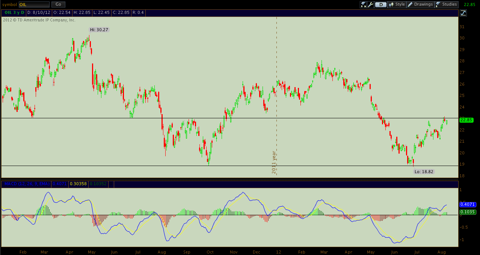 Click to enlarge
(Chart: January 2010 - Present - Click to Enlarge)
I entered a position in iPath Crude Oil ETN (NYSEARCA:OIL) at 19.15, just before the ETF made its low of 18.82. Since its June 28 low, crude has rallied 23.2%, and I was able to capture roughly 19.4% of that rally. However, I recently closed that position because of the potential impending volatility of the markets.
Right now I believe that it is a good time for those investors who initiated a position in crude in late June or early July begin to pare back their positions - either by exiting in full or by layering out of the position. If you were to layer out, you could take half of the money off of the table or you could take it off in thirds, two-thirds now and let one-third gun for the previous high of 28. Another solution is to take the initial entry price off of the table and let the profits run. A theoretical example looks like this:
Entry
$10,000 in OIL
Entry price of $19.25
Bought 520 shares
Current
20% increase becomes $12,000
Price of 23.10
Exit
Sell 433 shares, covering your initial $10,000 investment
520/433 = 1.2, or 20%
This still leaves 87 shares, $2,000, in play
All that said, here are the reasons why I believe the price of crude could see some huge movements in the near-term.
Upside
Oil has recently jumped up in price for a few reasons. First, Tropical Storm Ernesto moved near Jamaica and is close to Honduras, Belize, and Mexico. If Ernesto were to hit Mexico's two production centers on Campeche Bay, oil production could be ground to a halt there.
Oil got a huge boost from supplies that fell far lower than analysts expected. Last week the market expected to see supplies dip by 300,000 barrels of oil, but instead that number was 5.4 million - enough to bump up the price of crude.
Also, the European Central Bank made it clear that it will not let the struggling euro fail. The ECB's move has given all markets a boost, and crude is not excluded. The European Union demands one-sixth of all crude, and a robust Europe means a robust oil price.
If any of these measures become more extreme, look for our OIL ETF to run higher.
Finally, keep in mind that oil is run by a cartel, and the cartel wants the greatest profits. Sometimes this means a high oil price, and sometimes it means a depressed price. It all depends on demand. So don't listen to any shenanigans about "Oil Going to 200!" or "Oil Will Fall to 25!"
Downside
It looks to me that the OIL ETF - and also the United States Oil (NYSEARCA:USO) ETF, which tracks right alongside OIL in covering the price of crude - have far more downside risk in the near-term.
For one, oil has been fairly correlated with the broad markets. With the S&P 500 resting near 1400, just off its most recent high around the 1420 area, I believe that the markets could see a selloff. What also makes me nervous about this price area is the low VIX that we are seeing. The VIX is a fear and volatility indicator that is almost perfectly inversely related to the S&P 500. A VIX around 14 is incredibly low (note: I have purchased some far-dated long VIX option spreads), and I expect this value to drastically increase.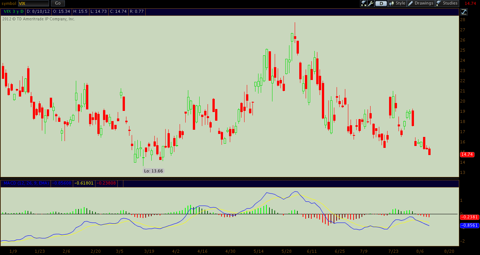 Click to enlarge
(Chart: Year-to-Date - Click to Enlarge)
While I see this case as a likely scenario, beware QE3. If the Fed decides to unroll a third bout of quantitative easing, the free flow of money would likely prop up both the equity and commodity markets. I see this as within the realm of possibility, especially since this administration likely wants a booming economy leading into November's Presidential election.
Go Long Stocks
Perhaps you want some exposure to oil, but are afraid of oil's recent run-up. How can you still play it? Three ways, and all of them are dividend-paying stocks.
My favorite of the bunch is BP PLC (NYSE:BP), which sports a 4.5% dividend yield. I love the fact that BP took all its charges for its disastrous oil spill in 2010, and it has been making a strong recovery ever since. BP is correlated to the oil markets, but you would do far better to hold this dividend-paying stock than oil in the case of a downturn. And my personal favorite - BP trades at just 7.9 times earnings.
With an enormous market cap of $408 billion, Exxon Mobil (NYSE:XOM) is another good play in place of oil ETFs. The company has a sturdy dividend of 2.6%, and its business lines hold firm in the down times. The company is also a modest buy at just 9.3 times earnings.
Finally, Chesapeake Energy (NYSE:CHK) is another good play. The company is highly leveraged and as a result can sometimes move on its own - both up and down - independent of oil. The company is most known for its natural gas plays, but the company website says that it is a top-15 producer of crude. The company pays out 1.8% in dividends and trades at 6.6 times earnings.
Long or Short?
In all, the OIL ETF has had a good run since I last wrote about it just over one month ago. That trend could continue, and it could reach the mid-20s or even touch its most recent high around the 28 area.
But a market downturn could also punch it back down to the high teens, eliminating many of its gains. That's why profit taking, and some clever math, can help us to lock in our gains and preserve our capital for the next big move.
Disclosure: I have no positions in any stocks mentioned, and no plans to initiate any positions within the next 72 hours.