We have been attracted to the mortgage Real Estate Investment Trust Sector due to the ability of the firms to effectively utilize leverage in order to provide investors with high current dividend yields on their investment capital. We are currently invested in CYS Investments (NYSE:CYS) and we previously held a position in American Capital Agency (NASDAQ:AGNC). We previous published a research report evaluating the industry-leading mREIT titan Annaly Capital Management (NLY) as well as the two mREITs that its RIA Subsidiary FIDAC provides sub-advisory services for (Chimera Investment Corporation (NYSE:CIM) and CreXus Investment Corporation (NYSE:CXS)). We concluded that Annaly deserves its reputation as the bellwether of the industry. We were also introduced to CreXus, which specialized in commercial real estate mortgages.
We previously discussed how Chimera Investment Corporation is typically one of the highest-yielding mREITs due to its focus on non-agency subprime paper. Unfortunately this paper is so toxic that the company is either unable or unwilling to file time financial statements. We find its worth repeating that Chimera is as ugly and repulsive as its namesake creature from Greek mythology. We wonder when the stink from Chimera's underperformance will serve as a negative for Annaly, even though both companies are separate corporate entities with separate ownership distributions. In short, we think Annaly should just put Chimera on an ice floe and set it adrift.
CreXus Investment Corporation is another mREIT that has its investment book managed by Annaly. CreXus began operations in 2009 and focuses primarily on commercial real estate mortgage loans instead of residential mortgage backed securities. Even though CreXus's per share dividend is less than that of its EPS, we aren't expecting a significant dividend cut due to the fact that the cash and cash equivalents on its balance sheet represents just under 20% of its balance sheet assets. CreXus's significant cash stash is part of the reason why its dividend exceeds its EPS. We took note that CreXus's Q1 2012 cash balance was $257.5M and the company used $20M of it for paying off liabilities and dividends and $48M for new net commercial mortgage loans. Despite the fact that the company's only source of bonded debt is a $19M commercial mortgage, the company still has a weighted average net interest income margin of 7% relative to its assets and a 5.8% return on assets for the period, which significantly exceeds other mREITs. We also like that CreXus's management is independent of Annaly, unlike Chimera. And finally, we like that CreXus's dividend has declined less than that of Chimera. In short, we think CreXus offers investors in mREITs diversification and opportunity to access the high-return potential of CMBS securities. We like that an investor in CreXus gets a 10.7% dividend yield and gets it at a 15.6% discount to book value.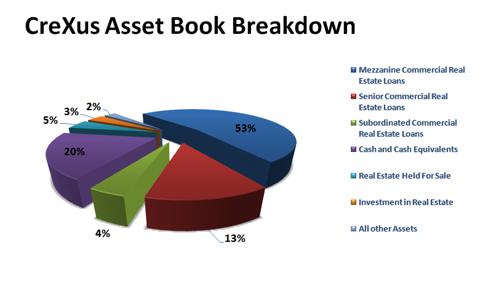 Click to enlargeSource: CreXus Q2 Earnings Release
And last but certainly not least Annaly Capital Management. Annaly is the largest and most well-known mREIT. While we find AGNC, MTGE and CYS to be our three favorite mREITs, we like that the company's premium to book value is less than 7%. We also like that Annaly seeks to be the "conservative, prudent, senior statesmen of the business". We guess it helps people forget about Chimera. Hopefully for Annaly's sake, Mike Farrell isn't the Bruce Bent of the mREIT industry and Annaly doesn't become the Reserve Fund of the mREIT business (Bruce Bent saw himself as a "conservative, old fashioned senior statesman" of the money market business). Annaly typically uses less leverage in its own proprietary mREIT portfolio operations than other mREITs and has the longest average life for its liabilities. Annaly also utilizes significantly less leverage in the management of Chimera and CreXus than it does in its own proprietary portfolio book. Even though the company uses less leverage than other mREITs, it still pays investors a 12.75% annualized dividend yield. We believe that Annaly has room to increase its use of leverage. Annaly also saw an impressive 27% in its assets in Q2 2012 versus Q1 2011 (6.7% linked quarter growth).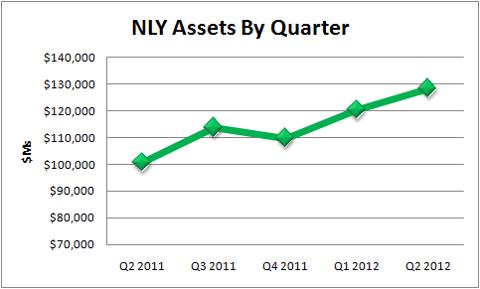 Click to enlarge
Source: Annaly Q2 Earnings Release
We also liked that Annaly is one of the oldest continuously operating mREITs. Annaly as an organization has operated in more interest rate environments than any else and we believe that Annaly sees itself as careful in constructing and managing its MBS portfolios. This has helped Annaly reach the top of the mREIT sector in terms of assets managed for its own book. American Capital Agency comes closest to the asset size of Annaly but hasn't been around as long as Annaly. Now that American Capital Agency is taking a seat at the financial establishment table next to Annaly, AGNC may not be able to enjoy the spectacular returns in enjoyed from its 2008 IPO up until Q1 2012. Annaly's CEO Mike Farrell and Gary Kain of American Capital (Chief Investment Officer of AGNC and MTGE) are the two most recognized senior executives in the mREIT space.
In conclusion, of these three Annaly-managed mREITs, we like Annaly the best. Annaly's size, operational scale and management have resulted in the company being the industry leader in the mREIT sector. We believe that investors who may hesitate at the market price premiums to book value of AGNC and MTGE should consider Annaly. For those who may be interested in the commercial mortgage backed space, we also recommend CreXus. We believe that the Federal Reserve will maintain its low interest rate policy for the foreseeable future and that it may step up with a third round of quantitative easing. This will compress mREIT yield spreads however will be partly offset by capital gains on the mortgage backed securities portfolio. This ensures that if mREITs have to cut dividends, the dividend cuts will not be steep and that investors will still be able to generate satisfactory double-digit dividend yields on their mREIT investments. Even if CreXus and Annaly cut the dividend by 10%, investors will still enjoy a 9.7% and 11.5% dividend yield on those respective mREITs.
Disclosure: I am long CYS.
Additional disclosure: Saibus Research has not received compensation directly or indirectly for expressing the recommendation in this report. Under no circumstances must this report be considered an offer to buy, sell, subscribe for or trade securities or other instruments.