This morning, Cabot Oil & Gas (NYSE:COG) provided an update on its progress in the Marmaton horizontal oil play in the Beaver County in Oklahoma. In my previous note ("Cabot Oil & Gas: Marmaton Initiative Is Beginning To Pay Off"), I provided a detailed overview and valuation analysis of this remarkably profitable emerging horizontal oil play that has received relatively little attention within the industry and among investors.
Cabot is continuing to actively lease in the area and has accumulated 69,578 net acres to date (up 8,000 net acres since the end of Q1). Since its entry in the play in the beginning of last year, Cabot has completed 11 operated wells (85% WI) and participated in 15 non-operated wells (18% WI).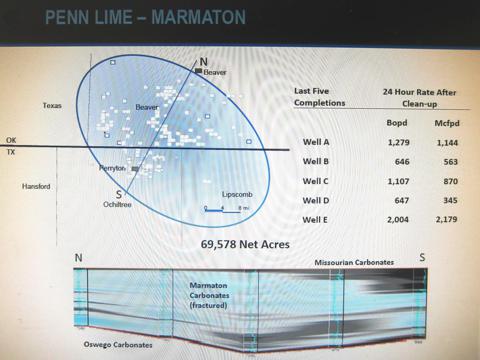 Click to enlarge
(Source: Cabot Oil & Gas August 13, 2012 Presentation)
Operated production stands at 2,415 Boe/d net (3,678 Boe/d gross) which, in combination with the Eagle Ford production, puts Cabot firmly on track to beat the upper end (65% y-o-y) of its growth target for liquids.
Cabot indicated that they are seeing return economics in a 50% range assuming $85 WTI and current well cost of $3.2 million (which validates my model estimates I summarized in the previous note). This makes the Marmaton comparable in terms of economics to COG's Susquehanna program in the Marcellus at $3 natural gas. The Marmaton economics are particularly impressive given that Cabot entered the play less than two years ago and brought in its first dedicated rig at the end of last year.
Cabot has recently added a second rig to the play. This smaller, lower horse power HiTex 101 rig will save Cabot $10,000 in day rate and, assuming efficient performance, can result in a 10% savings on the average well cost.
Cabot provided updated well performance results. The 11 operated wells have had the following IP rates:
24-hour IP: 956 Boe/d (89% oil)
30-day IP: 560 Boe/d (87.5% oil)
The update implies that the well results have continued to steadily improve. The last five completions have had markedly better IPs than the earlier wells. Following are the 24-hour IP rates (after well "clean-up") for the last five wells:
Well A: 1,470 Boe/d (87% oil)
Well B: 740 Boe/d (87% oil)
Well C: 1,252 Boe/d (88% oil)
Well D: 705 Boe/d (92% oil)
Well E: 2,367 Boe/d (85% oil)
Despite the very steep initial decline rates typical of the fractured carbonates, the well results look very promising and are particularly encouraging given that the play is still in its infancy. The oil yields have been consistently high, similar to the Bakken.
The results have a strong read through to Unit Corporation (NYSE:UNT) who controls over 102,000 net acres in the play and also has two operated rigs running, and to QEP Resources (NYSE:QEP) who has been actively increasing its leasehold in the Marmaton.
Disclosure: I have no positions in any stocks mentioned, and no plans to initiate any positions within the next 72 hours.