Netflix (NASDAQ:NFLX) is a classic bear/bull battleground stock. Depending on your mood, you can be convinced by the bullish or the bearish arguments. For example, Chad Brand in "Netflix Stock Is Finally Cheap" gives a great bullish case conditioned on NFLX eventually outgrowing its current investment losses from its aggressive international expansion. The numerous comments on the tail end of the article give an assortment of bear/bull responses, many of them carrying valuable nuggets.
In the near-term, I think the biggest positive catalyst NFLX can get is a massive purchase of shares by CEO Hastings Reed. Reed certainly has enough money to do his own repurchase plan. From August, 2010 to February 2012, Reed sold (directly and indirectly) $64.9M worth of NFLX stock. Reed spent $1M of his fortune buying Facebook stock on August 7th for $21/share (he is a director of Facebook). Surely, he can afford at least $2M to buy back some of the stock in his own company. Such a move would significantly bolster the bullish side of the ledger.
Granted, the timing and size of Reed's Facebook (NASDAQ:FB) purchase was a bit odd given the hundreds of millions of shares that FB insiders will soon dump on the market starting as early as this Wednesday. However, I must assume that its timing was a deliberate attempt to try to blunt the negativity that will be associated with the imminent dumping of all these shares. If I am correct, Reed's move suggests that he is both capable and willing to try the same thing for his own company. For now, news of Reed's move seems to have stopped the bleeding in FB.
While insider buying is not a signal that generates guaranteed profits, it is certainly better than massive selling. I have covered several valuable opportunities to follow insiders (for example, "Following The Insider Buy of 2012: Dimon Increases JPMorgan Chase Holdings By 18%" and "The Market Is Ignoring These Insider Purchases, But You Should Not") and some bombs (for example "Insider Buying Major Fail: Jon Corzine and MF Global"). Insider buying can be particularly encouraging in the middle of bleak times like now with the stock recently printing 19-month lows.
Note well that I give considerably more weight to executive purchases than director purchases. Case in point is Netflix Director Jay Hoag's massive $10.4M purchase of NFLX stock on May 9th around $73/share. At least this move indicates that people who know the company are seeing some value, and it could be a prelude to a more meaningful purchase by Hastings.
I am already positioning for such a move. Part of the positioning is actually a carry-over from a trade last month (see "A Bottom for Netflix Is Not Confirmed Until Its Next Earnings Report"). At the time, I cautioned that Hasting's celebration of 1 billion hours in Netflix viewing needed the backing of a substantial increase in subscribers, otherwise, this milestone just meant a lot more cost for the company. Sure enough, NFLX disappointed in its earnings report and those 1 billion hours might as well be a billion light years away. In my positioning, I ended up with a bit too many shares and sold my puts too early into the massive selling. To play this next potential catalyst, I have doubled down on the shares and added fresh puts.
Why bother at all? Well, I have to admit I am now a very biased user of Netflix streaming. I started off an extreme skeptic because I found so little of interest in NFLX programming. Now, I find the service extremely useful for children's programming and for providing me mobile, anytime, anywhere movie viewing. This entertainment in a pinch was a life-saver during a recent family vacation. So, I think I can still see the potential in this business. And, yes, I cringe with every competitive threat that appears over the horizon - Amazon.com (NASDAQ:AMZN) being one of the most threatening.
The chart below summarizes the current setup. Notice how the January, 2010 breakout served as firm support for the stock at the end of 2011′s vicious slide and the slide in the midst of the general stock market's May swoon. This line is now resistance, but a close and additional follow-through will be the first bullish trading action in NFLX since its pre-earnings bounce.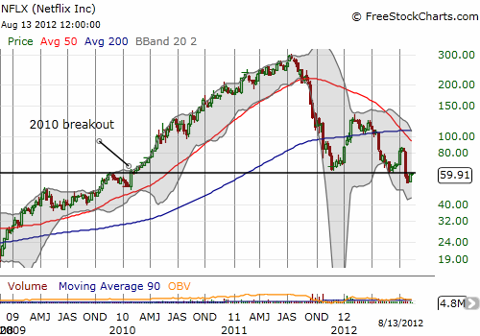 Weekly chart shows the previously firm support provided by the 2010 breakout point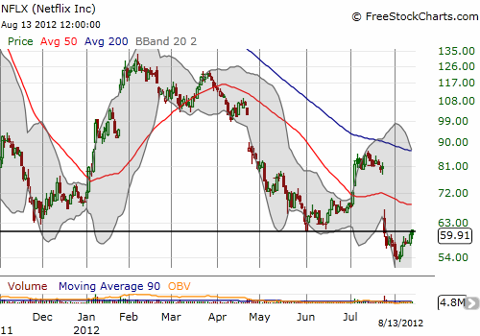 Support turns into resistance as NFLX attempts its first relief rally since its disastrous July earnings report
Source: FreeStockCharts.com
Be careful out there!
Disclosure: I am long NFLX, FB, AMZN.
Additional disclosure: I am also long NFLX and FB puts; short FB calls