American International Group, Inc. (NYSE:AIG) is presenting bona fide evidence their turnaround is in full gear. The 2nd quarter earnings provided positive earnings and book value performance. The company once dependent upon U.S. Federal Government bailout funds is selling off assets, increasing book value, and repaying the Government financial obligations. Currently the company is selling at a 45% discount to book value. This article will focus upon why the 45% discount should decrease over the approaching quarters.
AIG Price / Book Value data by YCharts
4 Pillars of Restructuring
American International Group is focused upon 4 core aspects to rebuild trust lost since the 2008 financial market carnage. These pillars include improving their subsidiary's international property and casualty and domestic life insurance businesses.
Secondly, the company continues to pay back Federal loans via divestitures and gaining value on assets which have increased in value since the 2008 - 2009 time frame. Thirdly, management is driven to reduce operating expenses. And finally, the company has dramatically decreased their market derivative exposure.
Strong Management Team
Robert H. Benmosche has held the Chief Executive Officer position at AIG since August 2009. He previously held the title of CEO at MetLife, Inc. (NYSE:MET). MetLife is now the biggest life insurer in N. America. Life and casualty entities have on average a 65% - 70% price to book valuation. MetLife's 2nd quarter book value was $48.60, representing a 72% price to book. Benmosche brought MetLife from a mutual to the public markets.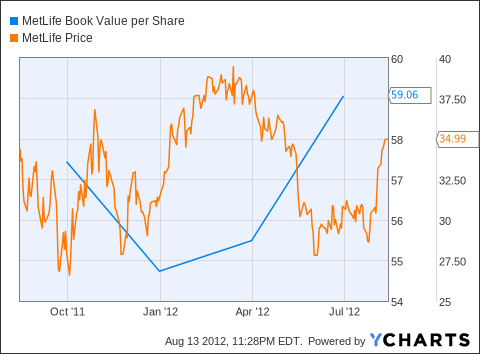 MET Book Value per Share data by YCharts
Mr. Benmosche, before accepting the AIG CEO position, demanded a fair salary and eventually did receive an industry comparable salary. Congress and the public were not in the mood, in 2009, to pay perceived large salaries to AIG management. AIG was in dire need of a proven insurance leader.
After Tax Operating Income Attributable To AIG
The year over year 2nd quarter, after tax operating income attributable to American International Group, increased from 68 cents in the June 30th, 2011 quarter compared to $1.06 for the June 30th, 2012 quarter. This is a 56% increase year over year.
Increase in Book Value Per Share
American International Group increased their 2nd quarter book value per share by 32% when compared to the June 30th, 2011 book value per share. The June 30th, 2012, book value is $60.58. The June 30th, 2011, book value was $45.97.
Property and Casualty Book Value
Allstate (NYSE:ALL) is trading at almost 100% of book value per share. Allstate, a leader in the property and casualty sector, has a higher price to book valuation. The market provides higher price to book percentages depending upon management, results, and insurance sector.
The 2nd quarter book value was reported at $35.81. American International Group has a broad array of insurance offerings, including property and casualty.
Berkshire Hathaway's (NYSE:BRK.B) Warrant Buffett stated he would buy back shares of the Berkshire conglomerate, including numerous insurance businesses, at 110% of book value.
Decreasing U.S. Federal Government Stake
The Government continues to own a majority holding in American International Group's public shares. The Government's cost basis is $28.72 per share. As American Insurance Group shares are currently trading at $33 today, the Government can sell shares and receive a profit on monies provided to the company. On August 8th, 188,524,590 AIG shares were sold in the public offering.. This amounted to a $5.75 billion sale of AIG stock.
American International Group did buy back $3 billion, or 98,360,656 shares, of the $5.75 billion offering. This reduced the Government's ownership to 53% from 61%. The Government holds 871.1 million AIG shares at present date.
Decreasing Market Derivative Exposure
American International Group possessed $1,800 billion in legacy market derivatives as of December 31, 2008. These derivatives are classified as market derivatives, multi sector credit default swaps (CDS), corporate arbitrage, regulatory capital CDS, and stable value wraps.
As of June 30th, 2012, the remaining market derivative exposure is $157 billion. Management has taken a clear vision to reduce risk and maximize economic gain. The American International Group management team and employees have proven to operate on a profitable basis with a reduced derivative exposure.
Low Interest Rate Environment
Subsidiary SunAmerica has overcome the low interest rate environment by investing in structured securities and continually reassessing reinvestment of new capital. The unit provides life insurance, retirement products, and financial services.
Subsidiary Chartis provides multiple lines of insurance coverage. Personal, business, sectors are included in an all encompassing insurance offering.
Action
American International Group is decreasing the Federal Government's share position. The Federal Government has stated they want out of the AIG position but at least with a breakeven price.
AIG is increasing their book value quarter by quarter. Currently the book value is over $60. The stock at $33 represents a 55% price to book. This disparity should decrease as the Government reduces their AIG holdings and AIG continues to execute on their turnaround business story.
Disclosure: I am long AIG common, AIG warrants, and synthetic long positions. I am long BRK.B, AIG.