We previously published a series of reports analyzing Nokia Corporation's (NYSE:NOK) struggles. We actually considered investing in it 10 years ago when we purchased our first cellular phone, which was a Nokia. We can't repeat enough how Nokia has seen a reversal of fortune since 2006. Should it have retained its sponsorship of the Sugar Bowl college football bowl classic? Should it have hired Catherine Zeta Jones as spokeswoman when T-Mobile declined to renew her contract? Should it have sold Nokia Networks to Siemens (SI) instead of acquiring Siemens's telecom equipment business? Was it a mistake for Jorma Ollila to tap some lawyer to succeed him as CEO and President in 2006? Citigroup (NYSE:C) had a larger than life CEO (Sandy Weill) just like Nokia and it tapped a lawyer to succeed Weill, just like Nokia did with Ollila? Should Ollila have taken more proactive steps to arrest Nokia's decline after he stepped down as CEO in 2006 but remained as Chairman from 2006-2012? Did Ollila stick around too long as CEO? In hindsight, we are wondering if Sandy Weill stuck around too long at Citigroup and if he should have sent a certified letter to James Dimon in Chicago nine years ago during Dimon's Midwestern Exile that simply said, "Dear Jamie, Please come back. All is forgiven. I'm sorry if I hurt you in any way. Sincerely, your old buddy Sandy." Coincidentally, Ollila was a former Citibank banker as well as Sandy Weill and Jamie.
Did Nokia spend too much of its research and development resources on the research side and not enough on development? Despite spending $40B for research and development versus $10B for Apple (NASDAQ:AAPL) over the last decade, Nokia has been in its own lost half-decade since 2006. When we reconsidered investing in Nokia in February, the stock price had declined significantly from when we were looking at it in 2002. Then again, Nokia's fortunes had taken a similar decline as well. When we were looking at it in February, those aforementioned questions we enunciated here were some of the many questions we had with regards to Nokia's prospects. While Nokia has bounced off its lowest reached around the time it released its Q2 2012 results, we find that the company still has a lot of question marks hanging over it like a Sword of Damocles.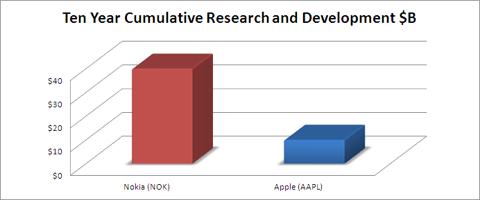 Click to enlargeSource: Wall Street Journal
Because we are a progressive, fair-minded, objective and independent research firm, we pride ourselves on taking a fair and balanced approach to investments. We even like to quote John Maynard Keynes's alleged famous quote about how when the facts change, he changes his opinion. Regardless of whether Keynes said it or if it should be attributed to another economist, we think it's a useful quote to incorporate into our research and analysis. In addition to Keynes being the father of Keynesian economics, he was alleged to have been skilled in managing money and was an early influence to Warren Edward Buffett himself. While we think it is too early to declare that Nokia has turned itself around, we can certainly take note of when good things happen to otherwise poor performing companies.
As everyone knows, Nokia announced on August 9 that it sold 500 of its patents to Vringo (VRNG), a company that provides a range of software products for mobile video entertainment, personalization and mobile social applications. Because Vringo is an early development stage start-up that has lost $43M since its inception and since it only had $3.6M in the bank as of March 31, it had to issue 9.6M shares at a price of $3.25 per share in order to pay the $22M price for those patents. The deal is scheduled to close on September 14, 2012. Also, as part of the deal, Nokia will get 35% royalties from Vringo to the extent that the revenue generated from Vringo's new patent portfolio exceeds $22M. The Patent Purchase Agreement provides that Nokia and its affiliates will retain a non-exclusive, worldwide and fully paid-up license (without the right to grant sublicenses) to the portfolio for the sole purpose of supplying (as defined in the Patent Purchase Agreement) Nokia's products. The Patent Purchase Agreement also provides that if Vringo brings a proceeding against Nokia or its affiliates within seven years, Nokia shall have the right to re-acquire the patent portfolio for a nominal amount. We're pleased that Nokia isn't afraid to monetize its patent portfolio in order to help bolster its liquidity resources. The market was pleased as well as shown by Nokia's share price increasing by 9.36% on September 9. We are disappointed that Nokia is probably more likely to realize value for its stakeholders by selling off its patents than by competing in the mobile device business against Apple (AAPL) and other device makers. We think it goes back to Nokia's culture of heavy investment in research and the lack of resources and interest devoted to execution and development. We are absolutely shocked, shocked that Nokia outspent Apple 4-1 on research and development and yet Nokia and Apple have seen a reversal of each other's fortunes.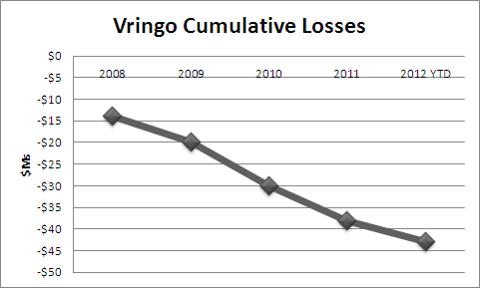 Click to enlarge
Source: Morningstar Direct
Nokia also announced that it agreed to sell its Qt software business to Finnish IT services firm Digia Oyj. Neither company disclosed the value of the deal and analysts surmised that it was a fraction of the $150M Nokia paid for Norway's Trolltech in 2008. Qt software is used by 450K developers to make software applications with a graphical interface for 70 industries. Qt software was a central part of its strategy until 2011 when it decided to swap its own smartphone software for Microsoft's (NASDAQ:MSFT) Windows Phone and the Lumia smartphone series. Digia had previously purchased the Qt commercial licensing agreement last year and will now own. This deal is also expected to close in September as well as the patent sale. Once Digia takes control of the rest of the Qt software business, it plans to enable the Qt software development platform to be used in Google's (NASDAQ:GOOG) Android, Apple's iOS and Microsoft's Windows Phone 8 operating systems.
As Nokia is expected to make €1.9B in restructuring charges over the next two years, we believe it was prudent for the company to prune its non-core assets in order to aid with the restructuring in order to make it a more mobile and agile mobile device vendor. The Qt software development platform was largely used for Symbian (AKA the Burning Platform itself) and was made redundant when Nokia jumped into the cold foreboding waters of Microsoft's Windows Phone Platform.
In conclusion, we see the asset sales as a positive factor for Nokia. We're not ready to say that the company has turned itself around. We have seen a number of missteps by Stephen Elop since he has become CEO of Nokia. We believe that the performance of Nokia will be extremely binary based on its dependence on Microsoft and the Windows Phone Platform. At least Nokia did the right thing by holding its annual Nokia World Event on September 5th, one week before Apple. We believe that there is a significant level of execution risk in Nokia's shares due to its reliance on Microsoft and the Windows Phone 8. If Nokia mishandles this product launch the same way it handled the retirement of Symbian and the introduction of Windows Phone 7, it will sink into irrelevancy like the BlackBerry.
Disclosure: I am long AAPL.
Additional disclosure: Saibus Research has not received compensation directly or indirectly for expressing the recommendation in this report. Under no circumstances must this report be considered an offer to buy, sell, subscribe for or trade securities or other instruments.