Shares of mortgage real estate investment trust MFA Financial, Inc. (NYSE:MFA) are up more than 18% so far in 2012 and are trading at a 52-week high. That said, there are three reasons why MFA can continue to rally.
Click to enlarge
Insider Buying
Over the past few days, multiple insiders have bought shares of MFA. This indicates that those who are closest to the company do not believe the run will be over anytime soon. On the contrary, it looks like insiders think the stock has significantly more upside.
Dividend
Despite the move higher in the stock, MFA still offers a massive 11.47% dividend yield. Usually, stocks yield 11.47% because they have gone down in value substantially and investors expect a dividend cut. This is not the case for MFA. Dividend investors are likely to remain buyers, despite the move higher in the stock because the yield is still very attractive.
Valuation
As shown by the chart below, based on price to book value, MFA is not trading anywhere close to historic highs. Currently, MFA is trading just above book value. In the past, MFA has traded at more than 1.5 times book value. MFA can continue to move higher without becoming expensive on a historical basis.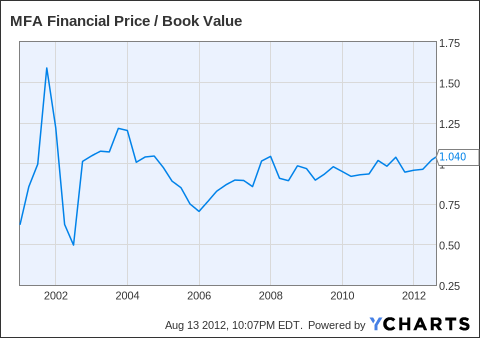 MFA Price / Book Value data by YCharts
Conclusion
While shares of MFA have moved up by more than 18% so far in 2012, I believe the stock can continue to rally. Insider buying, the current dividend yield, and fair valuation are all reasons why MFA can continue to rally.
Disclosure: I have no positions in any stocks mentioned, and no plans to initiate any positions within the next 72 hours.