Groupon (NASDAQ:GRPN) continued to execute its impressive long run growth with Q2 2012 earnings reported on August 13th, posting earnings of 4 cents per share (8 cents per share adjusted) on revenue of $568 million. The earnings exceed analyst expectations, while the revenue fell 1% shy of the consensus among analysts. The revenue fell near the midpoint of guidance from the company, which is most impressive considering the company gave guidance back in May, well before the worst of the European economic impacts were known.
Considering the company slid by nearly 50% since May as shown below, investors would be forgiven for expecting something less than a free-fall on the basis of the quarterly report.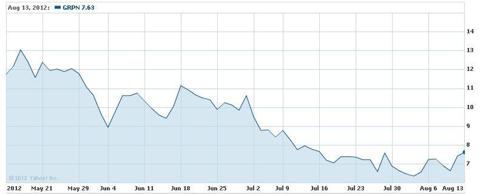 Click to enlarge
However, investors are overlooking the positives from the report, and have sent the shares down to an all-time low of $6 during after hours trading. The company guided appropriately on revenue and beat on earnings. In fact, the lack of earnings was previously tabbed as a primary reason for softness in Groupon's shares. Groupon has begun to address that by reduce marketing expenses and focusing on earnings, which was reflected in the solid quarterly earnings results.
Groupon may well be a victim of its own success. Few companies, particularly those trading at just 2x sales, would be penalized for 45 percent revenue growth. Yet Groupon has been largely misunderstood from the beginning, as described in detail in a previous piece available here. Some analysts on CNBC spoke of limited barriers to competition as the primary concern with Groupon. However, those barriers to entry have not held the company back from growing revenue to over $2 billion and realizing revenue of $568 on $1.29 billion of billings during the quarter. Ultimately, Groupon has the strongest brand in the online deals industry, has a strong roster of customers, and close relationships with small local retailers that, if leveraged appropriately, could make Groupon a key player in local retail technology in due course.
Perhaps most importantly, Groupon has gained traction with its Groupon Goods offers, which it directly sells through communication with its customers. Groupon Goods posted strong growth and CEO Andrew Mason stated during the conference call that it was responsible for the bulk of revenue growth in North America. Groupon Goods, while likely to reduce margins, will provide a more stable cash flow over time for the company and position it as a primary online retailer.
Groupon has some challenges, to be sure. The company, which has nearly 12,000 employees, is rather labor intensive and needs to increase productivity. It is easy to forget that the company is just 4 years old, and is in a sense experiencing some growing pains as a public company rather than a development stage company behind closed doors with private advisers. There is a certain lack of freedom, and a certain pressure to meet numbers that can distract the management of young public companies by having to focus on discrete intervals of time that form quarterly filings.
Despite all the concerns, Groupon continues to execute on its plan, and the strong growth of both United States and International business illustrates the quality of management at the company. It is highly difficult to continue to grow revenue at nearly a 50% clip when starting from a base of $1.6 billion as the company has done. Investors in Groupon should not trade on the basis of short term price action. Rather, they should digest the quarterly results and continue to hold shares and perhaps add to their holdings if their investing thesis in the company remains. It surely does for me, and over a 12-month to 36-month time horizon holders of Groupon will be richly rewarded if the company continues to execute as it has during 2012.
Disclosure: I am long GRPN.