Without wasting too much time on the "back story" of Discovery Labs (DSCO), I'll just start shouting out bullet points and we'll see where it goes from there: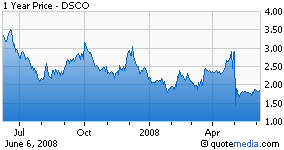 Discovery Labs has this drug called Surfaxin. It helps in the lungs and especially with babies' lungs. The FDA has said the past 3 times they looked at this drug that they needed more info. The last time they made a ruling, on May 2nd, the stock price went from trading around $2.77 to $3.00 the previous day to trading between $1.29 to $1.76 the next day. It closed at $1.45.
Disappointment to be sure, but that very NEXT day, on the 3rd of May, the FDA said they would agree to accept certain other provisions, etc and relook at the situation. The FDA had already inspected their facilities for manufacturing and that passed. The stock promptly jumped back up to between $1.78 to $1.98 closing at $1.90.
Since then, over 4 weeks have passed and the stock has been between $1.65 to $1.90 again, closing at $1.84 this Friday, the 6th of June. The catalyst for what I am writing here was recently announced a week ago, that the FDA will meet with DSCO on Wednesday June 15th to confirm with the FDA Discovery Labs' approach to address the limited key remaining items necessary to gain U.S. marketing approval of SURFAXIN(r) (lucinactant) for the prevention of RDS in premature infants.
That is VERY significant. Here's why:
DSCO only has ONE series of options left, the JUNE series. Only 1 of those 3 strike prices really matter: the June $2.50 calls . They are bid $.05 offered at $.10 ($5 to $10 in the real world), meaning that they are so out of the money (below the strike price) that if the stock doesn't vault higher, soon, then these options will most likely expire worthless.
I own 250 of these options for an average price of $7.30 each, net of commissions. (Expressed as $.073.)
What will move the stock is what will move the option. Anyone that is short would be crazy not to own the June $2.50 calls for a nickel or a dime. That will keep the demand up (IF the stock advances higher); as June 18th approaches, more and more speculators will gather and they too will hedge and speculate by buying the ONLY call options that matter or by selling puts, hoping they expire worthless.
DSCO could move all the way back to $2.50 and expire there on June 20th and we never make money on the option. Or it could pop here and there and we could sell half of what we have for $20 maybe on a pop and ride the rest for free. If DSCO pops like I think it can, and does it before June 20th, then that's a little over 20 to 1 payoff.
Look at these charts, the potential, after a recent buyout by Bristol Myers Squibb (NYSE:BMY) showed what a premium a small company may get to be bought out or partnered with (BMY offered Kosan (KOSN) $5.50 last week when the stock was under $1.75). So look and allow and I think this is one of those nice 15 to one shots (If you pay $10 per option) or even a 20 to one like me when I buy the rest of mine Monday…
If you look at a basic chart of the price action on DSCO since the beginning of 2006, you will see that it took two large drops on gap downs within the same month of April in 2006 then a final gap down in June to hit a low not visited until a month ago in early May 2008.
I drew my own trend-lines that show where DSCO can move to if there is a buying panic/binge, which is roughly the $4.25 area.Suffice to say though; just looking at the long term (3 year) chart, one can see that DSCO "filled" that last gap down in June of '06 within that same month, completing the rise into July. It then failed to fill the next gap between $3 and $ by October, making a double top. It pulled back the next 5 months but didn't breach the $2 by much and then rallied to a new high within 2 months in May of 2007. Still though, no fill on the gap and a retreat to the low $2 area.
Without going into the rest of the movements, over the next year or so we reverted back to the beginning of this story where DSCO had just fallen from a 3rd attempt at getting approval for Surfaxin and now it sits at $1.87.
If there is a consensus that DSCO really is getting all the approvals they need, then I think DSCO goes to $4.25 to fill the 2nd gap down from over 2 years ago.
IF DSCO hits that area before June 20th and these (June $2.50) options could hit $150 each, an incredible 15-30 to 1 Win.
Or just buy the stock here and if it pops nicely, you'll have a great return and you won't care about June options expiration. If it doesn't get the approvals again, then I would expect the stock to go as low as $.75 or so.
Disclosure: Author holds positions in DSCO