Apple (NASDAQ:AAPL) is asking for $2.5 billion in damages from Samsung (OTC:SSNLF) for Samsung's alleged slavish copying of the iPhone and iPad device. Two years ago, Samsung blew off Apple's offer to license a portfolio of patents for $30 a handset and $40 a tablet with a 20% discount if Samsung would cross-license some of its patents back to Apple. Apple gave Samsung a $250 million estimate for 2010's royalty fees. Clearly, the patent price tag would have been much heftier in 2011 and 2012 as Samsung rolled out dozens of smartphone and tablet models, all allegedly infringing on Apple's designs.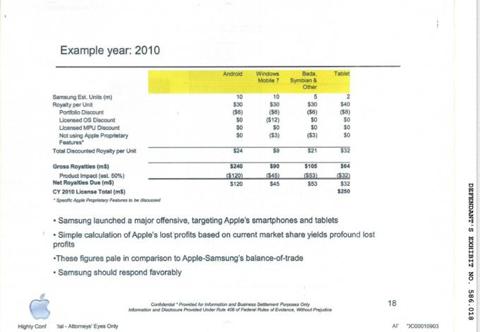 Click to enlarge
Not everyone brushed Apple's licensing offer aside. Microsoft (NASDAQ:MSFT), Apple's "arch enemy #1", has actually signed a cross-licensing agreement with Apple gaining access to all the patents involved in the Samsung-Apple dispute, even the design patents. The licenses have limits: Neither company can produce a "cloned" product. Microsoft's Surface tablet launches this October. Microsoft's licensing deal all but guarantees no legal pyrotechnics.
We don't know the financials of this arrangement. Thirty bucks per phone? Forty per tablet? A discount for cross-licensing? Without the joys of litigation, I doubt we'll ever know. (The Samsung-Apple trial spoiled us. Every day brought a juicy disclosure - the action has been as good as a Grisham novel.)
Still, Apple didn't have to go "thermonuclear" on Microsoft (there weren't any knock-off products). I'm guessing Microsoft got a less expensive version of the Samsung 2010 offer. This arrangement might provide a template for future licensing deals to avoid the courts. Very few companies have the money required to mount the kind of full-court legal press we've seen in this Apple-Samsung slugfest.
A win in San Jose just might be the beginning of the end of the non-stop patent litigation and the start of a new revenue stream for Apple. Just when investors were pinning their hopes on the iPhone 5, Apple may have snuck in another product line: iRoyalty 1.0. It has a nice ring to it. Apple wannabes might rather pay up for iRoyalty 1.0 than duke it out.
Disclosure: I am long AAPL.
Disclaimer: The opinions in this document are for informational and educational purposes only and should not be construed as a recommendation to buy or sell the stocks mentioned. Past performance of the companies discussed may not continue and the companies may not achieve the earnings growth as predicted. The information in this document is believed to be accurate, but under no circumstances should a person act upon the information contained within. We do not recommend that anyone act upon any investment information without first consulting an investment advisor as to the suitability of such investments for his specific situation.